MESSAGE FROM THE EXECUTIVE DIRECTOR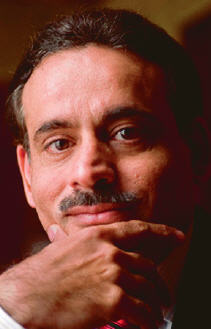 Dear Readers,
Our new strategy for the period 2013-2016 adopted a new business model of galvanizing members, to play a pivotal role in moving forward the HRH agenda. In light of this, I am delighted to announce that we have gone live with our new members' e- platform. It is our hope that this platform serves as a one stop shop for all HRH related information and discussions. I encourage you to sign up and become part of our global community. In addition to this, an innovative membership engagement plan has been developed with a group of Alliance members. Over the next few weeks, we will be soliciting comments and inputs from the entire Alliance membership to finalize and operationalize the engagement plan for 2013.
We have been busy highlight critical aspects of HRH at several events, including the Global Symposium on Health Systems Research in Beijing, and the World Health Summit in Berlin. We also recently launched a new advocacy initiative; Stand Up for health workers,planned with UN based country missions, targetted exclusively for the health attaché community in Geneva.
Preparations for the 3rd Global Forum on Human Resources for Health are beginning to gain momentum. The Forum Working Group met earlier this month to brainstorm on operational aspects of the Forum, while the Forum organizing Committee, the strategic body of the Forum, is scheduled to meet at the end of the month. We look forward to reporting to you on this and much more in the subsequent edition of our newsletter. Until then, happy reading!
Dr Mubashar Sheikh

THIRD GLOBAL FORUM ON HRH
First meeting of the Forum Working Group, takes place in Geneva
The first meeting of the Forum Working Group (FWG), took place on 5 and 6 November in Geneva, Switzerland. Chaired by the Government of Brazil, the World Health Organization (WHO), the Pan-American Health Organization (PAHO) and the Global Health Workforce Alliance (the Alliance), the FWG meeting was the first opportunity to brainstorm on thematic issues and operational aspects of the Third Global Forum on Human Resources for Health. Read more.


NEWS
Nigeria launches 'Saving One Million Lives' by 2015 initiative
Nigeria has taken the bold step of announcing an official commitment to lead the way and save one million lives by 2015. 'Saving One Million Lives', an elaborate scheme to expand access to essential primary health care services for women and children was launched by President Goodluck Jonathan, at a meeting of the UN Commission on Essential and Life-Saving Commodities for Women and Children, in the nigerian capital, Abuja. Read more.

Mainstreaming Human Resources for Health in the Post-2015 Development Agenda - Invitation to join an online discussion forum
The Alliance is inviting its members and partners to discuss how to mainstream HRH in the post-2015 development agenda. The objective is to share experiences and build on lessons learnt from the past to ensure that HRH becomes intrinsic to the new development agenda. The discussion will be held on the new Alliance members' e-platform on 4, 5 and 6 December 2012. Read more.

Geneva based health attaché's "Stand Up" for Health Workers
The Alliance recently hosted a "Stand Up for Health Workers" event, partnering with the Permanent Mission of Ireland to the United Nations. This was the first, in a series of Stand Up's, planned by the Alliance in partnership with country missions, exclusively for the health attaché community in Geneva. The focus of the first Stand Up was the WHO Code of Practice on International Recruitment of Health Personnel (the Code). The event served to inform the health attaché community of the Code and took stock of the progress made in its implementation. Read more.
Join our new members' e-platform
The Alliance is pleased to announce the launch of its online members' e-platform as an integral part of its strategy for the period of 2013-2016. The new members' e-platform is an online space for members to share information about their activities, to network with likeminded organizations and to collaborate around events and issues. We hope that our members will view this as an important service and will find ways to integrate it in to their everyday work. Read more.
Migration case studies – call for proposals
The Alliance has launched a request for proposals from qualified contractors to research and develop case studies on successful policies to address health workforce migration. The development of these case studies will contribute to the literature by providing empirical evidence from selected countries and advance implementation of the Code by limiting the negative effects generated by the movement of health professionals. Read more.



HIGHLIGHTS
Alliance hosts a session on mid-level health workers at the Second Global Symposium on Health Systems Research.
To facilitate dialogue on key issues and strategies relevant for the scale-up of MLHWs in national health systems, The Alliance organized a high level panel session on mid-level health workers (MLHWs) at the Second Global Symposium on Health Systems Research in Beijing, China. Read more.

The Alliance at the World Health Summit in Berlin
The Alliance collaborated with Monash University to organize a session entitled "Transformative Health Professionals Education for the 21st century" at the World Health Summit in Berlin, Germany. The session informed the audience about the different health education initiatives, triangulate them with field experiences, and build wider momentum and ownership behind the agenda of health workforce education, as part of a broader health system strengthening. Read more.

2012 African Women Parliamentarians Conference commit to investing in human resources for health
The 2012 Annual African Women Parliamentarians Conference acknowledged in its report the importance of educating and deploying more human resources for health in the efforts to improve maternal, child and newborn health and to achieve MDGs 4 and in Africa. Alliance members and board members from Africa made significant contributions to the Conference. Read more.

Mobility of health professionals – case stories available
To facilitate European policy on human resource planning, The Mobility of Health Professional (MoHProf) project was conceived to fulfil the need to develop European policies to adequately address the health worker migration and mobility urgently.The Alliance served as a member of the project advisory committee.Read more.
HHA Partners discuss an Action Plan for affordable healthcare and implementation of Tunis Declaration
Partners of the Harmonization for Health in Africa (HHA) initiative convened a few weeks ago, for a Regional Directors meeting, as a follow-up to the recent Tunis ministerial conference for African health and finance ministers. The Alliance, a member of the HHA, was represented by Alliance, Executive Director Dr Mubashar Sheikh. A key outcome of the meeting was an Action Plan for the implementation of Tunis Declaration and a joint Letter from the HHA Regional Directors to partner agencies providing concrete recommendations and actions for operationalizing the HHA mechanism at the country level. Read more.

AU builds common platform for African champions of maternal health
The African Union's Commissioner for Social Affairs,launched a new website for its Campaign on Accelerated Reduction of Maternal, Newborn and Child Mortality in Africa (CARMMA). The website has country scorecards for different indicators that affect maternal, newborn and child survival (including HRH) as defined by African Union officials.Read more.


MEMBERS' CORNER
We urge all members and partners of the Alliance to submit news articles, resources, multimedia or any relevant information about their work for inclusion in the upcoming editions of our newsletters.
Intrahealth International's Mobilize against Malaria project
Through their Mobilize Against Malaria project, they trained 48 community health workers in Senegal to provide on-site treatment for malaria, immunizations, and care for acute respiratory infections. The project also trained 96 community health educators who teach mothers how to prevent malaria and keep their children healthy. Read more.

Alliance members launch Photoshare 2012 photo contest
Alliance members, Knowledge for Health (K4Health) Project, FHI360 and Management Sciences for Health (MSH) have teamed up to launch the Photoshare's 2012 Photo Contest. Photoshare photo contest web site.

International Pharmaceutical Federation (FIP) launches Global Pharmacy Workforce Report
The International Pharmaceutical Federation (FIP) has sought to address the pharmacy workforce crisis by gathering global data on the pharmacy workforce and developing evidence-based background papers to serve as an advocacy tool at country, regional and global levels. The 2012 FIP Global Pharmacy Workforce Report is the third pharmacy workforce report to be published by FIP.Access full report here

COUNTRY CORNER
Alliance to support the development of TV series to induce behaviour change in West Africa
The Alliance and the UN entity for Gender Equality and the Empowerment of Women (UNWOMEN) have joint hands with RAES (Réseau African d'Éducation pour la Santé) to develop and produce a TV series called "C'est la Vie", to induce behaviour change in African countries. This entertainment education program, to be broadcast on prime time TV and radio, will focus on themes related to: maternal and child health, family planning, reproductive health, gender issues and violence and human resources for health.Read more
Human Resources for Health Community of Practice for Maternal, Newborn and Child Health Workers, 11-13 December 2012, Yaoundé, Cameroon
The Alliance, along with UNFPA, UNICEF and WHO will jointly support the establishment of a community of Practice (CoP), on improving the situation of maternal, newborn and child health workers (MNCH). the first meeting will be held in mid December. This MNCH CoP has been created as a sub-pillar of the Human resources for Health (HRH) CoP, established in 2008 by the Harmonization for Health in Africa (HHA) mechanism. Thefirst meeting will ensure that the mandate and a governance system of the sub-CoP are adopted; will share results of recent studies on the midwifery care practices and adopt an action plan for the CoP for 2013-2016. Download the concept note here.



HRH IN THE PRESS THIS MONTH
Leveraging Technology for Global Health - The Huffington Post, 12 November
Let's explore biomedical engineering in Zambia - Times of Zambia, 5 November
New Grant Will Allow Greater U.S. Investment in the Developing World's Frontline Health Workers - PRNewswire, 24 October
As meningitis outbreak spreads, public health funds shrink - The Washington Post Blog, 10 October
Regional and remote health workforce receives major funding boost - Health and Ageing Australia, 5 October
Doctors recommend 23 strategies to reposition 'ailing' health sector

- The Guardian Nigeria, 4 October
European Commission : John Dalli Commissioner for Health and Consumer Policy Health in an age of austerity European Health Forum/Gastein - Speech, 5 October