SCREENINGS

Tennessee
Southern Appalachian International Film Festival
TUES. NOV. 13
Knoxville

United Arab Emirates
Satellite - Dubai
WED. NOV. 14

Asian Premiere
Taipei Golden Horse
Film Festival
WED. NOV. 14

Finland Premiere
Rocumentii Rock Film Festival
WED. NOV. 14
Joensuu

Italian Premiere
Festival dei Popoli
FRI. NOV. 16
Florence

Florida Return
Silent Films
Loud Music Festival
U of F Gainesville
SAT. DEC. 1

Minnesota Return
Sound Unseen Film Festival
WED. DEC. 12
Minneapolis
.

"ANDREW BIRD:
FEVER YEAR"
a film by
XAN ARANDA

concert photography
PETER GILBERT

editor
LIZ KAAR

documentary cinematographer
AARON WICKENDEN

concert recording engineer
TOM HERBERS

concert editor
ANGELO VALENCIA

produced & directed by
XAN ARANDA
.
SEVEN MORE CITIES THIS YEAR, MORE ON THE WAY
Andrew Bird: Fever Year, the multi award-winning concert documentary film, continues the breathtaking worldwide run that began just over a year ago, having packed houses at 70 festivals from New York to the Yukon, Chicago to New Zealand, San Francisco to Portugal, and on. Seven cities remain for 2012. Much more is percolating for 2013. (Lookin' at you, Los Angeles!)
THIS WEEK: TAIPEI, DUBAI, KNOXVILLE, FLORENCE
GAINESVILLE & MINNEAPOLIS IN DECEMBER
So much love in Florida and Minnesota already this year! We're excited the film is invited back for more. Don't miss it! Click for details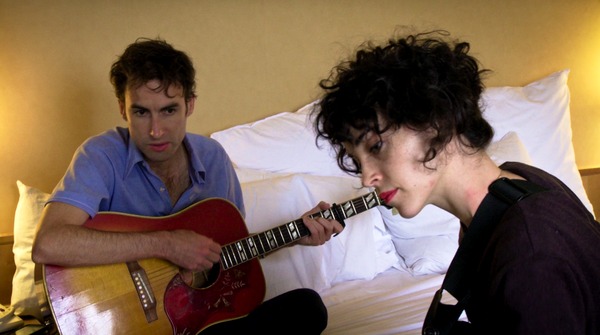 Andrew Bird rehearses "Lusitania" with Annie Clark (St. Vincent) for the first time
ABOUT ANDREW BIRD: FEVER YEAR
Filmed during

culminating months of the acclaimed singer-songwriter's most rigorous year of touring,

Andrew Bird

crosses the December finish line in his hometown of Chicago – feverish and on crutches from an onstage injury. Is he suffering hazards from chasing the ghost of inspiration? Or merely transforming into a different kind of animal "perfectly adapted to the music hall?"



Fever Year

is the first to capture Mr. Bird's precarious multi-instrumental looping technique and features live performances at Milwaukee's Pabst Theater with collaborators

Martin Dosh

,

Jeremy Ylvisaker

,

Michael Lewis

, and Annie Clark of

St. Vincent

.

* AWARDS *
Best Pop Culture Documentary, Documentary Edge Festival
Audience Award; SENE Film, Music, & Arts Festival
Jury Prize Best Documentary, Omaha Film Festival
Audience Award, Noise Pop Film & Music Festival
.
Contact: Xan@Kartemquin.com
www.FeverYear.com
Chicago | USA