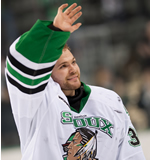 More than 150 players who completed their college careers in 2011-12 will be playing pro hockey this fall.
Brad Eidsness will not be among them.
The North Dakota goaltender had offers to sign, but he also had the opportunity to attend law school at the University of Victoria.
Read more about his decision to face law classes instead of opposing forwards.
Play College Hockey Podcast
Want more information on pursuing the college hockey path?
College Hockey, Inc. has a new podcast, Play College Hockey, that touches on common questions and issues facing prospective student-athletes.
Click here
for more information and other podcasts/radio shows that cover college hockey.
Did you get this newsletter from a friend?
Click here
if you'd like to sign up to receive it each month.