---
By the Numbers
Did you know that NCAA Division I men's hockey:
---
National Championship on the Line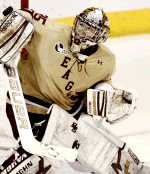 The 2012 Frozen Four takes place this Thursday and Saturday in Tampa, Fla., with four teams vying for the NCAA title:
Thursday, April 5
4:30 p.m. ET: Ferris State vs. Union (ESPNU)
8 p.m. ET: Boston College vs. Minnesota (ESPN2)
Friday, April 6
6 p.m. ET: Hobey Baker Presentation (NHL Network)
Saturday, April 7
7 p.m. ET: NCAA Championship (ESPN2; tape delayed Sunday at 1 p.m. ET on TSN2 in Canada)
Learn more about the four teams taking part including the development that a star from each team has enjoyed during his time on campus.
---
If I am drafted by a CHL team, can I sign a contract and still play college hockey if I decide not to play in any games?
Find the answer to that and many more questions
in our FAQ
---
Play College Hockey Podcast
Want more information on pursuing the college hockey path?
College Hockey, Inc. has a new podcast, Play College Hockey, that touches on common questions and issues facing prospective student-athletes.
Click here
for more information and other podcasts/radio shows that cover college hockey.
Did you get this newsletter from a friend?
Click here
if you'd like to sign up to receive it each month.