Blessings of Autumn!
I hope summer has blessed you all with abundant fun and good health!
With the seasonal shift upon us I am eager to support you in embracing the beauty of fall and find inward balance with the Autumnal Equinox.
---
Autumnal Sound Blessing Friday, September 23rd, 7-9pm
Enter the fall poised for change. Join us for the Equinox Sound Blessing as we celebrate this incredibly powerful doorway into autumn. You will have the opportunity to spend time going inward bathing your body, mind and spirit in healing so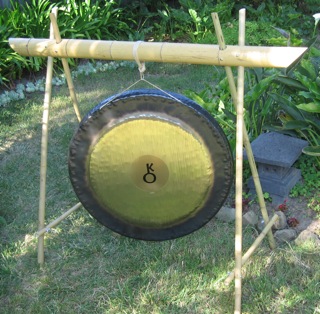 und and vibration. You will be guided on a sound journey by the Chiron gong (shown in picture), bowls, bells and tuning forks. The intent of the sound blessing is to carve out a space and a place in consciousness to slow down, heal, reconcile and source the infinite supply of divine love that is ever present.
Location: Approximately a 10-minute drive from downtown Santa Cruz, up Branciforte Drive. Detailed directions will be provided upon registration via email.
Cost is $20. Space is limited. Please register to reserve your spot(s). To register, please reply to this email or call 831 234-6616. Directions will be sent via email upon registration. Please feel free to pass this invitation along.

---
Cornerstones of the Year ...
The two solstices and equinoxes are the four cornerstones of the year. These periods open doorways to subtle realms and self discovery. This year's autumnal equinox occurs at 2:04 AM Pacific time Friday September 23rd. Join us for the Sound Blessing to Celebrate the Equinox or come on in for a Resonation Acupuncture Equinox Treatment!
---
Late Summer and Fall... Gifts of the Earth and Metal Elements
As the day and night move into balance we are called to move inward from summer's yang outward energy. This season is a mixture of nourishment and letting go. The Chinese Five Elements associated with this time of year are Earth and Metal. Earth is associated with the season of late summer and Metal is associated with autumn. These two elements blend together to create a "satisfied melancholy". As you reflect back on the joy and fun of summer there is a gratitude for all the blessings. It is a wonderful time to stop and take stock of all the beauty, abundance and grace that supports you and to also embrace letting go of the summer allowing the harvest to peak and the energy to die back. As we move into fall, the days grow shorter and the qi moves inward in preparation for winter's depth. There is a paradox to "embrace letting go" but this is the mysterious and beautiful dance of this seasonal blend. For example, after receiving a beautiful meal into your body it is essential for proper health to assimilate the nutrients and let go of the rest. There is a natural flow to receiving and releasing. We are dancing with the energies of the elements all the time and by bringing their gifts into our awareness we are aligning with the deeper calling and cycles of nature allowing for self expression and liberation. If you would like support in this seasonal transition I encourage you come in, I would love to help set you up for a healthy, easeful fall and winter.

---
Additional Articles:
If you would like to learn more about this seasonal shift, I have written and posted an article titled "Discover What Matters Most by Embracing the Beauty of Autumn", follow this link to read the article:
http://katiebriggs.net/reading_detail.php/nid/22
---