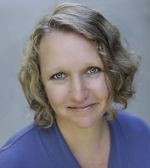 Katie Briggs L.Ac.
(831) 234-6616
katiebriggs.net
In This Issue:
Tiny Tree
Readers Choice Award
Pajama Day!
Wellness Tips
Simple Pleasures
Thank You!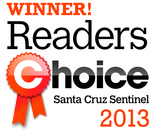 Thank you for selecting me your
"Readers Choice" Acupuncturist.
It''s a pleasure and an honor to support you in your health and wellness.
Winter Wellness: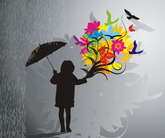 The following is an excerpt from an article I wrote, may you feel my maternal love with this guidance.
Keep your neck covered with a scarf or hoodie
Keep your feet warm and dry
Do not sit on cold; no metal chairs or cold cement
Do not leave the house with a wet head
Pay attention to weather shifts
Pay special attention to windy days; there is a protective layer of qi around your body called Wei qi which can easily be blown away by the wind. Wei qi's job is to help keep the elements out.
If you would like to read the whole article follow this link:
Winter Solstice Greetings!
Today, Saturday December 21st, marks the longest night of the year and the return of the light.
Welcome to this gateway of winter.

Tiny Tree... Big Heart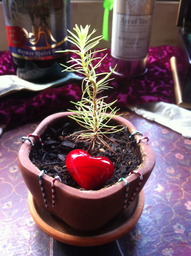 I wanted to share my Christmas tree with you all. It embodies for me the sweetness in the little things; the opportunity to
"source joy in the simple".
I am reminded this time of year that a genuine kind word or a moment of expressed gratitude is a huge gift.
In my attempt to be of service and do good work in the world I can feel the need to "work hard" and complicate the flow with my effort.
I invite you all to join me this winter-solstice holiday season to drop into the ease and simplicity; give yourself and your loved ones the gift of your presence, as opposed to a pile of presents.
It feels amazing….






"PAJAMA DAY!"
That's right you heard Me... a day to stay in your jammies all day...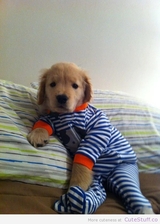 We are at the pinnacle of darkness, today marks the longest night of the year. The holidays lay before us, and I encourage you to carve out hibernation time. Winter is our time, nature's time, to hide, "return home" and rest. Boldly declare a "pajama day". This is a day where it is completely acceptable and celebrated for you and your loved ones to lounge around in your pajamas, eating yummy home cooked food, cozying up with warm beverages, reading, napping and resting. The classics of Chinese Medicine teach us to consolidate our energy in winter, becoming quieter, talking less and listening more. Winter is the time when the energy of the Kidneys predominates; the Kidney energy system is considered the root and foundation of the body's energy. Taking the respite and deep nourishment that are too often neglected is pivotal to wellness. You owe it to yourself to truly revitalize in this season of rest. May you proudly and joyously claim at least one if not several pajama days over the next several weeks.

Simple pleasures...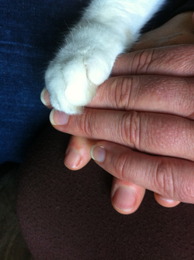 A favorite moment...
holding paws with the ones you love. May each and every one of you have a joy filled holiday season. I'm holding the coming year bring you health, bountiful laughter, grace, ease and all that your heart desires.
So many blessings,
Katie Briggs L.Ac.