As we move into the darker time of year, when the days are shorter and the nights grow longer we have the opportunity to move with this seasonal shift, to explore our inner world and the deeper undercurrents of our being.
More time to sleep and dream, time to slow down, rest and remember what it is that we most cherish and most value.
It is an opportunity to set aside the "to do" and embrace "the BE".
Halt racing from task to task! the never ending "productivity" and curl up with a hot beverage and your journal... what is it you most love and celebrate?
I encourage you to take this seasonal shift to relax, reflect and realign with your deeper values. Now is when we set the trajectory for the growth of spring.
Separating the Yeast from the Bread...

Attempting to separate "negative stress" from "positive growth" is like trying to separate the yeast from the bread.
I love this quote and the surrender and acceptance that it invites. So many times we want to push away what is happening concerning our health or lack there of…
What happens when we can invite a gentle curiosity?
My sleep is disturbed
My belly aches
My back… neck… head… are feeling pain
What is my brilliant body attempting to communicate?
In the moments of pain and discomfort if we can step back and remember that growth is happening we are frequently able to move through life with more ease and grace even if it is uncomfortable.
It is always my directive to stay curious and trust the infinite wisdom of your body. Healing comes from within and I am simply here to foster a loving space and place, to gently remind your body what it knows how to do…
heal, restore balance and experience well-being.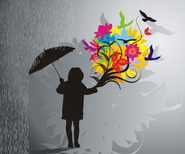 Antiphlogistic-
use with any type of infection...
sore throat, fever, achy body...
Antiphlogistic liquid is my shining tip for this season, especially if you are traveling or caretaking those with a cold or flu.
This formula clears all types of infections, UTI's, stomach flu, sinus infection…
the 3 herbs are designed to clear heat.
I suggest keeping it on hand in your purse or back-pack, and take a little for prevention if you are exposed to someone with a cold or flu, and a full dose if you feel like you're fighting the pathogen yourself.
The best way to stay healthy is to keep ahead of the ball and support your immune system.
Don't wait till the infection has "dug in its heals" -pluck it out before it lands…
Antiphlogistic Liquid.
Contact Katie to order:
1oz -$25
2oz -$40

In this season of gratitude I want to send each one of you a ripple of love...
May the beauty of YOU ripple out and touch everyone and everything around you. May this love.. that you radiate, reflect back to you the miracle of you. May your heart be replenished and renewed with gratitude... may this never ending cycle of effortless love bless you always.
Cheers to YOU, your health and well-being.
Katie Briggs L.Ac.
(831) 234-6616