Cumberland Elementary - Cumberland continues to see positive impacts from PBIS efforts. Students and school adults have common language and expectations of what being safe, respectful and responsible looks like throughout school environments. When these expectations are used as reference points, students are able to examine their own behavior relative to our expectations. When students do not meet the expectations, we are increasingly observing children's ability to articulate exactly what they need to do differently to act in concert with these beliefs.
Weekly acknowledgement drawings continue from the PBIS tickets awarded that week. Students have been particularly excited to choose sitting at the cafeteria table of their choice, selecting work time music for their class, and an extra recess for the class. Many students sport Cumberland Pride bracelets and pencils.
Through our data system, we can analyze our PBIS data in multiple ways. We know, for example, that more than one-third of our PBIS redirections are with our younger students and the fewest by fifth graders. We celebrate that in 6 of the last 7 months, the average number of offenses per day was fewer than 2!
In a school of 721 students, this is a remarkably low number. It is a tribute to the power of explicit expectations, persistent teaching, and celebrating successful and positive behaviors.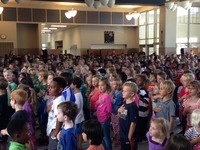 Cumberland Students saying the Pledge of Allegiance during PBIS.
Whitefish Bay Middle School – The middle school Lion PRIDE Program has resulted in several positive outcomes: Staff have positively recognized students 1403 times this year by giving PRIDE tickets when positive behavior is displayed. Parents/Guardians have received 755 emails from staff members stating that their child has demonstrated positive behavior. 338 students have had their names drawn as part of our weekly Lion PRIDE ticket drawing.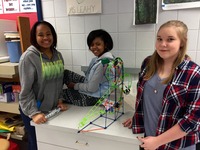 These students received recognition for their positive behavior in the form of Starbucks, Bruegger's or Dunkin Donuts gift cards, Marcus and Fox Bay movie passes, lunch fast passes and more.
Some students enjoyed a bottomless cup of hot chocolate before winter break and had the opportunity to watch NCAA March Madness during lunch and recess in recognition of having no major or minor discipline referrals.
Whitefish Bay High School - Following the fall sports season, high school staff engaged students in a purposeful lesson and held conversations with students about positive sportsmanship. Highlights of this lesson included the importance of cheering for our Blue Dukes rather than engaging in personal chants about individual opposing athletes.
Students were also asked to ponder the message shouting "Dukes" over "brave" at the conclusion of the National Anthem could send. After thoughtful discussion, many students realized that, without intending to do so, they might be insulting those who have served in our military. As a result of this lesson and ongoing conversation among staff and students, positive sportsmanship during the winter sports season has been noticeably improved.
It is really important that all remember that our venues of extra-curricular competition and performance are direct extensions of our classrooms and fan/audience behavior should be positive and respectful at all times. Humble in victory , gracious in defeat....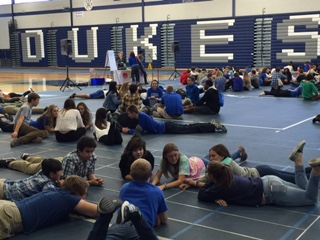 High School Retreat
You may find these guiding beliefs about schools and PBIS interesting.

Next time you speak with your child, their teacher(s), school's principal or assistant principal ask them how PBIS is going?