---
The Seven Thriving Dispositions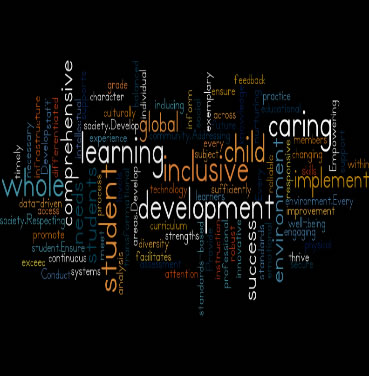 As featured in this year's e-newsletters, The Seven Thriving Dispositions are qualities and ways of being that our students will need to possess if they are going to be successful in the 21st century. This month we will focus on Accessing and Analyzing Information Skills.

Thriving Disposition #6 - Access and Analyze Information Skills
In the twenty-first century, we have to manage an astronomical amount of information flowing into our lives on a daily basis. We have to be able to access and evaluate information from many different sources. Sorting, vetting, prioritizing, comparing and contrasting, and ultimately judging the validity and reliability of information are key skills.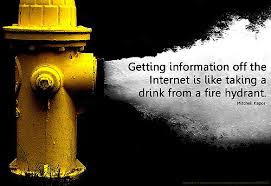 At times it feels a bit like taking a drink from a fire hydrant.

Access and Evaluate Information - involves accessing information efficiently (time) and effectively (sources) as well as evaluating information critically and competently (Wagner, 2008).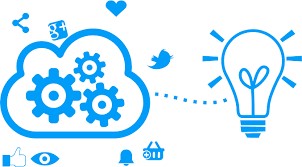 Use and Manage Information - involves using information accurately and creatively for the issue or problem at hand, managing the flow of information from a wide variety of sources, and appling a fundamental understanding of the ethical/legal issues surrounding the access and use of information (Wagner, 2008).


Our teachers and School Board will continue to learn, investigate and incorporate
Accessing and Analyzing Information Skills
into the student learning experience in the Whitefish Bay Schools. Stay tuned for the next e-newsletter as Collaboration will be the last featured disposition.
Resources/Excerpts from:
Wagner, T., (2008)

The Global Achievement Gap

, Basic Books, New York, NY.

Wisconsin's Guiding Principles for Teaching and Learning, (2016).

Wisconsin Department of Public Instruction.

WFB District

Seven Thriving Dispositions Document
---
All Staff Appreciation Week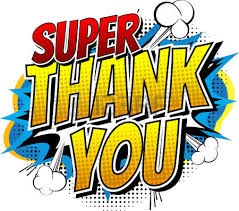 April 24-28, 2017 was our School District of Whitefish Bay
All Staff Appreciation Week
. Early each morning our School Board members and District Administration met at a school location and provided a light breakfast as a show of support, appreciation and thanks to the staff that serve at that school.
We met at Richards on Monday; Lydell on Tuesday; Cumberland on Wednesday, WFBMS on Thursday, and WFBHS on Friday. We believe it is important to take time to celebrate each other and the collective commitment around our Whitefish Bay Public Schools and our Community Education Program. We are very thankful for ALL staff that make positive daily contributions to ensure our schools are great places and that student and community learning experiences are meaningful, challenging, and supportive.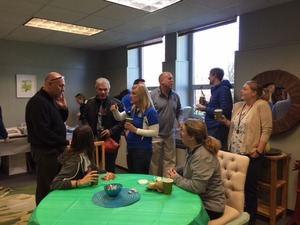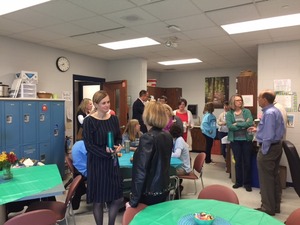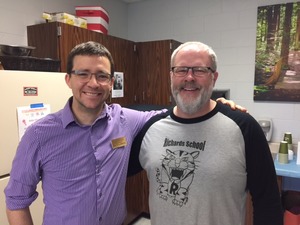 Pictured:
High School & Richards Cele
brations
New Board Member W. Brett Christiansen with teacher Jeff Widder
---
Great Things Throughout our School Community
Check out some of our recent Facebook post images.
HS Flash Mob
Alumnus Thomas Aiken Class of 2013
CU K5 Author Visit
MS PB&J Challenge
RI Exciting Day in the Office
Rec. Dept. Schools Out Fun
HS Service Above Self Awards
CU 1st Grade Marketplace
MS 6th Camp Minikani
RI 4th Trip to Madison
See more detail on our Facebook page.