Members in the News
[VRHA member] Institute for Policy and Governance (IPG), part of Virginia Tech's College of Architecture and Urban Studies, is one of 10 groups nationwide awarded a grant as part of a new national project to provide behavioral health resources for local decision makers.

IPG has been awarded the Community Assessment and Education to Promote Behavioral Health Planning and Education grant, also known as CAPE. Locally, the project team will explore ways in which communities in the New River Valley; including the areas of Floyd, Giles, Montgomery, Pulaski, and the City of Radford; currently gain information on behavioral health and then work with the communities to enhance access to needed information and provide pivotal information to community decision-makers.

Read the full press release.
More Members in the News
VRHA Board Member Maggie Basset was awarded the New River Valley Medical Reserve Corps first choice for the category of "Training and Exercises". Volunteers for this category were based on two factors: volunteers who exceeded the Unit's minimal training requirements or participated in exercises during the past 12 months.

The nomination stated: "Maggie was an excellent candidate for her participation in both. During the past 12 months Maggie has completed a Field Epidemiology training, that took place twice a week over three weeks, to qualify her as a member for the MRC Epi Response Team. She has participated in exercises where she acted as a victim of an outbreak in order for VT Carilion Medical Students to learn about outbreak investigations. She also supports the Basic Disaster Life Support training done at Radford School of Nursing every year. Maggie is a great asset to the NRV MRC and we love working with her and learning from her!"
Webinar Schedule
For detailed descriptions, visit the VRHA webinar page.
Deadline Approaching!
VRHA is accepting applications from students who wish to serve as a representative on the VRHA Board of Directors. Applications must be submitted no later than April 25, 2014.

Application form and suplemental information can be downloaded here.
Tax Day
By Virginia Consumer Voices for Healthcare

April 15, was tax day and we are all reminded about the dollars we contribute to help provide basic services in our communities. While paying taxes may seem painful, it is important to remember that, like charitable contribution to the good works being done by religious organizations, the government is also an institution dedicated in large part to doing good works – to promoting the public interest.

In fact, we should feel grateful for all the services our tax dollars make possible. We pay taxes to make our water safe to drink, to monitor the eggs we have for breakfast for serious food-borne illnesses, to guarantee our savings at the local bank, and to fund Medicare so we can care for the health of our elders. These are just a few of the valuable things our tax dollars pay for.

This year, the most painful part about paying our taxes is the fact that we have already lost $500 million of our tax dollars that the federal government is willing to return to Virginia so that we could provide coverage for up to 400,000 uninsured Virginians. This additonal funding would have freed up state dollars Virginia usually spends on health care for the poor in hospitals to instead be spent on roads, parks, public safety and a myriad of other services.

Virginia's leaders are wasting our tax dollars and denying care that we have already paid federal taxes for—that's millions of dollars our hospitals and economy need-- that will not come back to us. And in the long run, cutting off care will come with its own price tag: hospitals will still be forced to give uncompensated care to low-income individuals who could have easily been covered by health insurance, and the rest of us will get stuck with a higher bill.

Our legislators have the opportunity to make tax day less painful. Contact your Delegate today and ask him/her to make wise decisions with your tax dollars.
No Account
By Bob Brown - Richmond Times Dispatch

Bill Howell serves not only as speaker of the House of Delegates but also as the highest-ranking state official among Virginia Republicans. His voice cannot be ignored.

The other day Howell conceded that Marketplace Virginia — the state Senate's private option for Medicaid expansion — is germane to the budget; he also explained that coupling the Medicaid proposal and Virginia's overall spending plan represents bad policy. And he expressed fears that a government shutdown could result in the lowering of Virginia's AAA bond rating.

Read the full article and a related article in DelMarVaNow.
Winner!
Virginia retains photographic dominance as Doug Puffenbarger of Blue Grass, VA won the grand prize in NRHA's Rural Lens Photo Contest. A Virginian has won the top prize every year! Mr. Puffenbarger's entry is below. The remaining photos can be found in NRHA's Rural Roads magazine - including Mr. Pufferbarger's top entry in the landscape category.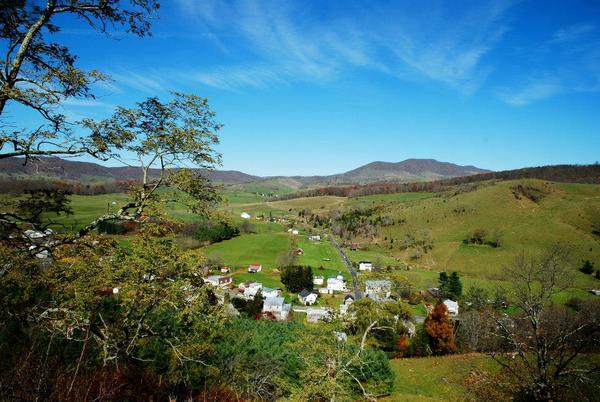 Two Midnight Rule
By David Lee - National Rural Health Association

On April 14, the American Hospital Association and several other health care groups and individual hospitals filed two suits against the Department of Health and Human Services over the long-term legality of the two midnight rule. Among other items, the suits allege that the rule is arbitrary, places undue burdens on hospitals based on unlawful standards, requires documentation that is not authorized by law and refuses proper Medicare reimbursements for some inpatient stays. The suit, filed in the DC Federal District Court, is yet to be scheduled for motions or trial.

NRHA has long sought Congressional intervention for this problematic standard, in addition to regulatory relief for Critical Access Hospitals from the 96-hour condition of payment issue and will continue to work with Capitol Hill to ensure that all rural hospitals are able to provide appropriate, local care.



Reducing Rural Suicide
By Rebecca A. Clay - American Psychological Association

All's not well down on the farm. Or up in the mountains. Or in the farthest reaches of Alaska. According to the U.S. Centers for Disease Control and Prevention (CDC), people in the nation's rural areas are at higher risk of suicide than their urban counterparts.

"Suicide rates tend to be high in rural areas in part because there is greater access to firearms, high rates of drug and alcohol use and few health-care providers and emergency medical facilities," says Julie Goldstein Grumet, PhD, director of prevention and practice at the Suicide Prevention Resource Center in Washington, D.C. "It's a lethal triad."

Now, Goldstein Grumet and other psychologists are finding innovative ways to keep rural residents from killing themselves. They're integrating mental health care into primary care as a way to fight the stigma about mental health problems and help-seeking that's prevalent in rural areas. They're equipping veterans with webcams and Skype-like software so that even the most far-flung can get mental health treatment. And they're focusing on rural populations at especially high risk, including American Indians and Alaska Natives.

Read the full article.
Leading EHR Adoption
Kyle Murphy - EHR Intelligence

A generally safe assumption in healthcare is that academic and urban clinical settings outpace critical access and rural health centers. So then why in a recent annual report by SK&A did states such as Utah, Wyoming, Iowa, and the Dakotas rank among the top-five states for EHR adoption?

According to South Dakota's regional extension center (REC), HealthPOINT at Dakota State University, the answer to that question has everything to do with the state's health information technology resources being aligned and tied together in an organized way.

"The good thing in South Dakota is that we're all pulling together in a single direction and that really shows through in areas like our work with the HIE," Dan Friedrich, CISSP, Director of HealthPOINT, told EHRIntelligence.com. "It all really ties together."

Read the full article.

Keeping Rural Seniors in Their Homes
By Eric Oberdorfer - Rooflines

Through my work researching housing for rural seniors, two things have become evident: first, rural America is older than the nation overall, and second, aging in place is the best option for seniors. "Aging in place" refers to older adults living independently in their current residences or communities for as long as possible. The vast majority of rural seniors own their own homes, so this often means remaining there; it can also be accomplished, however, by moving to a more manageable dwelling (such as a smaller apartment).

Numerous reports have proposed that aging in place is preferable for seniors. Living independently often results in improved health, life satisfaction, and self-esteem for elders. Of course, challenges exist. Physical changes to the body that occur with age make it more difficult for seniors to live independently, and older homes are often not physically accessible for seniors with physical ailments. Homeownership often requires onerous or expensive upkeep that seniors may not be physically or financially able to manage. Additionally, the existing housing stock in rural areas often lacks a range of choices that could provide options for seniors unable to maintain larger homes and properties. This makes moving into smaller, more manageable units more difficult.

Read the full article.
May 6: The Rural Social Determinants of Health - webinar
May 7: Improving Health Care for Veterans Begins With You - webinar
May 12-16: Behavioral Health and Integration Training Institute - Radford
May 14: Advance Directives - webinar
May 15: The Many Resources of Easter Seals - webinar
May 21: Project REVIVE! - webinar
June 20-21: Dental Care Approaches for Adults with Disabilities - Lynchburg
June 26: Addressing Disaster Preparedness in Rural Communities - Richmond & videoconference
July 16-18 Rural Quality & Clinical Confernce - Atlanta, GA
The Value Transformation of Rural Health Care
This conversational video (and the accompanying discussion guide) introduces the value transformation in rural health care, discusses how rural health care is rapidly changing, and suggests strategies to navigate the changing health care environment. Health care leaders can use this video and discussion guide during staff, board, and community meetings to inform audiences and inspire conversation.

The Merger Frenzy
During health care organization affiliation discussions, the local health care system should be considered as a community treasure. Joseph Lupica, a national health care affiliation expert, embraces the Rural Health Value "stop and think" step during health care organization planning. Review Mr. Lupica's interview and presentation for insights about the health care affiliation process.

Health Insurance Marketplace: Special Enrollment
The Affordable Care Act (ACA) is helping Virginians get the quality health care they need, and consumers may still be able to sign up! Though the open enrollment deadline for all private plans ended on March 31, some people may still be able to enroll in a health insurance plan before the next open enrollment period starts on November 15, 2014. Flyer explains details.

PatientsLikeMe
Offers a way for patients living with disease to use their own experiences, and that of others, to create new health measures—based on real-world experience—that are more meaningful, helpful, and relevant. Patients would lead research on the Open Research Exchange (ORE), an online hub for the development of patient-reported outcomes—measures used by clinicians to gauge health, disease severity, and quality of life.

RWJF Unequal Treatment and Reducing Healthcare Disparities Issue Brief
A new issue brief from RWJF gives an update on the field of healthcare disparities. The findings show that, while overall quality is improving, access is worse and there has been no improvement in lessening disparities. However, more tools exist to support measuring health disparities, such as enhanced capacity for subgroup analysis and new metrics for assessing cultural competency and language services.
Federal Grant Writing Manual
Developed specifically to help grant applicants prepare for, and write, a federal grant proposal. It starts from the very basics of looking at what a grant is and assessing whether or not an applicant is qualified to apply for a federal grant. The Manual then delves deeper into the art of grant writing by delivering information on specific parts of proposals including: developing goals and objectives; putting together a budget; developing work plans; and outlining specific frameworks to help an applicant stay organized and focused during the grant writing process. It also includes information on project sustainability and how to evaluate the grant project.

Rural Care Coordination Toolkit
Designed to help you identify and implement a care coordination program and provides resources and best practices. Contains several modules focusing on different aspects of care coordination programs and includes resources to use in developing a program for your area.

2014 NHSC New Site Application
Cycle is now open to those sites that have never been approved as an NHSC site. All completed applications must be submitted by June 16, 2014, at 11:59 pm, ET to be considered for an award.

Behavioral Health Workforce Education and Training for Paraprofessionals
In support of the White House's Now is the Time initiative, the grant program aims to expand the behavioral health workforce targeting children, adolescents, and transitional-age youth at risk for developing or who have developed a recognized behavioral health disorder. Grantees will be expected to expand the behavioral health workforce by supporting education and training for behavioral health-related paraprofessionals at community and technical colleges, and training for peer professionals in other settings as appropriate. BHWET grantees will help to close the gap in access to behavioral health care services by increasing the numbers of adequately prepared behavioral health paraprofessionals working with at-risk children, youth and their families.
Deadline: June 3, 2014

Behavioral Health Workforce Education and Training for Professionals
Application deadline: Jun 3, 2014
Awards funding to colleges and universities to support pre-degree internships and field placements for students pursuing careers in certain behavioral health careers. Special consideration will be given to programs that provide information and education dissemination to rural and medically underserved areas.

Healthy Environments
Application deadline: Applications accepted on an ongoing basis.
Funding to improve the health and well being of vulnerable children from low-income families by making the places they live, learn, and play safe and supportive of overall good health.

Ribbons of Hope - Invest in Women
Ribbons of Hope - Invest in Women is dedicated to making a positive impact on the lives of women and girls. Each year the Foundation awards one $100,000 grant to a nonprofit organization that promotes education, health, economic independence, social well-being, or human rights for women and girls. The geographic focus in 2014 is on organizations from the Southeast, including Georgia and the surrounding states. The grant can be used for special projects or capital improvements that can be sustained by the organization after the grant allocation. Preference will be given to programs that can be fully funded by the $100,000 grant and are not reliant on other sources of funding to be successful. Applying organizations must have at least three years of financial records and an annual operating budget of at least $500,000 (in-kind donations can be included). The application deadline is July 1, 2014.