VRHA in DC
Five delegates from Virginia joined the National Rural Health Association's Rural Health Policy Institute in Washington, DC. NRHA unveiled new research at the event showing the increased severity of the closure crisis: 67 rural hospitals have now closed since 2010. One in three rural hospitals is at risk of closure, an estimated 673 facilities, which would mean 11.7 million patients could lose access to care.

The VRHA delegation visited 12 Virginia Congressional offices with this message and urged our elected officials to support rural health.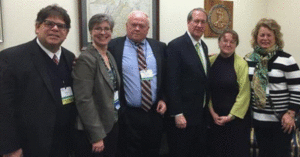 Virginia's delegation with Congressman Goodlatte...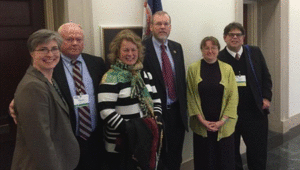 and Congressman Griffith...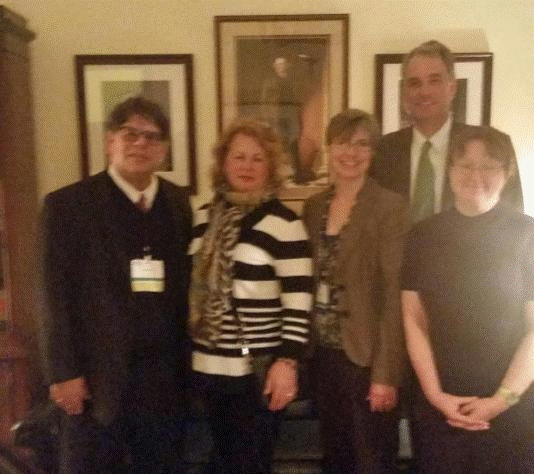 and Congressman Hurt.

Rural America will continue to require advocacy efforts throughout 2016. To get involved with NRHA's advocacy efforts, join NRHA's Grassroots Advocacy Forum by emailing the membership team.
RHC Agenda
The agenda is set for the March 23 & 24 Virginia Rural Health Clinic meeting. Sessions will include:
Rural Health Clinic Policy: A National Perspective
Rural Health Clinic Coalition Strategic Planning
Rural Health Clinic Regulation Review
Palmetto MAC: 2016 Medicare Updates
Chronic Care Management and Advanced Care Planning: New Codes for Medicare

Visit the RHC meeting page for details and registration. Note that the event is FREE for any staff member from a Rural Health Clinic in Virginia.
Members in the News
By Dave Ress - Daily Press

After dueling press conferences promising dialog came the first signal of how one of the biggest debates in the General Assembly is going: a House member from Staunton and the CEO of his local hospital in a head-to-head discussion, each saying firmly the other didn't understand.

The issue is the state's power, though its certificate of public necessity program, to say when and where medical facilities can be built or expanded. For hospital executives, like [VRHA member] Augusta Health's Mary Mannix, that power keeps others from cherry-picking the income-producing services to cover money losers like obstetrics and psychiatric care.

Mannix said at the hospitals' press conference that the bills were based on a false premise: that there is a free market in health care. She said federal and state law requiring hospitals to provide care, and steep, government-set cuts for Medicaid and Medicare meant competition wouldn't work.

Read the full article and related article in the Augusta Free Press.

Back to the top
More Members in the News
By Justin Ward - wdbj7

Space. It's just what the doctor ordered at LewisGale Hospital Pulaski [a VRHA member].

"We've seen about 15 percent growth year over year from last year to this year," said Derck Vance, the CEO of LewisGale Hospital Pulaski said. "There is clearly a need for emergency services." Hospital leaders unveiled the changes not only to make room for more patients but to meet the need for high-quality emergency care.

Read the full article and related story from the Southwest Times.

Back to the top
Transforming Care
VRHA has partnered with QualityImpact, a CMS-funded practice transformation network, to provide practices with free support and resources to aid in their transition to value-based delivery models.

A webinar will be held at noon, Tuesday March 8th to review what options are available to your organization, including analytic tools, consulting services, and quality improvement expertise.

Click here to register, or contact 336-355-8172 for questions.
Expansion and Workforce
By Dan Heyman - Public News Service

A comparison between states shows those that have expanded Medicaid are likely to have a healthier workforce. The Virginia General Assembly has so far refused to close what's known as the coverage gap, which mostly affects the working poor. But a new study by the group Families USA finds states that have extended Medicaid under the Affordable Care Act have seen about twice the reduction in working people without health insurance. Kentucky saw one of the largest drops.

The Commonwealth Institute says more than 200,000 adult Virginians below the federal poverty line fall into the coverage gap. They make too much to qualify under current Medicaid rules, but not enough to get subsidized insurance though the healthcare exchange. The Affordable Care Act intended to cover them through broadening Medicaid, with the federal government picking up almost all of the cost. But the Supreme Court ruled states could turn down that option

Read the full article and related article from Becker's Spine Review.
Expansion and Finance
By Susan Morse - Healthcare Finance

Hospitals in Medicaid expansion states fare better financially than those in states that have not adopted the Affordable Care Act initiative, according to an attorney who formerly directed the Medicaid program for the Centers for Medicare and Medicaid Services.

"We're beyond projections," said Attorney Cindy Mann. "If you look at what's gone on, it's been a significant help to their bottom line. Hospitals have reported drops in uncompensated care and a rise in the number of patients covered - as much as 35 percent drop in uncompensated care."

"To providers there's more business. Despite an inadequacy about Medicaid payment rates, it can be far superior than no payment," she said. "In terms of payers, plans are eager to jump into the Medicaid marketplace."

Read the full article and related story from West Virginia Public Broadcasting.
Catawba Not Closing
By Luanne Rife - Roanoke Times

The General Assembly will reject the governor's $1 million budget request to fund a plan that would lead to closing Catawba Hospital, the chairmen of the General Assembly's money committees said Friday.

"We are not going to accept that language," said Sen. Emmett Hanger, R-Augusta County. "I should have been quicker to come out with that message."

Hanger, who heads the Senate Finance Committee, said the Senate instead will direct the administration to hire consultants to develop a statewide plan to spell out the specific types of services needed to care for elderly people whose behavior pushes the bounds of what families can handle and nursing homes will accept.
Read the full article.
Politics and Rural America
By Diane Smith - Flathead Beacon

I became energized to advocate for rural and small town America after a trip to Washington, D.C. several years ago. Two things happened on that trip. The first was a high-ranking congressional staffer said to me, "Diane, why should we focus on rural America? Nobody lives there anymore." The second was when a pivotal agency staffer defended a poor decision by declaring, "Rural Americans will have sufficient bandwidth to download their emails and pay their taxes online." The point being that we didn't need as much broadband capability as our high-tech urban neighbors.

I knew then that America off the beaten path was perilously misunderstood. I also knew that such misunderstandings could have some pretty big consequences for those of us who choose to live outside urban centers.

Political America would never make a policy decision that didn't fully evaluate its effects on baby boomers, millennials, or people over 65. Yet policymakers across America every day make decisions even though they are under-informed about the unique characteristics of America beyond our urban and suburban centers.

Read the full editorial.
Beating the Odds
By Zack Budryk - Fierce Healthcare

Rural healthcare is caught in a full-blown crisis. The rural hospital sector desperately needs more workers, even more so than the healthcare sector at large. In addition, federal funds are at risk in states that failed to expand their Medicaid programs under the Affordable Care Act. As a result, up to 30 hospitals may close in states such as Kentucky and Kansas.

Despite these obstacles, many rural and community providers have found innovative ways to survive and, in some cases, thrive. In this special report, FierceHealthcare examines four strategies to help rural hospitals ride out the crisis:
form strategic alliances
embrace innovative care solutions
increase recruitment efforts
go bigger, not smaller
Rural Transportation
By Jenn Lukens - RHI Hub
Launched in 2013 and administered by the Missouri Rural Health Association, HealthTran's mission is "working together to reduce the barrier of transportation for those with a medical need." The organization serves a ten-county region in South Central Missouri, coordinating non-emergency transportation and assistance for individuals (excluding Medicaid patients) who are unable to travel to their healthcare appointments.

"Public transportation can be an important enabler of access to services," said Doris Boeckman, former executive director of the Missouri Public Transit Association. "It can lead to more individuals reaching life-sustaining and preventive healthcare services." Early on, HealthTran distributed a survey to patients from five healthcare facilities located in HealthTran's service area. Results showed that out of 214 patients, over 23% had missed at least one healthcare appointment because they did not have transportation, half of them missing more than one appointment.

HealthTran reaches some of the most underserved Missouri residents. They operate in five of Missouri's poorest counties where up to 26% of residents are below poverty level, and over 85% of HealthTran's passengers have an annual income below $25,000. In addition, HealthTran's services are important for older adults as Medicare beneficiaries make up a large portion of passengers.

Read the full article.

Small Town Suicide
By Bradley A. Martin - Daily Yonder

Back in the early part of 2003 — my 18th year as editor of this weekly newspaper — I knew something was happening that we had not seen before. Even more frustratingly, there was no source to turn to – no administrator or minister or emergency responder who could, or was allowed, to add context or reasons.

I found my way to the state-funded Tennessee Suicide Prevention Network and its executive director, Scott Ridgway. He understood, and immediately agreed – in our first phone conversation – to seek medical and mental health professionals, locally and from the region, to sit down and figure out how to begin attacking the problem.
In 2003, the new Hickman County Suicide Prevention Task Force began organizing those sessions, including the short "Question, Persuade, Refer" session, which is surprisingly simple. In the years since, the group has become a fixture at community events, supplying prevention information; an annual remembrance is focused on victims and families, highlighted by a balloon release. The local task force chair has been the statewide chair, too; and a second group has been created to bring together surviving family members who are struggling with their losses.

Read the full article.
For more information about these and other events, visit the VRHA Calendar

March 8: Transforming Care with Quality Impact - webinar
March 23 & 24: Rural Health Clinic Capstone Meeting - Blacksburg
April 6-8: National Health Outreach Conference - Roanoke
April 10-12: Mid Atlantic Telehealth Resource Center Annual Summit - Cambridge, MD
April 25-26: National Reduce Tobacco Use Conference - Washington, DC
Virginia Grants Website
A one stop portal for local, state, federal, and private funding opportunities. The site allows you to search for and browse hundreds of grant opportunities. It will be regularly updated and features grant opportunities for a wide variety of needs.

Governor's Access Plan
Virginia launched the Governor's Access Plan (GAP). GAP is a program to integrate primary and behavioral health services and care coordination for Virginia's uninsured with serious mental illness (SMI). Other key benefits include diagnostic, and laboratory services, as well as coverage for prescriptions. This benefit will provide access to care and treatment to many Virginians with SMI.

For funding opportunities without a specific deadline, please visit the VRHA Resources page

Virginia State Loan Repayment Program (VA-SLRP)
Trying to recruit health professionals to work in your health safety net center/clinic?
The Virginia Health Care Foundation (VHCF) is now making student loan repayment funds available to help recruit dentists, mental health professionals, physicians, nurse practitioners, and physician assistants to work in health safety net facilities in Virginia's health professional shortage areas.* VHCF will provide up to $15,000 per eligible individual per year for up to two years to match an equal amount of federal loan repayment dollars via the Virginia State Loan Repayment Program (VA-SLRP) for the same time period. For example, $15,000 from VHCF plus $15,000 from VA-SLRP will result in a total of $30,000 per year in loan repayment. In return, the sponsored provider must practice in an eligible health safety net facility for each year of loan repayment. Applications accepted January 1 to July 31, 2016 or until funding limits have been reached.

NURSE Corps Loan Repayment Program
Offers loan repayment assistance to registered nurses, nurse practitioners, advanced practice nurses, and nursing school faculty who agree to work in underserved areas.
Application Deadline: Feb 25, 2016

Sojourns Scholar Leadership Program
Supports innovative clinical, research, education, or policy projects in the field of palliative care and implementation of a leadership career plan for outstanding nurse and physician emerging leaders.
Application Deadline: Feb 26, 2016

Office on Violence Against Women Grants for Outreach and Services to Underserved Populations
Program goals are to develop and implement outreach strategies targeted at, and provide victim services to, adult and youth victims of domestic violence, dating violence, sexual assault, or stalking in underserved populations.
Letter of Intent (Optional): Feb 18, 2016
Application Deadline: Mar 9, 2016
Distance Learning and Telemedicine Program Grants
Provides grants to improve telemedicine services and distance learning services in rural areas through the use of telemedicine, computer networks, and related advanced technologies.
Application Deadline: Mar 14, 2016

Rural Health Research Center Cooperative Agreement
Grants to increase the amount of high quality, impartial, policy-relevant research to assist decision-makers to better understand problems faced by rural communities, and provide information that will improve access to healthcare and population health.
Application Deadline: Mar 14, 2016

Charles A. Frueauff Foundation Grants
Awards grants in the areas of education, human services, and health. Specific project initiatives include food and hunger; economic development; daycare programs; hospital and healthcare agencies; health screenings; health education; AIDS/HIV prevention and education; and equipment for healthcare facilities.
Application Deadline: Jul 1, 2016