VRHA at the GA
VRHA staff and members participated in the Virginia Health Care Foundation's Health Care Safety Net advocacy day to support Medicaid Expansion. VRHA staff held meetings with Senators Edwards, Cosgrove, and Delegates Hurst, Brewer, Collins, and Hodges, as well as meetings with staff from the offices of Gilbert, Austin, Obenshain, McDougle, Deeds, Cline, Tyler, Lucas, Morefield, Campbell, Rush, Kilgore, Pillion, Chafin, Carrico, and Stanley.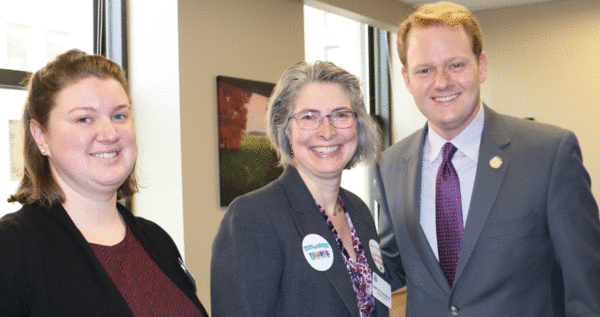 VRHA Program Coordinator Mindy Thorpe and Executive Director Beth O'Connor with Del. Chris Hurst
Members in the News
By Johnny Oliver - WHSV

Prescriptions for opioids are trending downwards in Virginia, according to [VRHA member] Virginia Hospital and Healthcare Association.

The new study said re-written prescription guidelines and educating patients and their caregivers are two major ways hospitals and health systems in Virginia have fought the epidemic.

Read the full article and related story in the Augusta Free Press.
More Members in the News
By Siobhan McGirl - WDBJ7

[VRHA member] Centra's Bedford Memorial Hospital Emergency Room has reopened, this time with state of the art facilities. The old ER shut its doors back in May and was temporarily moved to the second floor. Now it is has 14 rooms instead of 10 and a more open traffic flow for doctors and visitors.

Read the full article.
Kilgore Supports Expansion
By Laura Vozzella - Washington Post

A prominent Republican state legislator from southwest Virginia announced his support Thursday for expanding Medicaid, an about-face that could make it easier for other rural conservatives to get on board after four years of steadfast opposition.

Del. Terry G. Kilgore (R-Scott), chairman of the powerful House Commerce and Labor Committee, said his struggling coal-country district would get the "hand up" it desperately needs if more uninsured Virginians were made eligible for the federal-state health-care program.

"For my district, for my part of the state, it's the right thing to do," Kilgore said. "At the end of the day, I think you'll see a lot of folks feeling that way."

Kilgore sees the failure, by a GOP-controlled Congress and White House, to repeal the Affordable Care Act as proof that the program is here to stay.

"They've kept Medicaid expansion in the [federal] budget," he said. "So it's time for Virginia to act. But we've got to act in the Virginia way."

Read the full article, and related article from the Washington Post, Kilgore's editorial in the Roanoke Times, and listen to Kilgore discussing the issue on the John Fredericks Show.

Patrick Hospital Bill
By Carmen Forman - Roanoke Times

Gov. Ralph Northam will sign legislation granting Patrick County's lone hospital a second chance Friday. In his first bill signing as governor, Northam will authorize legislation proposed by Sen. Bill Stanley, R-Franklin, to extend the license for the shuttered Pioneer Community Hospital — marking hope that the hospital could reopen soon.

Read the full article.
Black Lung in Appalachia
By Benny Becker - Daily Yonder

The central Appalachian coalfields are in the middle of an unprecedented epidemic of severe black lung disease. In a recent issue of the Journal of the American Medical Association federal researchers released the results of a study conducted at just three black lung clinics. The study confirmed 416 cases of the most severe form of black lung disease, Progressive Massive Fibrosis. According to the authors, it's the largest number of severe black lung cases ever documented, and one of the worst industrial epidemics in American history.

As startling as the findings are, the researchers said that their report is far from an accurate total count. The researchers first noted the epidemic at a fourth clinic in Pike County, Kentucky, where there are now around 100 confirmed cases. NPR's investigations found nearly 2,000 cases across Kentucky, Virginia, and West Virginia.

Read the full article and related story from ARS Technica.

Back to the top
Ballad Health
By Josh Smith - WJHL
Ballad Health will be led by a 17 member management comprised of former Mountain States Health Alliance and Wellmont Health System executives, the new company announced. Of the 17 member Ballad management team, 9 people come from MSHA with former MSHA employees holding the highest ranking management positions in the new company. Seven management team members come from Wellmont, and one comes from outside the two companies.

Read the full article, and related stories from WJHL (2nd), WJHL (3rd), Johnson City Press, Coalfield Progress, Bristol Herald Courier,
What's Next?
By Jessica Seigel - National Rural Health Association

Since Congress irresponsibly let critical rural provisions expire at the end of September, the National Rural Health Association (NRHA) has continuously requested that Members renew their commitment to rural Americans and reauthorize funding for Medicare Extenders and Community Health Centers. Last Friday, after a brief government shutdown, Congress finally acted on their promises to support rural providers and facilities. The Bipartisan Budget Agreement, passed in the early hours of the morning, included a 2-year extension for Community Health Centers, Medicare Dependent Hospitals, Low-Volume Hospital adjustments, rural ambulance payments, Medicare Therapy Caps, and the geographic index floor under the Medicare physician fee schedule. Additionally, the legislation provides for a full ten-year extension of the Children's Health Insurance Program (CHIP) and 6 billion dollars in additional funding to address the Opioid Crisis. The bill also finally repeals the Independent Payment Advisory Board (IPAB). Though this board was never formally created as a part of the Affordable Care Act (ACA), it could have been devastating for Medicare beneficiaries in rural America.

For months, we have been told by Congress that they hear our voice, that they are listening to rural America. Finally, we saw action on this promise. It is no coincidence that this legislation passed the same week that more than 400 rural advocates joined us here in Washington, D.C. for the 29th Annual Rural Health Policy Institute to advocate for the needs of underserved rural communities across our country. This is what we can accomplish when we work together to make our rural voice even louder. Now that Congress has acted on its verbal commitment to our most vulnerable populations, rural facilities and providers can get back to work with the certainty they need that these essential programs will remain in place. Now we can finally turn to other priorities that will help improve access to and delivery of local care in rural America.

Read the full article.
Care for Veterans
By Joshua Ball - Kentucky Today

The idea of the Virtual Living Room grew from a White House Rural Telehealth Summit where PRTC CEO Keith Gabbard was selected as one of two rural telephone executives to speak at the event. It was Gabbard's second visit to the White House. He was there in 2014 when PRTC received the Smart Rural Community designation from the NTCA.

"Providing telehealth services is eliminating the burden of travel that so many veterans face commuting to and from Lexington," said Gabbard. "Many times, these ideas get caught up in various business models for participating organizations. That was not the case here. We wanted to provide the service and our public library graciously offered the space."

The VLR, which opened in October 2017, is a pilot project which allows veterans to connect with health care professionals at the VA Medical Center in Lexington, Ky. through telehealth and telemedicine approaches. The creation of the VLR, which has a couch, chair, end tables, coffee table, and other furnishings was provided through a grant by the NTCA.

Read the full article.
For more information about these and other events, visit the VRHA Calendar

March 3: Educational Forum on Prescription Drug Abuse - Martinsville
March 4: Educational Forum on Prescription Drug Abuse - Roanoke
April 15-17: MATRC Annual Telehealth Summit - Hershey, PA
May 8: Health Equity Conference - New Orleans, LA
May 8: Rural Medical Education Conference - New Orleans, LA
May 8-11: Annual Rural Health Conference - New Orleans, LA
May 8-11: Rural Hospital Innovation Summit - New Orleans, LA
Finding Statistics and Data Related to Rural Health
This topic guide was updated with new resources and information. There are also new items to the Data Sources & Tools Relevant to Rural Health section, several related to opioid use in rural areas.

2016 American Community Survey (ACS) State and County Dashboard
Map-based interactive tool for accessing selected 2012-2016 American Community Survey data at the state and county level. Includes data on population, poverty, unemployment, and more.

Rural Food Access Toolkit
This new toolkit compiles resources and model programs on improving access to healthy food in rural areas.

Cybersecurity Toolkit for Rural Hospitals and Clinics
Describes 4 steps in awareness, assessment, implementation & remediation, and education, to help rural clinics and hospitals develop and maintain cybersecurity programs. Includes a list of resources, checklists, and tools appropriate for all users.
For funding opportunities without a specific deadline, please visit the VRHA Resources page

Department of Health and Human Services
The Drug-Free Communities Support Program provides grants to community coalitions working to prevent and reduce substance use among youth, which will ultimately reduce substance abuse among adults.
The application deadline is March 29, 2018.

Grants to Establish and Expand Jail Diversion
Grants to establish or expand programs that divert adults with a serious mental illness or a co-occurring disorder from the criminal justice system to community-based services prior to arrest and booking.
Application Deadline: Mar 5, 2018

Home Depot Community Impact Grants Program
Funding for nonprofit organizations and public agencies in the United States that are using the power of volunteers to improve communities, with a focus on veterans and diverse, underserved communities. Grants are given in the form of gift cards for the purchase of tools, materials, or services.
Application Deadline: Dec 31, 2018

Christopher D. Smithers Foundation Grants
Provides funding for programs in the areas of alcohol use disorder prevention, education, and treatment, as well as other substance use disorders.
Applications accepted on an ongoing basis.