VRHA Celebrates!
VRHA joined the Virginia State Office of Rural Health and the Virginia Oral Health Coalition in celebrating National Rural Health Day on November 16th!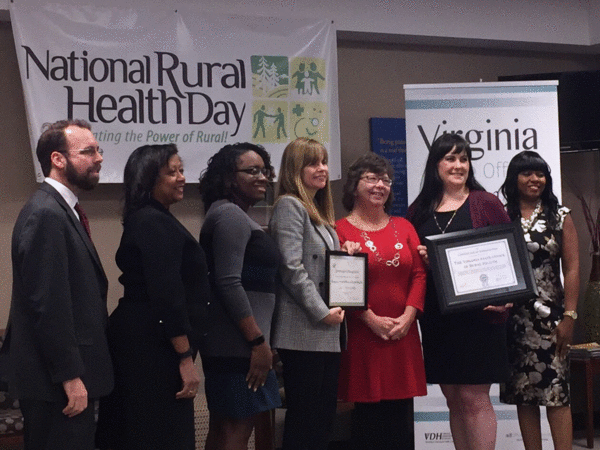 Pictured are Justin Crow, Dianna Williams, Ashley Clark, Sarah Bedard Holland, Heather Anderson, VRHA President Summer Sage, and Tanai Holcombe-Iroins
Members in the News
By Josh Gully - Shenandoah Valley Now

Although a timeline for the construction of a new acute care hospital off Leach Run Parkway is unknown, Valley Health recently took preliminary steps to get ducks in a row through a series of deals with Warren County Public Schools.

[VRHA member] Warren Memorial Hospital President Floyd Heater said the requests to the school board were made in anticipation of possible future construction. An exact timeline for construction is dependent on approval of a business plan by the hospital's board.

Read the full article.
More Members in the News
From WDBJ7

The Rockbridge Area Health Center received a 4-point-6 million dollar loan from the Department of Agriculture. It's part of a larger funding plan for renovations and expansion of their clinic. When done, the building they're in now will have a second story, more than doubling the floor space available.

"You know, we're excited," says Michele Hentz, who's the Chief Financial Officer of the Rockbridge Area Health Center. "We know we'll have a little inconvenience, but the nice thing is that we will not be stopping or ceasing operations during the construction. We will be serving our patients. We will not be closed at any point during the construction."

They expect to start getting bids next month and start work at the beginning of the New Year.

Reviving Patrick
By Paul Collins & Brian Carlton - Martinsville Bulletin

Pioneer Community Hospital filed for Chapter 11 bankruptcy on March 30, 2016 and over the next 18 months, Pioneer Health Services tried to sell the hospital to keep it open. When that didn't happen, the Stuart hospital closed its doors to new patients in September. Now the doors are closed at the hospital, which had been one of Patrick County's largest private employers.

Local officials say they recognize the problems caused by not having a hospital in Patrick County. In the months since Pioneer shut down, county officials have made phone calls, sent emails and worked to find a company to buy the building and reopen it. Recently, Virginia Community Capital announced the start of foreclosure proceedings against Pioneer. While that might seem to be a challenge for some, county officials say they see it as an opportunity for someone to come in and purchase the hospital, providing a clean slate.

Lock Boyce, Mayo River District supervisor and vice chair of the board, said Friday that during a session this week, the Patrick County Board of Supervisors met with a couple of members of the Patrick County Economic Development Authority, Patrick County Administrator Tom Rose, Patrick County Economic Development Director Debbie Foley, financial consultant Robert Diesel and Jeanette Filpi, who was administrator of Pioneer Community Hospital before it closed and now is a consultant for the county in the effort to reopen the hospital.

Read the full article.
Shift in Mental Health Services
By Luanne Rife - Roanoke Times

Virginia's top mental health official proposes a radical shift in hospital and community services. Dr. Jack Barber, interim director of the state Department of Behavioral Health and Developmental Services, on Tuesday presented a realignment plan to a group of lawmakers charged with reforming the system.

Barber wants Virginia to spend millions of dollars more over the next four years to build community services for the most seriously ill people, so that they have homes and the support they need rather than languish in the state's psychiatric hospitals.

His proposal was one of several that the Joint Subcommittee to Study Mental Health Services heard on ways to keep mentally ill people out of hospitals and jails, and to ensure that they have the help they need to stay out of institutions.

Read the full article.
Medicaid Redesign
By Michael Martz - Richmond Times-Dispatch

The Virginia Senate may consider a proposal to completely redesign the state's Medicaid program not only to expand eligibility but also to address growing concerns about the health insurance marketplace and behavioral health treatment. The staff of the Senate Finance Committee recommended Friday that the state launch a "Medicaid redesign initiative" that would rely on federal waivers used by a number of states to expand the program within specific guidelines.

Those options include a global Medicaid waiver, already used by two states to reshape their programs, or a "super waiver" that could blend a pair of waivers under the Social Security Act, including one that could be used to shore up the deteriorating health insurance marketplace in the face of shifting federal policy under President Donald Trump.

Read the full article and related stories from Daily Press, Inside NOVA, the Richmond Times-Dispatch, Connection, Washington Post, Bristol Herald Courier, Modern Healthcare, and Community Idea Stations.
Preventing Closures
By Jessica Seigel - National Rural Health Association

Lakeland Community Hospital in Haleyville, Alabama has announced that it will close its doors by the end of 2017. Lakeland Community Hospital is the only facility in Winston County, and its absence will result in job loss, reduced care options, and increased travel times for the county's residents. Since 2010, eighty-three critical rural hospitals have closed and today, 674 additional facilities are vulnerable and could close. This represents more than one-third of rural hospitals in our country. Even further, one in three rural hospitals are in financial risk of closure, and 41% of rural hospitals operate at a negative financial margin.

As Lakeland CEO Debbie Pace mentioned, rural hospitals are reliant on programs like Low Volume Adjustments. Unfortunately, Congress let the Low-Volume Adjustment program expire on October 1, along with other critical rural Medicare extenders, including Medicare Dependent Hospitals, rural ambulance payments, Medicare Therapy Caps, and the geographic index floor under the Medicare physician fee schedule. We will continue to urge Congress to reauthorize these essential Medicare extenders.

Additionally, NRHA is proud to support the bipartisan Save Rural Hospitals Act. This legislation would provide rural hospitals with financial and regulatory relief to allow them to stay open and care for rural residents who are older, poorer and have higher rates of chronic disease than their urban counterparts. CMS currently spends 2.5 percent less on rural beneficiaries than on those in urban areas.

Read the full article.
Opioids in Farm Country
From the American Farm Bureau Federation

The opioid crisis has struck farm and ranch families much harder than the rest of rural America, a Morning Consult survey shows. While just under half of rural Americans say they have been directly impacted by opioid abuse, 74 percent of farmers and farm workers say they have. Three in four farmers say it would be easy for someone in their community to access opioids illegally, and just under half of rural adults – 46 percent – say the same.
"We've known for some time that opioid addiction is a serious problem in farm country, but numbers like these are heartbreaking," AFBF President Zippy Duvall said. "Opioids have been too easy to come by and too easy to become addicted to. That's why we are urging everyone we know to talk to their friends, family, co-workers – anyone at all they know or suspect needs help. And because opioid addiction is a disease, it's up to all of us to help people who suffer from it and help them find the treatment they need. Government cannot and will not fix this on its own. Rural communities are strong. The strengths of our towns can overcome this crisis."

Read the full article.
Coming Out in Rural
By Ezra David Romero - NPR

Finding the perfect doctor can be a feat for anyone. And a poll conducted by NPR, the Robert Wood Johnson Foundation and the Harvard T.H. Chan School of Public Health finds that 18 percent of all LGBTQ Americans refrain from seeing a physician for fear of discrimination.

One of those people is 20-year-old Alex Galvan. The moment right before he told his doctor earlier this year that he is gay and sexually active felt like a nightmare. Galvan lives in rural Tulare County in California's Central Valley. He wanted to start a regimen of medication that helps prevent HIV infection, an approach called "pre-exposure prophylaxis," or PrEP.

Alex Galvan remembers his last thought before coming out to his doctor earlier this year: "Oh gosh, here it goes."
"Sitting in the waiting room was kind of like, 'you got this, you're just asking for a medication to help you,' " Galvan says, remembering what was going through his head before he came out to the doctor. "He's not going to flip out. And then the moment before was, 'Oh gosh, here it goes.' "

Read the full article.

Advantages beyond Rankings
By Tim Marema - Daily Yonder

The 2017 County Health Rankings shows that rural counties are, once again, far less likely to receive high marks for health. Adding to the disadvantage, rural counties are also less likely to have organizations, people, and infrastructure in place that can work together to improve community health, according to Jerry Spegman a community coach with County Health Rankings & Roadmaps. But rural areas' characteristics also may give them advantage: layers of strong, personal connections that can help communities respond to opportunity.

Urban community-health advocates tend to work through organizational relationships, Spegman said. When they are trying to expand their impact, they are more likely to ask whose organization has a relationship with another organization, he said.

"In the rural communities, it's much more likely, 'Who used to babysit for so-and-so's kid?' or 'Who goes to church with so-and-so?'" Spegman said. "There are some advantages in a more rural area that perhaps we take for granted."

Read the full article.
For more information about these and other events, visit the VRHA Calendar

December 13: Changing Health Care Through Community Connections in Southwest Virginia - Lebanon (click here for registration)
February 6-8: Rural Health Policy Institute - Washington, DC
May 8: Health Equity Conference - New Orleans, LA
May 8: Rural Medical Education Conference - New Orleans, LA
May 8-11: Annual Rural Health Conference - New Orleans, LA
May 8-11: Rural Hospital Innovation Summit - New Orleans, LA
Medical-Legal Partnership Addresses Social Determinants of Health
Read a profile of a health care network that integrated a medical-legal partnership into the evidence-based chronic care model used in its new transitional care clinics as a means of addressing social determinants of health. Learn more about how legal aid advocates can address insurance coverage, food stamps, unemployment benefits, unsafe housing, housing subsidies, protective orders for domestic violence, as well as mortgage and loans issues as a way of contributing to the reduction of preventable hospital readmissions and emergency department use, and controlling overall health care costs.

Model Program: Capitol Dental Care's Virtual Dental Homes
Hygienists connect with dentists through teledentistry model to bring preventive dental care to 3 elementary schools and several Head Start programs.

Model Program: Rugby Community Paramedic Program
The Rugby Community Paramedic Program brings medical care to patients transitioning back into their homes, including those with chronic conditions and hospice patients.
For funding opportunities without a specific deadline, please visit the VRHA Resources page

Virginia Health Care Foundation Fall 2018 Funding Cycle
January 19, 2018 - Concept Papers due to VHCF by 5:00 pm
February 2, 2018 - VHCF invites submission of full proposals based on concept paper submissions
March 7, 2018 - Formal proposals due to the VHCF office by 5:00 pm
June 30, 2018 - Grant awards announced by the Foundation Board.
For complete guidelines and more information, click here. Questions? Please contact Cat Hulburt or Andrea Lancaster at (804) 828-5804.

Appalachian Transition Fellowship
App Fellows is a 12 month program designed for innovative emerging community leaders to collaborate with alliances, networks and cross-sector host institutions. While the fellowship will increase capacity to your group/organization and the region, it will also allow emerging leaders and institutions across the region to work and think as a collective body to create an economically just and thriving Central Appalachia.

The Appalachian Transition Fellowship is centered on continuing the work being done to bring about a just transition in Central Appalachia, and also on cross-sector community partnerships of regional organizations, grassroots groups, institutions, and emerging leaders. What also makes this fellowship exciting and unique is that this program is designed to support organizations that share our vision that the people who are leading these conversations and work are from the region and the communities within it.
Application is due on December 15, 2017.


Community Health Grant
Grants for making focused, measurable results in community health and medical education programs, with priority given to services that target the prevention and reduction of type 2 diabetes and hypertension.
Application Deadline: Dec 20, 2017

Nurse Education, Practice, Quality and Retention (NEPQR) – Registered Nurses in Primary Care (RNPC) Training Program
Funding for partnerships between nurse training programs and community-based primary care facilities to recruit and train nursing students and current registered nurses to practice at the full scope of their license. Programs should emphasize chronic disease prevention and control, to include mental health and substance abuse conditions. Priority will be given to applicants that benefit rural and underserved populations or that meet state and local public health department needs.
Application Deadline: Jan 29, 2018

Externship in Addiction Psychiatry
Offers a clinical shadowing program to minority medical students who have an interest in services related to substance abuse treatment and prevention in underserved areas. Externship sites will be located in rural or inner-city sites.
Application Deadline: Jan 31, 2018

Grants to Expand Substance Abuse Treatment Capacity in Family Treatment Drug Courts
Grants to enhance and expand substance use disorder treatment services in existing family treatment drug courts, that use the family treatment drug court model in order to provide alcohol and drug treatment for parents with a substance use disorder and/or co-occurring substance use disorder and mental disorders who have had a dependency petition filed against them or are at risk of such filing.
Application Deadline: Jan 16, 2018

Office on Violence Against Women Grants for Outreach and Services to Underserved Populations
Grants to develop and implement outreach strategies targeted at, and provide victim services to, underserved populations of adult and youth victims of domestic violence, dating violence, sexual assault, or stalking.
Application Deadline: Jan 26, 2018

Training and Services to End Violence Against Women with Disabilities
Grants to support multidisciplinary collaborative teams that offer services and support to individuals with disabilities and deaf individuals who have been victims of sexual assault, domestic violence, dating violence, and stalking.
Application Deadline: Jan 26, 2018

Rapid Response Rural Data Analysis and Issue Specific Rural Research Studies
Will fund one entity that is able to assist rural communities with conducting rapid data analyses and short term issue-specific rural research studies to understand the impact of current and proposed policies and regulations.
Application Deadline: Feb 20, 2018