VRHA & Goodlatte
VRHA arranged a meeting with Congressman Goodlatte to discuss the recommendations of the OIG Report that, if fully implemented, could potentially close hundreds of rural hospitals across the nation, including five in Virginia. Congressman Goodlatte, along with representatives from the offices of Delegate Cline, Delegate Bell and Senator Obenshain met with representatives from Page Memorial Hospital, Shenandoah Memorial Hospital, Carilion Stonewall Jackson Memorial Hospital and Bath Community Hospital.

Congressman Goodlatte was very concerned about the implications of the report and offered insightful suggestions on how the hospitals could work with Congress to resolve this issue. Also in attendance were representatives from the Virginia Hospital & Healthcare Association, Carilion Clinic and the Virginia Department of Health.

Please visit the NRHA website for additional information on the report.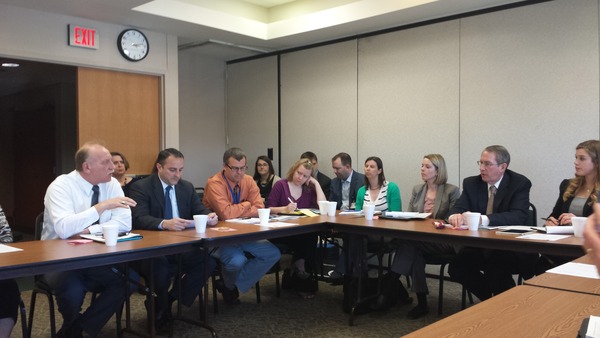 Shenandoah Memorial Hospital President Floyd Heater (far left) makes a point with Congressman Goodlatte (2nd from right)
Rural Health Works!

Research shows that community health services provide more than medical care. Rural health providers have a reciprocal effect on the community's jobs, commerce, and overall economy.

How do you demonstrate that effect? Through Rural Health Works!

VRHA is partnering with the National Center for Rural Health Works to provide a FREE webinar series on the economic impact of healthcare in rural communities. Webinar schedule is:
April 30: Impact of a Community Health Center (FQHC) or Rural Health Clinic
May 28: Impact of a Small Rural Hospital
Visit the VRHA webinar page for details and registration.
Members in the News
By Malissa Watterson - DelmarvaNow

After discovering Cape Charles six years ago, [VRHA member] John Peterman thought it doesn't get any better than this. A former weekend escape from the daily grind in Newport News, the bayside town on Virginia's Eastern Shore, is now the permanent home for Peterman, the new administrator for Riverside Shore Memorial Hospital.

For more than 25 years, Peterman has been with the Riverside Health System, comprised of five hospitals in the commonwealth. He was most recently the administrator at Riverside Tappahannock Hospital in Tappahannock.

Read the full article.
County Health Rankings
By Luanne Rife - Roanoke Times

The 2015 Robert Wood Johnson Foundation community health rankings show that Virginians tend to live longer, healthier lives in communities where a large percentage of the population is well educated and holds high-paying jobs.

Northern Virginia communities again claim the top spots in the 2015 Robert Wood Johnson Foundation County Health Rankings and Roadmaps. Communities in far Southwest and Southside remain on the bottom.

The role that educational attainment and higher wages play in measuring health is reflected as well in local rankings. Roanoke residents are ranked less healthy than their suburbanite neighbors. Though the city remains wedged in the bottom quartile of Virginia's counties and cities, Roanoke's rank has steadily improved during the six years that the foundation and the University of Wisconsin have collaborated on the project, mostly because fewer residents are dying prematurely.

Read the full article, and related articles in the Richmond Times-Dispatch and WWBT.
Center for Behavioral Health and Justice
From the Office of the Governor

Governor McAuliffe signed Executive Directive Four to establish the Center for Behavioral Health and Justice, an interagency collaborative to better coordinate behavioral health and justice services. The announcement came during the final meeting of the Governor's Task Force for Improving Mental Health Services and Crisis Response, which originated under former Governor McDonnell and was continued by Governor McAuliffe in April 2014.

The mission of the Center is to achieve greater behavioral health and justice coordination across public and private sectors through a collaborative, multi-systems approach to data collection and analytics; evidence based programs and practices; education, outreach and training; and technical assistance and resource development.

The directive establishes the Center for Behavioral Health and Justice and requires an Executive Leadership Council to develop an organizational structure and implementation plan for the Center by July 1, 2015. The Leadership Council will include: the Deputy Secretary of Public Safety and Homeland Security; the Deputy Secretary of Health and Human Resources; the Commissioners of the Department of Behavioral Health and Developmental Services and the Department of Health; and the Directors of the Departments of Corrections, Criminal Justice Services, Juvenile Justice and Medical Assistance Services.

Read the full press release.
Close to Home
By Dan Heyman & Tommy Hough - Public News Service

In what could be a significant shift, the state of West Virginia says it will now take into account studies showing health impacts tied to mountaintop-removal mining. For years, regulators have resisted considering studies showing elevated coalfield health problems, but this week the directors of West Virginia's health and environmental departments said that would change. Environmentalists and researchers say the shift is welcome, but long overdue.

Rob Goodwin, a technical mining analyst, says there now are about two-dozen peer-reviewed studies showing health impacts of mountaintop-removal mining.

"In southern West Virginia, eastern Kentucky and southwest Virginia birth defects, respiratory and heart diseases are much higher than the national average," says Goodwin. "There's even studies out there about mental well-being."

Read the full article.
Call for Improved Public Health
By Michael Meit - NORC Walsh Center for Rural Health Analysis & Brock Slabach - NRHA

The HIV outbreak in rural Scott County, Ind., took many by surprise last week. For others, the news was sad but not so surprising. The combination of rural poverty, lack of rural public health resources and a high uninsured population is manifesting in an epidemic. The devastating truth is it has taken an HIV outbreak to point out these deficiencies. The proverbial chickens have come home to roost.

While rural communities have many assets, some also experience longstanding poverty that results in despair which often can lead to drug abuse. The 80 or more cases of HIV infection in Scott County has been linked to intravenous use of prescription pain medications. The drug of choice in this community was Opana, a long-acting form of Oxymorphone. When altered and injected it produces a powerful high. The chief Indiana health officer told the New York Times: "There's a feeling of hopelessness within this community. They're addicted, and they're getting HIV because they're addicted."

While there is a critical need to address the underlying social conditions that lead to this sense of hopelessness, we also need to ensure that our rural communities have the health care, public health and social services resources necessary to prevent substance abuse, treat addiction, and identify and contain infectious and communicable diseases.

Read the full article.
Hospitals As Insurers?
By Wayne Myers - Rural Assistance Center

Steven Brill, in the January 19th issue of Time Magazine (What I learned from my $190,000 Open-Heart Surgery), revives an interesting idea. He proposes that large regional health care systems be encouraged to assume the function of medical insurance companies. He argues that having separate insurance companies between providers and the patients adds cost and complexity but not value.

Would the scheme Brill proposes, writing as he does from a highly urban perspective, be good for rural America? I doubt it. The largest teaching hospitals with their unique system of Medicare supplemental payments are the ones with the financial reserves to become their own insurance companies and build the networks he describes. Investor-owned hospital systems will be able to raise the required insurance reserve capital if they choose to.

Medicare recently announced plans to shift its basis of payment from quantity of care provided to quality of care and results. Such schemes seem likely to favor organizations that can accept responsibility, and payment, for the full range of care from head colds to heart surgery. On the positive side, smaller, rural facilities joining regional systems would be better positioned to share in new Medicare reimbursement schemes. They should get help with professional recruitment, continuing education, and the torrent of regulatory and technical challenges pouring down upon them.

Read the full article.
Healthcare Far from Home
By Daniela Hernandez - Kaiser Health News

It's Tuesday morning, half past eight and already hot, when the small bus pulls up to the community clinic. Most of the passengers are waiting in front — an old man with a cane, two mothers with four kids between them, packed lunches in hand.

"Woohoo! We have a full car!" the driver says brightly after they've all climbed aboard. The riders smile back, some with a hint of resignation. It's time for the weekly trip to the clinic in Mad River, about 30 miles down a winding mountain road near the Trinity Alps. The tight twists and turns are hard on the stomach, but even harder on the joints — especially if you have chronic Lyme disease, as more than a few of these riders do.

They wouldn't be making this trip if they didn't have to. In Hayfork, "we're down to the remnants of the medical personnel," says Clarke, a well-spoken musician with a love for science, cats and NPR. "It just came to the point where if I needed to deal with anything important I just felt much more comfortable going over to Mad River."

Read the full article.

Telehealth in Mississippi
By David Pittmann - Politico

Mississippi has a sickly reputation. The Magnolia State ranks at or near the bottom in most health rankings: worst infant mortality and most kids born with low birth weight; second-to-highest rate of obesity and cancer deaths; second from the last in diabetes outcomes.

But the state is a leader in one aspect of health care: telemedicine. The state's only academic hospital has remote connections with 165 sites, providing specialized services to some of the state's most far-flung, medically deprived cities and towns. Mississippi's telemedicine program, ranked among the seven best in the country, has inspired neighboring Arkansas to take bigger steps in some areas of the field, and the impact of its success is making waves in Washington as well.

Mississippi's congressional delegation is at the center of a small group of lawmakers championing telemedicine. Trent Lott of Mississippi and former Senate majority leader, is lobbying big for the technology, which could generate fat profits if Medicare starts reimbursing it in a significant way. FCC Commissioner Mignon Clyburn, in a visit last December, said the state has "solved the perennial challenge of getting broadband to its most rural areas."
Read the full article.
For more information about these and other events, visit the VRHA Calendar

April 8: Telemedicine for Rural and Critical Access Hospitals - webinar
April 8-9: Virginia Forum on Youth Tobacco Use - Richmond
April 22: Value-Based Modifier: Act Now to Avoid Payment Adjustments - webinar
April 30: Impact of a Community Health Center (FQHC) or Rural Health Clinic - webinar
21st Century Rural Hospital: A Chart Book
Presents an extensive overview of the rural hospital of the 21st century. Discusses how rural hospitals have transformed from a traditional inpatient and emergency department facility to an integrated health system providing a wide variety of services. Contains sections with data about U.S. rural hospitals, the patient population, inpatient and outpatient services and finance.

Chronic Disease Prevention and Health Promotion Collaborative
Works to align the goals and activities of internal and external stakeholders of Virginia in order to achieve better health outcomes.

Rural Interprofessional Health Professions Summer Preceptorships
Application deadline: Mar 31, 2015
Offers a paid, 6-week educational experience for healthcare professions students who want to learn more about healthcare provision in rural settings.

Now is the Time Project AWARE - Community Grants
Application deadline: May 1, 2015
Supports the implementation of the NITT-AWARE-C program, which will train teachers and a broad array of actors at the community level who interact with youth through their programs, including parents, law enforcement, faith-based leaders, and other adults, in Mental Health First Aid (MHFA) or Youth Mental Health First Aid (YMHFA). Rural specific training modules are available.

Developing Healthy Places
Application deadline: Applications accepted on an ongoing basis.
Funding to improve the places that shape health, including programs that promote healthy housing and neighborhoods.