National Rural Health Day
On November 19, 2015, the Virginia State Office of Rural Health (Va-SORH) and the Virginia Rural Health Association (VRHA), traveled to Big Stone Gap, Va., to honor a Rural Health Champion as part of the celebration for National Rural Health Day. A small ceremony took place at Mountain Empire Older Citizens (MEOC) Program of All-Inclusive Care for the Elderly (PACE), to recognize Ms. Linda Kocher, the quality assurance coordinator at MEOC PACE, and her contributions to rural health in Virginia. The ceremony was also used to thank all rural health workers, and to read the official proclamation for National Rural Health Day in Virginia, signed by Gov. Terry McAuliffe. The trip concluded with a tour of MEOC's facilities and an opportunity to discuss the organization's services to citizens across multiple counties in southwest Virginia.

The National Organization of State Offices of Rural Health started National Rural Health Day five years ago to recognize those who do exceptional work to advance rural health. To celebrate in the Commonwealth, the Va-SORH and VRHA, asked its stakeholders for nominations of champions across Virginia who do exceptional work to advance rural health. They received nominations from entities across the state, including an entire Medical Reserve Corps unit! These champions work hard every day to help Virginia with its goal of becoming the healthiest state in the country, and advancing health for those living and working in rural Virginia and we are grateful for their ongoing efforts.

Other Virginia Rural Health Champions:
[VRHA member] Nancy J Stern, Eastern Shore Rural Health System Inc.
[VRHA member] Sarah Jane Stewart, Virginia Health Care Foundation
Michael Crews, DO, Bland County Medical Clinic
Western Tidewater Medical Reserve Corps
Tamara S. Akin, RN, Smith Mountain Lake Trinity Ecumenical Parish
Linda Wilkinson , Virginia Association of Free and Charitable Clinics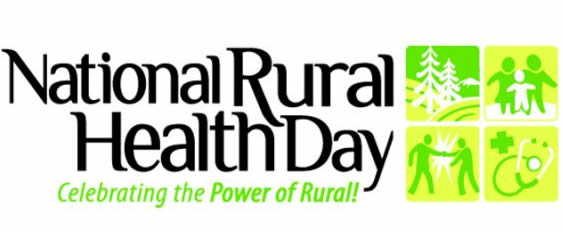 National Rural Health Day
By Secretary of Health and Human Resources William A. Hazel - Richmond Times Dispatch

Gov. Terry McAuliffe has proclaimed Nov. 19, 2015, as National Rural Health Day in the Commonwealth of Virginia. This designation reminds us to thank all of the nurses, physicians, physician assistants, dentists, social workers, psychiatrists, volunteers and other health professionals who work day in and day out in rural communities across the commonwealth. It is a day that we are reminded of the importance of our rural hospitals, clinics and emergency medical services (EMS), which provide vital services to keep us healthy and safe. They are also the foundation upon which our rural communities are built and sustained.

Today I want to call attention to an increasingly important issue throughout the rural towns and counties of Virginia. We face a critical challenge of keeping our rural hospitals open and thriving. The threats to these hospitals are numerous and include sequestration cuts, the constant threat of shrinking reimbursement rates, geographic areas that serve lower patient volumes than their urban counterparts and a population with unique health challenges that can often be more costly.

Read the full editorial.
Breast Cancer in Appalachia
From the University of Virginia Health System

Researchers at the University of Virginia School of Medicine have taken a new approach to understanding why so many breast cancer patients in Appalachia aren't getting the care they need, and their findings are set to change how people view the obstacles to care that beset the region.

For example, the distance patients have to travel for cancer care is often viewed as a critical factor. But UVA's findings underscore the crucial importance of access to primary-care providers – the frontline doctors who could catch cancer earlier.

The researchers at the UVA Cancer Center have applied new demographic techniques to evaluate why so many women in Appalachia are diagnosed with late-stage cancer – rather than having it caught early, when it is more easily treatable – and why so many do not receive the adjuvant hormone therapy that could save their lives. Often this is blamed on travel times and distances, but UVA's new research suggests this fails to tell the whole story. The researchers were more accurately able to predict late-stage diagnosis, for example, with the new approach than using traditional metrics such as travel times or provider-to-population ratios.

Read the full article.
Oral Health Plan
From the Virginia Oral Health Coalition

The Virginia Oral Health Plan is intended to provide clear and comprehensive direction for stakeholders and organizations committed to oral health access, care, integration and education. With support from the Centers for Disease Control and Prevention, the Virginia Oral Health Coalition partnered with the Virginia Department of Health to reinvigorate Virginia's oral health plan to ensure the plan reflects the current environment. In August, over 40 stakeholders gathered to make revisions; their feedback has been incorporated into the current plan, but we still need to hear from you! The goals of the plan remain the same:
Public Awareness: Virginians know that good oral heath is essential to overall health
Prevention/Early Diagnosis and Treatment: The prevalence of dental disease is reduced in Virginia through prevention activities and early diagnosis and treatment.
Medical and Dental Collaboration: Medical and dental providers and educators understand the links between oral health and overall health and work together to ensure Virginians receive comprehensive care.
Insurance and Reimbursement: Virginians have access to quality, affordable and comprehensive dental coverage.
Workforce: The oral health workforce in Virginia adequately meets the needs of its citizens by working to the full extent of their education and training.
Share Your Feedback! Please take a moment to review the plan and provide feedback through the survey, below, by December 1.

Click here to view the 2015-2020 Plan

Click here to complete the survey
Rural Doctors
By Lenny Bernstein - Washington Post

More than three decades after she was born at Hale County Hospital in Greensboro, Ala., Dana Todd spends one night a week at the 20-bed facility in the state's rural Black Belt. Todd, the only doctor on duty, tends to the typical array of maladies that arrive in the emergency room or need to be monitored on the wards. She spends the rest of her week in a pair of community clinics, where she helps manage her largely poor, older patients' diabetes, high blood pressure and heart disease.

For an aspiring medical specialist, this might sound like a circle of hell, a few years of professional exile in exchange for help with med school loans. For Todd, this has been the plan since high school.

Read the full article.
Rural Dentists
By Chris Dunker - Lincoln Journal Star

Jesse Neal looked at dental offices across the state before launching Alma Family Dentistry in 2006. Neal is among the 33 percent of University of Nebraska Medical Center College of Dentistry graduates who have returned to practice in rural areas of the state.

That's the highest rate among dental colleges across the country, according to a report published in the October issue of the Journal of the American Dental Association, which compared graduation data to addresses of practicing dentists in rural and urban areas, according to the U.S. Census.

Marko Vujicic, who conducted the study, found dental schools in rural states like Nebraska and Mississippi produce more graduates likely to return to rural areas to open dental offices. It also shows private dental school graduates are less likely to stay and practice in the state where they attended school, as compared with graduates from public universities.
Read the full article.
Rethinking CAHs
By John Commins - HealthLeaders Media

The goal of a Kansas Hospital Association project is to find a financially sustainable model that can provide essential health services within a reasonable distance from patients while encouraging collaboration between local and regional providers.

The Kansas Hospital Education and Research Foundation, a think-tank attached to the Kansas Hospital Association, is in the midst of a "paper test" with five Critical Access Hospitals that volunteered for the study. They're trying to determine the viability of transitioning away from the traditional 24/7, inpatient and emergency care model and toward a more proactive "primary health center" care model which focuses on prevention, community and population health, and access to primary and urgent care.

Ultimately, KHERF says the goal of the project is to find a financially sustainable model that can provide essential health services within a reasonable distance while encouraging collaboration between local and regional providers. The tests involve financial and clinical analyses to determine how much money would be needed to keep the doors open for these new primary health centers.

Read the full article.

Expansion of Telehealth
By Michael Ollove - PEW Charitable Trusts

Telemedicine has been praised as a cost-effective way to link doctors and patients, enabling physicians to monitor their medical conditions and consult with specialists in a way that overcomes time and distance.

But despite a half-century of technological advances, the ready availability of interactive devices, and the full-throated encouragement of the Obama administration, advocates say telemedicine has failed to reach its full potential, due largely to policies in some states that make it difficult to practice, and pay for, such care.

Read the full article.
For more information about these and other events, visit the VRHA Calendar

November 30: Veterans' Choice Program - webinar
December 3: TCI Policy Summit - Richmond
December 15: Rural Solutions to Online Education: Selecting a System That Helps Your Bottom Line - webinar
December 16: Improve Care for Chronic Patients - and Leverage CPT 99490 - webinar
February 2-4: Rural Health Policy Institute - Washington, DC
April 10-12: Mid Atlantic Telehealth Resource Center Annual Summit - Cambridge, MD
2015 State Physician Workforce Data Book
Examines the active physician supply in each state, current medical school enrollment, physicians in graduate medical education programs, and in-state retention rates. Includes data charts and tables for all 50 states, in addition to national averages.

Analysis of Insurer Participation in 2016 Marketplaces
Analyzes the number of health insurance plans available to those enrolled in the federal health insurance marketplace in 2016. Also includes information on access to health insurance plans for rural residents.

Disability and Poverty Rates among Rural Veterans Have Increased
Chart showing the rates of disability and poverty for rural veterans compared to rural non-veterans, highlighting changes from 2008 to 2014.

Family Physicians and Telehealth: Findings from a National Survey
Discusses potential for telemedicine to facilitate expanded access to health care, particularly in rural and medically underserved areas. Includes statistics with breakdowns by percentage of use, type of medical care, type of facility ownership, practice characteristics, attitudes and beliefs about telehealth, and perceived barriers.
For funding opportunities without a specific deadline, please visit the VRHA Resources page

Country Doctor of the Year Award
Staff Care provides the award recipient with two weeks of complementary locum tenens coverage (valued at $10,000) as well as national recognition in publications like USA Today and many others. This is a great way for organizations to reward a key staff member and to build their reputations for providing quality, accessible care.

Evaluating High-Value Innovations from Low-Resource Communities
Awards funding to identify and evaluate promising innovations that improve health in low-resource communities and to disseminate those examples so other communities can implement them. Innovations that are set in rural communities are of particular interest.
Application Deadline: Dec 10, 2015

Smart Rural Community Collaboration Challenge
Provides funding to support the development and implementation of innovative broadband-enabled solutions to support rural healthcare, public safety, economic development, education, energy, or other community-oriented initiatives.
Application Deadline: Dec 31, 2015

Kresge Foundation: Fresh, Local, and Equitable Initiative
The Kresge Foundation's new "Fresh, Local, and Equitable: Food as a Creative Platform for Neighborhood Revitalization" initiative will support food-oriented programs that contribute to economic revitalization, cultural expression, and health in low-income communities throughout the United States. Priority will be given to neighborhood-scale projects that have been developed with strong community engagement and leadership, prioritize equity, involve multiple sectors and disciplines, and demonstrate a high degree of readiness to implement a cross-sectoral vision of food-oriented development. The Foundation will award up to 20 planning grants of up to $75,000 each. Organizations and collaborations that lead food-oriented development programs in economically distressed urban neighborhoods are eligible to apply. Grant recipients will participate in a national learning network and have the opportunity to apply for implementation grants. The application deadline is January 15, 2016.