VRHA on the Hill
VRHA led a delegation of seven people on Capitol Hill last week. Meetings were held with staff members of all 11 Virginia Representatives and both Senators, plus a lengthly discussion with Congressman Bobby Scott (District 3)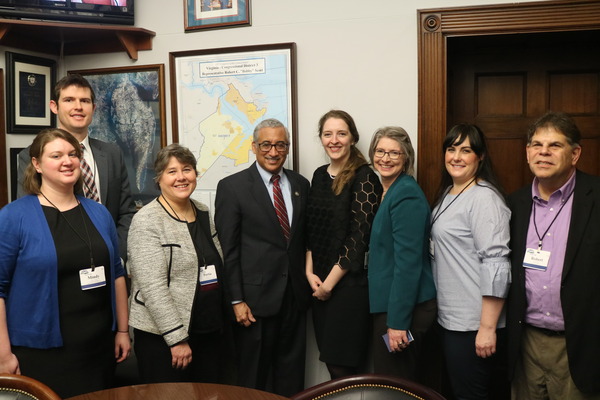 The Virginia delegation with Congressman Scott
Members in the News
By Eamon O'Meara - WDBJ7

It's all to better serve Giles County and the surrounding areas. The open space in front of and next to [VRHA member] Carilion Giles Community Hospital is where the new building is being constructed.

An addition totaling 10,410 square feet. It's work that came at the request of the people living here and using this hospital.

That specialty care includes cardiology, orthopedics, and general surgery. The hospital has each of those services but not every day, and the existing facility continues to run out of rooms for those cases.

Read the full article and related story from WSLS.

More Members in the News
By Carol Vaughn - DelMarVa Now

Gov. Ralph Northam spoke to enthusiastic crowds at a health care forum at Riverside Shore Memorial Hospital and a gala for supporters at the Onancock school from which he graduated.

Northam said the status of health care on the Eastern Shore is "excellent," noting the contributions of both Riverside and Eastern Shore Rural Health [both entities are VRHA members].

Read the full article.
Closing the Coverage Gap
By Laura Goren and Michael Cassidy - Commonwealth Institute

Hundreds, and even thousands, of residents in every legislator's district stand to gain health coverage. But only if Virginia lawmakers close the coverage gap.

Across the state, 240,000 low-income people are stuck in the health care coverage gap. They are unable to get quality, affordable coverage through the federal insurance marketplace because they don't make enough money, and they can't qualify for Medicaid because they make too much.

During the 2018 legislative session, Virginia lawmakers have a key opportunity to close this gap and to promote the wellbeing of their constituents and the Commonwealth of Virginia as a whole.This issue brief provides the latest estimates of the number of low-income Virginians without health insurance who could gain coverage in each state House and Senate district, as well as in each locality.

Read the full article and related editorial from the Washington Post.
Nurse Practitioner Training
By Katie O'Connor - Roanoke Times

A bill that would provide an avenue for nurse practitioners to practice independently without the supervision of a physician edged through its first committee hearing after being saddled with an amendment requiring them to receive far more training.

The House Health, Welfare and Institutions subcommittee was standing room only as nurse practitioners and physicians — many wearing white medical coats — showed their support or opposition for House Bill 793, sponsored by Del. Roxann Robinson, R-Chesterfield.

The bill, which would give nurse practitioners full practice authority, has been met with skepticism from some doctors, who are currently required to supervise the nurses' work.
Read the full article.
The Pharmaceutical Colonization of Appalachia
By Wayne Coombs - Daily Yonder

I am a West Virginian and have worked in the substance abuse field for around 30 years. I didn't start my career in mental health wanting to work with addictions, but as anyone who works in mental health will tell you, there is no way to avoid it, or at least no way to avoid it in West Virginia. Over those 30 years, I have learned that most of what we thought we knew about addictions is wrong or, more accurately, woefully incomplete. This is important because how folks attempt to address the problem comes directly from how they think about it. What causes addictions and substance abuse? What keeps it going? Why does it affect certain people and not others? Why do people have a hard time stopping? We need to answer these questions to ever have a chance of getting a handle on addiction in rural regions like Appalachia where there are problems with addiction.

Just as our view of addiction is a mish-mash from our past, so too is its treatment. We have moved from locking folks up in asylums and making them right through guided prayer to a process of detoxification, medically-assisted treatment, and on-going recovery. Medicine-assisted treatment (MAT) is a cleaned-up way of saying behavioral therapy with the help of pharmaceuticals. There have been improvements demonstrated by the current cures. However, you rarely hear any mention of preventing the problem before it gets started. I am happy for the folks who have been helped by current treatment methods, but it sure seems to me that we should be aiming a lot higher.

Read the full article.
Budget Deal
By Amy Simmons - National Association of Community Health Centers

On behalf of the nation's nearly 1400 health centers and the 27 million patients they serve, the National Association of Community Health Centers (NACHC) wants to express our sincere appreciation for the $7.8 billion dollars in federal grant funding for the Community Health Center program that was included in the bipartisan budget deal passed by Congress.

We are especially appreciative that Congress recognized the growing value of health centers by including an additional $600 million dollars to further support health center operations and address unmet need in communities across the country, as well as $60 million dollars to assist health centers in areas impacted by recent natural disasters. We are also grateful for the funding extensions of the National Health Service Corps and the Teaching Health Centers Graduate Medical Education program, two vital resources that support the health center workforce.

Read the full editorial and related articles from the American Hospital Association (hospital funds), Washington Post (CHIP funds),
Tax Reform and Rural Hospitals
By Susan Wilger - National Center for Frontier Communities

Now that the new tax reform bill is signed, what does it mean for our frontier and rural nonprofit organizations and the communities they serve? Tax reform on top of projected federal budget cuts is a double whammy for our small nonprofits. In 2018, significant budget cuts to federal health and human services agencies are expected. With the new tax bill going into effect January 1, 2018, and standard deductions nearly doubling, a sharp reduction in the number of taxpayers who qualify for the charitable tax deduction is expected, dropping from about 30 percent of tax filers to as little as 5 percent.

Even a mere five percent loss in charitable donations would result in an estimated loss of $275 million dollars. That kind of financial hit directly to nonprofits, or to foundations that fund nonprofits, could put countless small nonprofits out of business.

We know from the Fall 2016 State of Grantseeking Report:Comparison by Service Area, published by GrantStation, that rural and frontier nonprofits are already at a disadvantage compared to more populous service areas. Surveyed organizations that identified as rural reported smaller annual budgets, were more likely to rely on grants, applied for and received fewer grants, and received comparatively smaller awards than nonprofits in suburban, urban or a combination of service areas.[i] In fact, 23 percent of rural nonprofit organizations reported that most of their annual budget (over 75 percent) came from grants, compared to just seven percent of suburban organizations and 12 percent of urban organizations.

Read the full article.
Hospital Harm Measures
From the Centers for Medicare & Medicaid Services

The Centers for Medicare & Medicaid Services (CMS) has contracted with Yale New Haven Health Services Corporation – Center for Outcomes Research and Evaluation (CORE) to develop four hospital-level electronic clinical quality measures (eCQMs) on dimensions of patient harm or adverse patient safety events that can be improved with high quality care. We are inviting your comments on the proposed measures. The specific measures in development are:
Hospital Harm – Hypoglycemia

Hospital Harm – Opioid-Related Adverse Events

Hospital Harm – Hospital-Acquired Pressure Injury

Hospital Harm – Acute Kidney Injury
CMS is now inviting stakeholders and other interested members of the public to review and comment on the measures under development. The public comment period is now open and closes on February 16, 2018.

For information on the measure specifications and instructions for how to submit comments for each measure, we invite stakeholders to visit the public comment page.


Rural Comes First to CMS
From Susannah Luthi - Modern Healthcare

CMS Administrator Seema Verma on Tuesday promised rural health industry stakeholders that their needs are being heard, saying any new policy idea proposed to the agency must demonstrably impact rural healthcare.

"We are bringing a rural health lens to all of CMS' programs and policies," Verma said to a crowd of rural providers and plans who are in Washington this week to lobby Capitol Hill lawmakers as part of the National Rural Health Association's Policy Institute.

Verma said she will release the agency's overall rural health strategy this week, which is the result of two years of the CMS' Rural Health Council's analysis of how the government should help address the escalating financial issues faced by rural health providers — who disproportionately rely on Medicaid and Medicare and whose patients are disproportionately older and poorer.

Read the full article.
For more information about these and other events, visit the VRHA Calendar

March 3: Educational Forum on Prescription Drug Abuse - Martinsville
March 4: Educational Forum on Prescription Drug Abuse - Roanoke
April 15-17: MATRC Annual Telehealth Summit - Hershey, PA
May 8: Health Equity Conference - New Orleans, LA
May 8: Rural Medical Education Conference - New Orleans, LA
May 8-11: Annual Rural Health Conference - New Orleans, LA
May 8-11: Rural Hospital Innovation Summit - New Orleans, LA
State Advocacy Priorities
Voices for Virginia's Children has provided a guide to learn what they will be working on during the 2018 General Assembly session and how you can join them in advocating for Virginia's kids.

Key Budget Policy Choices
In December 2018, Governor Terry McAuliffe released a proposal for the 2018-2020 budget (FYs 2019 and 2020) and amendments to the FY 2018 budget for the House and Senate to consider. This resource provides a summary level assessment of certain key changes proposed by the governor for FY 2019 and FY 2020 compared to Chapter 836 — the amended budget — which passed in Spring 2017.

New from Rural Health Value:
The Rural Health Value team recently released a new Rural Innovation Profile focused on how a nonprofit rural medical center followed a robust due diligence process to carry out its plan to affiliate. Please share this resource as makes sense for your networks and stakeholders:
Affiliation Partners Sought to Prepare Small Hospital for Value-Based Care - Grinnell Regional Medical Center, a rural Iowa hospital, sought affiliation partners so it could prepare to participate in risk-based reimbursement models. (January 2018) Top resources:
For funding opportunities without a specific deadline, please visit the VRHA Resources page

Healthy Communities Action Teams (HCATS) to Prevent Childhood Obesity
The overall goal of this funding is to improve healthful nutrition and physical activity to prevent and reduce childhood obesity in the Commonwealth of Virginia. VFHY will fund Healthy Communities Action Teams comprised of community groups, partnerships, and coalitions to build and sustain state and local capacity through the implementation of promising practices and activities emphasizing policy, systems and environmental change.
Grant Period: July 1, 2018 - June 30, 2020
Maximum Grant Awards: $30,000 per year, $60,000 total for two years
Completed online proposals are due by March 26, 2018.

The Mary Kay Foundation: Domestic Violence Shelter Grant Program
The Mary Kay Foundation is committed to ending the epidemic of domestic violence by providing grants to women's shelters throughout the United States. Each year, the Foundation's Domestic Violence Shelter Grant Program awards grants of $20,000 to at least one domestic violence shelter in every state; remaining funds are distributed based on state population. Applying organizations must offer immediate overnight housing to women and children affected by domestic violence.
The application deadline is April 30, 2018.

Sun Life Team Up Against Diabetes
The Sun Life Team Up Against Diabetes grant program is dedicated to addressing the prevention of diabetes and its related complications. Grants are provided to nonprofit organizations throughout the country that focus on the following areas: diabetes prevention, awareness, education, and care; diabetes management; recovery and support from diabetes-related complications; obesity prevention; and nutritional programs, including education, management, and awareness. Grants of $25,000, $50,000, or $100,000 are provided.
The application deadline is March 31, 2018.

Connections for Cardiovascular Health
Provides grants to nonprofit organizations working to improve cardiovascular health at the community level.
Application Deadline: Feb 28, 2018

Newman's Own Award
Offers grants to organizations working to improve the quality of life for military members and their families, including programs for job training, housing, caregiver support, and mental health.
Application Deadline: Apr 25, 2018

Smart Rural Community Showcase Award
Honors rural communities that have achieved high levels of broadband activity and have used it to support innovative practices in industry sectors, such as healthcare, safety and security, and economic development.
Application Deadline: Jul 1, 2018

Rural Hospital Leadership Award
Provides an educational stipend to a small or rural hospital administrator or chief executive officer to attend an AHA Annual Meeting or Health Forum Leadership Conference.
Application Deadline: Aug 31, 2018