VRHA in the News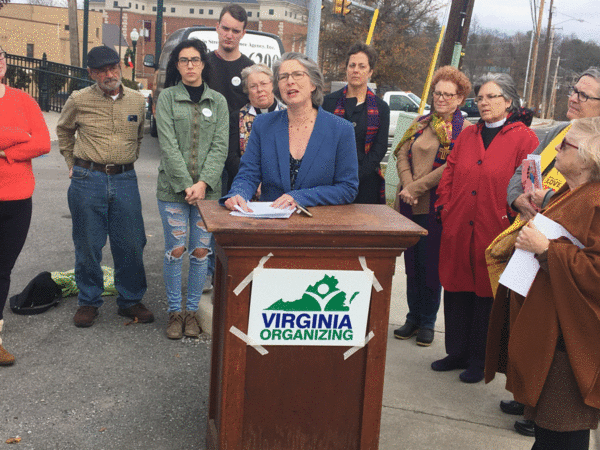 VRHA Executive Director Beth O'Connor addresses the crowd during the Christiansburg press conference.

By Ben R. Williams - Martinsville Bulletin

Healthcare should be a right, not a privilege, according to speakers at a recent conference on Medicaid expansion. The Martinville/Henry County chapter of Virginia Organizing held a media conference on Medicaid expansion at First United Methodist Church in Martinsville. The event featured several different speakers who shared their perspectives and stories.

Read the full story and reports of similar events around the state from WHSV, and the Winchester Star.
Members in the News
By CJ Fairfield - Franklin News-Post

[VRHA member] Tri-Area Community Health Center in Ferrum has received a $3 million federal loan to build a new health center next to Ferrum College's campus.

The U.S. Department of Agriculture's Rural Development state office in Richmond said last week the USDA is investing $8 million to improve rural health care in Franklin and Rockbridge counties.

The new construction in Ferrum will "enhance parking availability, handicap accessibility and security of the center's pharmacy," a press release stated. The new health center will also increase types of medical services provided to the community as well as improve the facility's physical visibility to its clients.
Read the full article.
More Members in the News
By Whitney Turner - WHSV

[VRHA member] Augusta Health celebrated its topping out ceremony, marking the completion of the steel structure for its new emergency department. The ceremony is an ancient construction tradition, recognizing the building reaching its full height and hoping that it will bring good fortune for the years to come.

Read the full story and video and related article from the Staunton News Leader.

Merger Timeline
By David McGee - Bristol Herald Courier

Agreements with Tennessee and Virginia spell out fixed schedules for a merged Ballad Health to make good on its financial commitments to improve the region's health. Ballad is the name chosen by the boards of directors of Mountain States Health Alliance and Wellmont Health System for a combined, locally governed health care system serving Northeast Tennessee and Southwest Virginia. Commissioners of health in both states have approved their merger request and officials hope to formalize the agreement in January and begin the process of joining their 21 hospitals and 14,000 employees.

The minimum commitment of $308 million over the next 10 years was a linchpin in the merger proposal's approval and is rolled into the Certificate of Public Advantage approved in Tennessee and Virginia's cooperative agreement. It includes close oversight of those spending commitments and the outcomes they are designed to generate.
The documents also spell out specific oversight metrics — which are still being finalized in Virginia — to monitor the health system and make sure it complies with all the terms of the agreements. Establishing infrastructure to meet those standards represents a significant part of the work currently underway.

Read the full article.
Close to Home
From the Times Free Press

The U.S. Drug Enforcement Agency is targeting opioid abuse in Appalachia by establishing a new field office in Kentucky to oversee a region ravaged by overdose deaths.

The new Louisville field office will have a special agent in charge to oversee investigations in Kentucky, Tennessee and West Virginia. It will improve efforts in the Appalachian mountain region and streamline drug trafficking investigations under a single special agent in charge, acting DEA Administrator Robert Patterson said during a news conference Wednesday with Attorney General Jeff Sessions.
Read the full article.
Take the Survey!
Carilion Clinic is partnering with community organizations to conduct a comprehensive health assessment. Citizens in the following communities are encouraged to complete the survey:

Bedford, Botetourt, Buena Vista, Craig, Giles, Lexington, Monroe (WV), Roanoke (City & County), Rockbridge, Salem, Floyd, Franklin, Henry, Montgomery, Pulaski, Radford, Tazewell, Wythe.

If you are in the region, please take the survey and encourage others in your community to do so as well. Patricipants have an opportunity to win a $50 grocery card.

Please contact Amy Michals if you have questions, or would like posters or flyers to place in your community to promote the assessment.

Serving Veterans
By Jessica Seigel - National Rural Health Association

NRHA wrote a letter to Senator John McCain and Senator Jerry Moran to thank them both for introducing the Veterans Community Care and Access Act of 2017. This bill would create access to community health care for veterans who are currently unable to receive the health care services they need from a Veterans Affairs (VA) facility. This legislation offers veterans the opportunity to receive care in their community, rather than traveling miles and fighting through endless barriers to access quality care.

The Veterans Community Care and Access Act of 2017 acknowledges the crucial role that Critical Access Hospitals (CAHs) can play in providing local care for rural veterans by requiring that the VA pay CAHs providing care through the community care program at the CAH Medicare-established rate instead of the service-based Medicare rate used at larger facilities. This will help CAHs keep their doors open to provide care while giving veterans even more choices for localized community care. Additionally, this legislation would improve access and expand the VA's telemedicine program, and works to ensure safe opioid prescribing practices. These additional initiatives are so important in providing affordable, accessible, quality care for our nation's veterans.

Read the full blog.
Reduction of 340B
By Bram Sable-Smith - KCUR

It's a familiar story in rural America. Four years ago the Pemiscot County hospital, the lone public hospital in Missouri's poorest county, nearly closed. What's keeping it in business today has also become increasingly common in rural healthcare: relationships with a handful of local pharmacies.

Through a prescription drug discount program called 340B—named for the section in federal law that authorizes it—the Pemiscot County hospital buys medicines at a steep discount from drug makers, sells it to local pharmacies and pockets the profits.

The drug discount program has become a financial lifeline for rural hospitals like Pemiscot County, nearly a third of which are struggling to keep their doors open. Now, a pending rule change may scale it back dramatically. It's yet another hurdle for rural communities fighting to keep their healthcare local.

Read the full article.
Barriers to Care
By Sarah Heath - Patient Engagement HIT

Patients receiving care in rural areas experience higher hospital mortality rates than those in urban areas, but the reasons for the care quality disparities are still unclear, according to a group of researchers from the University of Michigan. Patient care barriers and other social determinants of health need further investigation, the researchers said.

One in five Americans live in rural areas, totaling to nearly 57 million patients, the research team explained. This population tends to face a well-documented uphill battle when accessing their healthcare: long travel distances, a provider shortage, and limited healthcare resources keep patients from accessing care in rural areas.

There are some population health factors that may explain the differences in mortality rates, the researchers posited. Patients living in rural areas are known to be higher risk. Many patients living in rural areas smoke and consume less healthy diets than urban dwellers. These factors may contribute to higher mortality rates.

Read the full article.

Connectivity Obstacles
By Bill Siwicki - Healthcare IT News

Network reliability and availability of fiber-based services are key contributors to success at rural healthcare provider organizations adopting new care delivery models. And telemedicine is a driving force behind rural healthcare organizations getting better connected, according to new research from HIMSS Analytics.

"Telemedicine is absolutely driving connectivity within the rural communities we studied; the goal is to expand patient access to care providers," said Bryan Fiekers, senior director of research services at HIMSS Analytics. "Several participants to the research indicated that without telemedicine, patients would have to be packed onto a bus and driven to specialists, sometimes driving for hours."

This creates significant logistical challenges that telemedicine helps to overcome. One of the challenges the HIMSS Analytics research uncovered associated with the use of telemedicine today was latency or poor connection reliability. When a specialist is using a two-way video to explain a complicated diagnosis or detailed dosing regimen, it's critical that patients can clearly hear and see that specialist.

Read the full article.
For more information about these and other events, visit the VRHA Calendar

December 13: Changing Health Care Through Community Connections in Southwest Virginia - Lebanon (click here for registration)
February 6-8: Rural Health Policy Institute - Washington, DC
May 8: Health Equity Conference - New Orleans, LA
May 8: Rural Medical Education Conference - New Orleans, LA
May 8-11: Annual Rural Health Conference - New Orleans, LA
May 8-11: Rural Hospital Innovation Summit - New Orleans, LA
How Medicaid Works: A Chartbook for Understanding Virginia's Medicaid Insurance and the Opportunity to Improve It
Updated version - explains Virginia's current program and our opportunity to expand health coverage to many more low-income individuals and families in Virginia.

Compendium of Rural Oral Health Best Practices.
Best practices, models, research, and policies from around the country that can be
built upon, compiled by the National Rural Health Association.

STAIR (Skills Training in Affective and Interpersonal Regulation)
Need: To increase access to telemental health services for rural women veterans with a history of trauma.
Intervention: STAIR (Skills Training in Affective and Interpersonal Regulation) is a 10-week program designed to reduce PTSD and depression symptoms and increase emotional regulation and social functioning in clients.
Results: Therapists reported that clients attended more sessions when offered via teleconferencing, and clients reported satisfaction with the program.
SASH® (Support and Services at Home)
Need: In Vermont, the growing population of older adults, coupled with a lack of a decentralized, home-based system of care management, posed significant challenges for those who wanted to remain living independently at home.
Intervention: SASH® (Support and Services at Home), based in affordable housing communities throughout the state, works with community partners to help older adults and people with disabilities receive the care they need so they can continue living safely at home.
Results: Compared to their non-SASH peers, SASH participants report better health outcomes like fewer falls, lower rates of hospitalizations, and completion of more advance directives – all of which has the potential of saving millions of dollars.
For funding opportunities without a specific deadline, please visit the VRHA Resources page

Virginia Health Safety Net Grants
Funding for projects to grow and strengthen Virginia's healthcare safety net by developing or expanding patient capacity, establishing a broader scope of services, creating local systems of care, or strengthening infrastructure.
Letter of Intent (Required): Jan 19, 2018
Application Deadline: Mar 7, 2018

Virginia EMS Scholarship
Scholarships to support qualified applicants seeking to earn an initial or advanced EMS credential within Virginia.
Application Deadline: Feb 28, 2018

American Electric Power Foundation Grants
Supports nonprofits working in the areas of hunger; housing; health and safety; human services; education; and the environment.
Geographic coverage: Available in Arkansas, Indiana, Kentucky, Louisiana, Michigan, Ohio, Oklahoma, Tennessee, Texas, Virginia, and West Virginia.
Applications accepted on an ongoing basis

Psychiatric-Mental Health Nurse Practitioner Scholarship
Offers scholarships to nurse practitioners working in safety net clinics to pursue a post master's certificate as a psychiatric-mental health nurse practitioner.
Applications accepted on an ongoing basis

Scholarship for Obstetrical Simulation Course Emergencies & Catastrophes
Provides scholarships to attend obstetrical simulation course to family medicine physicians, nurse midwives and licensed midwives who practice in a rural healthcare setting in the southeastern United States.
Geographic coverage: Southeast United States
Applications accepted on an ongoing basis

Southeast Rural Community Assistance Loan Fund Program
Provides low-interest loans to low-income rural communities for predevelopment costs, system upgrades, and new construction of water and wastewater services and facilities, as well as housing and community facilities.
Geographic coverage: North Carolina, Florida, Georgia, Virginia, Maryland, Delaware and South Carolina.
Applications accepted on an ongoing basis