And the Winners Are...
As part of the Virginia Rural Providers Conference, VRHA recognized outstanding individuals and organizations
in the field of rural health. Winners of the 2017 awards were:
Lawmaker of the Year Award: Delegate Todd Pillion, Virginia General Assembly
Charles Crowder, Jr. Award: Charles Tarasidis
Best Practices in Rural Health Award: Russell County Medical Center
Ken Studer Friend of the Association Award: Southwest Virginia, Graduate Medical Education Consortium
Additionally, VRHA held a student poster competition with Rachel Horn, OMSII of the Edward Via College of Osteopathic Medicine taking first place with her poster; "Supporting Primary Care Providers to Improve Quality of Care in Rural Southwest Virginia.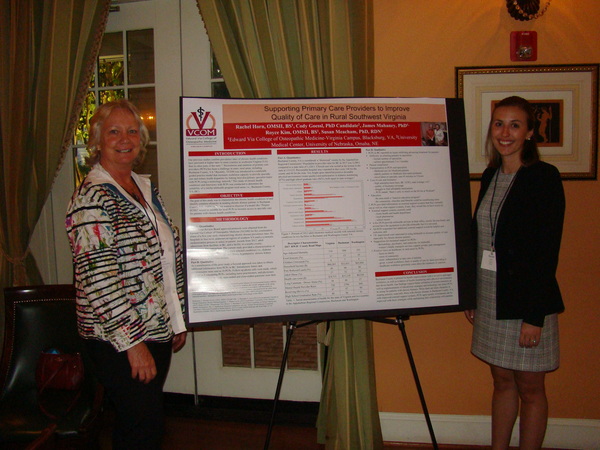 Poster competition winner Rachel Horn (right) with VRHA Board Member Susan Meacham.

Back to the top
VRHA in the News
By Sharon Kinsey - News & Record

"We have to do better." That was the message of Dr. Robert Pack, College of Public Health at East Tennessee State University, to Virginia health providers gathered at The Prizery last week to attend the Virginia Rural Health Association's 2017 Virginia Rural Providers Conference.

This year's conference theme was "Intersections," a nod to the view that health in rural areas is not the sole responsibility of doctors and nurses. Education, jobs, and access to transportation all play an important role in the health of individuals and communities.

Read the full article and related story from the Gazette-Virginian and preliminary article from the Gazette-Virginian.
You're Invited!
Celebrate National Rural Health Day by celebrating the Virginia State Office of Rural Health 25th Anniversary. We hope to see you as they showcase the unique work done for rural, underserved populations in the Commonwealth over the past 25 years. Please RSVP by November 13th, 2017.

When: Thursday, November 16, 2017 from 6:30 PM to 7:30 PM
Where: Sentara Halifax Dental Health Clinic, 101 Aubreys Loop,
South Boston, VA 24592

For more information or to RSVP Contact Ashley Clark
Office of Health Equity
804-864-7432
Merger Approved
By Luanne Rife - Roanoke Times

Virginia's health commissioner has approved the merger of two hospital systems that serve southwestern Virginia. Dr. Marissa Levine's decision, which was handed down Monday, follows a similar one made last month by her counterpart in Tennessee to allow competitors Mountain States Health Alliance and Wellmont Health System to form a combined health system.

The merger, which will create Ballard Health, is expected to be completed by January. The states used separate but similar and unique regulatory processes to determine whether the merger would be beneficial to people living in the region.

The Federal Trade Commission, which usually oversees such mergers, had raised objections. Since the new company will have control over access to health care throughout southwestern Virginia and northeastern Tennessee, the states included safeguards to protect against price increases that could come with a lack of competition.

Read the full article and related stories in the Coalfield Progress, Kingsport Times News, East Tennessean, Greenville Sun, and WYCB.
Healthcare Debate
By Carmen Forman - Roanoke Times

The candidates for Virginia's 8th District House of Delegates seat differ sharply on health care.

Del. Greg Habeeb, R-Salem, opposes Medicaid expansion. His opponent Steve McBride, a Democrat, is advocating for a state-level, single-payer health care system to cover the commonwealth's 8.4 million residents.

Holding a majority of House seats, Republicans have repeatedly defeated efforts to expand Medicaid. House Republican leadership reacted to the single-payer proposal, saying estimates show the costs would more than double the general fund budget because Democrats' plan calls for at least a $23 billion annual tax increase.
Read the full article, and related stories from, Daily Yonder, Vox, Washington Post, News & Advance, Virginian-Pilot, Richmond Times-Dispatch (2nd article), as well as a review of the Coverage Gap from Kaiser Family Foundation
One Option
By Rob Manch - 10 News

Many people in our area insured under the Affordable Care Act may find their healthcare provider dropped them this year. In the greater Lynchburg area, there are now 15,000 to 18,000 people who need to find a new plan, but when they go to look this month, they'll find only one insurer left.

In the Roanoke and New River valleys, that's Anthem. In the greater Lynchburg area it's the Piedmont Community Health Plan, or PCHP, which currently covers about 5,000 people. Staff say this year that number could triple.

Piedmont said the other two insurers left because this year, the government stopped paying a portion of each policy for those making more than $48,000 a year, meaning insurers had to foot the bill and raise rates to make a profit. For Piedmont, that rate increase is 53 percent. That means for an identical high deductible plan, if you make below $48,000, the subsidy kicks in and you pay just under $200 a month, but over $48,000 and you're looking at $340 a month.

Read the full article a related story in the Roanoke Times, and a statement from Governor McAuliffe.
Expedite CHIP
From the Office of Senator Kaine

U.S. Senators Mark Warner and Tim Kaine sent a letter to Senate Majority Leader Mitch McConnell asking him to bring legislation that would reauthorize the Children's Health Insurance Program (CHIP) to the floor for a vote as soon as possible. CHIP, which covers 66,000 children and 1,100 pregnant women in Virginia alone, is set to run out of funding on January 31 if Congress fails to reauthorize the program. Families in Virginia rely on CHIP to cover doctor visits, hospital care, prescription medicines, eyeglasses, immunizations, and regular check-ups for kids up to 19 years old with minimal cost sharing and without premiums. CHIP expired on September 30, and despite bipartisan work by the Senate Finance Committee, the reauthorization bill has not been brought up for a vote.

"We write to emphasize the importance of a prompt reauthorization of the Children's Health Insurance Program (CHIP) for the state of Virginia," the Senators said. "We ask that you bring bipartisan legislation reauthorizing this important program to the floor as soon as possible. CHIP has been very important to protecting the health care of children in our state."

The Senators stressed that the uncertainty around funding the program has put strain on the Virginia Department of Medical Assistance Services, which is preparing to notify families of the impending loss of coverage. They also voiced strong support for the hard work that has gone into a bipartisan compromise offered by Senators Hatch and Wyden.

"This bill represents a bipartisan compromise that will extend CHIP for five years, giving states sufficient time to plan their budgets and make sure families do not face uncertainty related to their health care coverage. We urge you to bring a bill to the floor quickly that includes pay-fors that are acceptable to both sides. It is imperative that Congress act quickly to end the uncertainty around health care coverage for thousands of Virginia children," the Senators concluded.

Read the full letter and related request from Governor McAuliffe.
340B Cut Exemptions
By Maggie Elehwany - National Rural Health Association

NRHA is pleased that CMS recognizes the critical importance of the 340B drug program to rural Sole Communities Hospitals and has protected these rural hospitals from payment cuts implemented in the Outpatient Prospective Payment System final rule released yesterday. The 340B Drug Discount Program is a life-line for so many rural hospitals who financially struggle, and has allowed rural facilities to maintain vital services such as cancer treatments and obstetrics care to rural patients nation-wide.

In brief, the 340B Program is critical to the viability of rural hospitals across the nation, who have endured continuous reimbursement cuts and operate on the narrowest of financial margins. It can also mean the difference of whether a financial struggling rural hospital stays open or is forced to close its doors. Without such funding, the rural hospital closure crisis will severely escalate.

More must be done. Not all rural hospitals are protected in this exemption. Many rural PPS hospitals may still be threatened by these cuts. What the Administration must understand is that since 2010, eighty-two rural hospitals have closed; 65% of these closures were rural PPS hospitals. At the same time, a third of all remaining rural hospitals are vulnerable to closure and many of these vulnerable hospitals participate in the 340B program. NRHA is heartened that CMS quoted NRHA comments extensively in the final rule as the rationale for exempting Sole Community Hospitals. We now pledge to work with you and continue the fight to protect the 340B program for ALL rural providers.
CMS Small Pratice Changes
By Jessica Seigel - National Rural Health Association

NRHA applauds the Center for Medicare and Medicaid Services (CMS) recent efforts to help rural Americans, small practices, and underserved communities struggling to find care options. CMS confirmed November 2nd that the agency will increase exemptions for small practices under the Medicare Quality Payment Program and expand new bonus payments. Additionally, CMS will allow doctors in small practices to join as a group under the payment scheme.

CMS Administrator Seema Verma announced just a few weeks ago that she would be working with stakeholders like NRHA to reduce regulatory burdens on all providers to improve patient care. We look forward to seeing further initiatives from CMS and thank Administrator Verma and the agency for their hard work to help small practices keep their doors open to provide care.

The final rule can be found here.

The Hardest Hit
By Bryce Oates - Daily Yonder

Of the 122 hospitals that have closed since 2005, 60% have been in the South. The hospitals that have closed are more likely to serve people of color and lower-income communities. Rural hospitals in Southern states that serve disadvantaged communities, particularly minorities, have been the most likely to close in the past decade. That trend is likely to continue, according to a study that tracks "financial distress indicators" among rural hospitals.

"Communities that are served by rural hospitals at high risk of financial distress are much more likely to have a higher proportion of minorities in the community," Dr. George Pink, a member of the research team, said during a recent Rural Health Research Gateway webinar titled "Financial Distress and Closure of Rural Hospitals."

Read the full article.
For more information about these and other events, visit the VRHA Calendar

November 12 & 13: Virginia Telehealth Network Summit - Richmond
November 11: VDH Addiction Disease Management - Roanoke
November 14: Social Determinants of Health, Patient Experience, and Value-Based Reimbursement - webinar
November 15: Synthetic Narcotic & Opioid Abuse Prevention Summit - Abingdon
November 15: The Truth Behind Real Cost Control for Rural Hospitals - webinar
November 29: Managing Major Depressive Disorder in Rural Primary Care Settings - webinar
February 6-8: Rural Health Policy Institute - Washington, DC
May 8: Health Equity Conference - New Orleans, LA
May 8: Rural Medical Education Conference - New Orleans, LA
May 8-11: Annual Rural Health Conference - New Orleans, LA
May 8-11: Rural Hospital Innovation Summit - New Orleans, LA
Making Virginia's Healthcare Connection
The report contains detailed information on VHI's financial and non‐financial performance, progress and activities in 2017 and updates on the organization's strategy.

Heroin(e)
This documentary follows three women -- a fire chief, a judge and a street missionary -- as they battle West Virginia's devastating opioid epidemic.

Rural People with Disabilities
This guide has been updated with new information, including new Frequently Asked Questions on care coordination, health promotion programs, and improving access to healthcare.

Virginia Oral Health Report Card
Good oral health is an essential part of overall health and well-being. This connection is important for everyone across the lifespan. Unfortunately, Virginia only earns a "C+" when compared to the nation's performance on the following nine key indicators of oral health.
For funding opportunities without a specific deadline, please visit the VRHA Resources page

Scholarship for Obstetrical Simulation Course Emergencies & Catastrophes
Provides scholarships to attend obstetrical simulation course to family medicine physicians, nurse midwives and licensed midwives who practice in a rural healthcare setting in the southeastern United States (includes Virginia).
Applications accepted on an ongoing basis

Department of Agriculture
The Community Food Projects Competitive Grants Program provides support to meet the food needs of communities and low-income individuals; promote comprehensive responses to local food access, farm, and nutrition issues; and meet specific state, local, or neighborhood food and agricultural needs.
The application deadline is December 4, 2017.

Developing Solutions for Social Isolation in the United States: Learning From the World
With this call for proposals (CFP), RWJF is looking for the best ideas from around the world that address social isolation and promote positive, healthy social connections, and well-being.
Deadline: December 21

Community Health Grants program
An American Medical Association grant to community-based organizations such as free health clinics that offer services to vulnerable and underserved populations, including residents of inner cities and rural areas. The initiative supports innovative programs targeting the prevention and reduction of type 2 diabetes and hypertension. Grants will be awarded in amounts up to $60,000 and are renewable for up to three years.
Visit the Foundation's website here to learn more about the program's guidelines and to register for a pre-submission webinar.
Deadline: 12/20/2017

Improving Health through Violence Prevention
Training, technical assistance, and grant funding for state/territory leadership teams to develop an integrated and improved response to intimate partner violence.
Application Deadline: Nov 14, 2017

Ryan White HIV/AIDS Program Part C Early Intervention Services Program: New Geographic Service Areas
Funding to provide, on an ongoing outpatient basis, high quality early intervention services/primary care to individuals with HIV infection in new geographic service areas.
Application Deadline: Jan 2, 2018

Challenge Competition: Improving Remote Monitoring of Pregnancy
A prize competition to support the development and testing of low-cost, scalable technology-based innovations to improve the ability of prenatal care providers to monitor the health and well-being of pregnant women remotely, especially women who live in rural and medically-underserved areas who have limited access to on-site prenatal care.
Application Deadline: Jan 31, 2018

Department of Health and Human Services
The Rural Healthcare Services Outreach Program seeks to enhance healthcare delivery in rural communities through outreach projects focused on the improvement of access to services, strategies for adapting to changes in the healthcare environment, and overall enrichment of community health.
The application deadline is December 6, 2017.

The Milbank Foundation
The primary mission of the Milbank Foundation is to integrate people with disabilities into all aspects of American life. The Foundation's current priorities include consumer-oriented projects that enable people with disabilities to lead fulfilling, independent lives; innovative policy research and education on market-based approaches to healthcare and rehabilitation; improving and expanding quality health services, especially palliative care; and education and training of health and rehabilitation professionals. Nonprofit organizations may submit letters of inquiry throughout the year.