For CASAs
---
Advocate Handbook
The Advocate Handbook has been updated! It is available on the CASA ETO dashboard. Please take a look!
10th Annual Justice Jog Run/Walk
Calling all CASA runners and walkers! On the morning of September 24th, 2017 in Century City, the Greater Los Angeles Association of Legal Administrators will host their 10th Annual Justice Jog 5K/10K Run/Walk. All proceeds will benefit CASA of Los Angeles.
Any CASA registering as an individual can join the CASA Advocate Team ($40/$50 registration fee applies). The more the merrier and we'd love your help fundraising! https://justicejog.rallybound.org/Team/View/43310/CASA-of-Los-Angeles-Advocate-Team
5K Individual Registration/$40
10K Individual Registration/$50
Individual and Team Registration, Sponsorship, or to make a donation, please visit www.justicejog.org
Macy's Shop for a Cause
Join the CASA/LA team as we take part in the Macy's Shop for a Cause Charity Challenge and help us raise the most money for a chance to win the grand prize of $100K! The challenge starts on July 11 and will run through August 9.
How You Can Help Start by creating a team page here: www.crowdrise.com/casa-of-los-angeles1. It will only take 5 minutes!
If you donate at least $5 or more, you'll receive an exclusive Macy's savings pass for up to 20% off of most items.
For Kids
---
College Within Reach
United Friends is hosting their annual College Within Reach event on Saturday, October 28, 2017. The event is for all current and former LA County youth in foster care, ages 12-24, as well as the adults in their lives (like you, their CASA!). United Friends will provide transportation from all over LA County as well as breakfast and lunch!
The event features keynote speakers, a resource/college fair during lunch, and tailored workshops that provide critical information to youth who are considering college as well as information on how caregivers and service providers can support them along their journey.
Please register online:
Karsh Center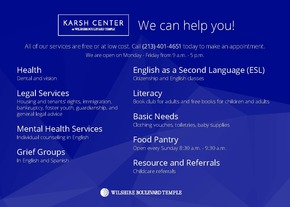 The Karsh Center at Wilshire Boulevard Temple offers great free and low-cost services to anyone in need! The services at Karsh Center are designed to address immediate problems such as hunger, illness, and legal issues.
Click here for more information.
Acting Class Opportunity for CASA Youth!
Does your CASA youth have a passion for acting? If so, he/she should participate on September 9th at the Actors Comedy Studio which is hosting a free workshop specifically for CASA youth ages 10 – 14 years.
Owner Lauren Bertoni will be teaching the class and has 16 spots available. Don't delay in signing up your child, as these spots fill quickly. For more information on her studio, please visit https://www.actorscomedystudio.com/
Saturday, September 9, 2017
11am – 1pm
7461 Beverly Blvd. Ste. 202
Los Angeles, CA 90036
Children must be between the ages of 10 to 14 years old and will need to bring their own sack lunch.
To sign up or if you have questions contact Kelly at: Kelly@thecollectivestudiola.com or 818.308.4889.
Camp Harmony
Camp Harmony is enrolling youth ages 7-11. There are two sessions a year, and the last week of August (August 22nd-27th) is Summer Session and Winter Session is over President's day weekend (February 17-19th, 2018). Over 300 kids participate in each of the sessions at the camp site in Malibu. The children are put into cabin groups based on age and gender. There are four volunteer high school counselors in each cabin of 8 children. The kids participate in activities like art, dance, soccer, ropes course, swimming, beach day, and carnival.
For more information, please contact Sylvia LaMalfa at slamalfa@casala.org.
The RISE Program for LGBTQ+ Youth
Do you work with an LGBTQ+ youth age 5 - 17 years old? The RISE Care Coordination Team (CCT) is a Child & Family Team that is committed to increasing the safety, well-being and permanency of Lesbian, Gay, Bisexual, Transgender, and Questioning (LGBTQ+) and Gender Non-Conforming children and youth.
They offer services to promote self-esteem, achieve and sustain permanent relationships, and increase support and acceptance in families--biological, extended, foster--with LGBTQ+ and Gender Non-Conforming children and youth.
Click here for more information about the RISE Program, or contact Joann Cerda at jcerda@lalgbtcenter.org or (323) 860-3632.
College Readiness Program
Do you work with a CASA youth in grade 7 or 8? United Friends of the Children has limited spots available for their College Readiness Program (CRP) to help foster youth become competitive applicants for four-year colleges and universities. The program is enrichment focused and offers several benefits: individual college counseling, tutoring, workshops, college tours, special events, and summer programs.
Click here for a program application and detailed information regarding the College Readiness Program.
Space is limited.
---
Upcoming In-Services
You can download handouts from
the in-services simply by
going to http://www.casala.org
and

clicking the
FOR ADVOCATES tab!
Wednesday, September 6th
12pm - 1:30pm
FULL-please email slim@casala.org
if you'd like to be placed on the waiting list
Wednesday, September 13th
12pm-1:30pm
Tuesday, October 3rd
12pm-1:30pm
Tuesday, November 7th
10am-11:30am
(will take place at Stuart House
at UCLA-Santa Monica)
FULL-please email jremy@casala.org if you'd like to be placed on the waiting list
---
ETO Corner
Are you using Internet Explorer (for PC users) or Safari (for MAC users) to view ETO? You will only be able to take advantage of all ETO functions using these browsers.
For ETO assistance please
contact
Josh Saxelby-Valle
at jsaxelby-valle@casala.org or (323) 859-2888 ext. 6354
or Jessica Vallejo
or (323) 859-2888 ext. 6396.
---

Casual, positive get-togethers organized by CASAs, for CASAs

South Bay
Where: El Torito,
23225 Hawthrone Blvd.
When: September 6, 6pm
Hosted by: Linda Caravana
RSVP & location info contact:
Linda Caravana at
More meetings/locations
coming soon! Please email Sharon Lim at slim@casala.org if you'd like to host one!
---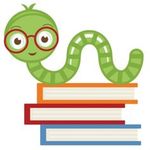 CASA Book Clubs
Long Beach/Compton Book Club
Next meeting: TBA
Contact: Rhonda Brown
San Gabriel Book Club
Next meeting:TBA
Contact: Katherine Hill
or (626) 836-2290
---
---
You can also find the Buzz