For CASAs
---
National CASA Annual Conference
The National CASA Annual Conference will be held in Boston, MA on March 10-13, 2018! The annual conference will bring together over 1,200 CASA/GAL staff and board members, volunteers, and child welfare experts to improve advocacy on behalf of the children in the child welfare systems across the nation. There is a volunteer discount off of the full conference registration rate for active CASAs! The online registration deadline is February 17th, 2018. Please visit their website for more information!
Grab a donut at Donut Friend!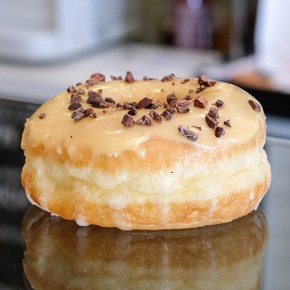 This February, every time you enjoy a "Compassion Fruit" donut from Donut Friend, 50% of the proceeds will be donated to CASA of Los Angeles! Please help us fundraise by visiting Donut Friend this month and supporting a wonderful and generous initiative from a great CASA/LA partner! To learn more about Donut Friend and where they are located, please visit: donutfriend.com!
Valentine's Day Campaign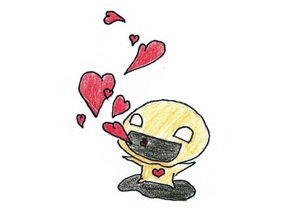 This Valentine's Day - why not make a special gift in honor of your friends, family members, and colleagues. Through CASA of Los Angeles' Valentine's Day Campaign, you simply make a donation and receive cards to send. It's a great way to send greetings to let them know how much you appreciate them on this day of love and friendship. Your recipient receives an adorable custom card featuring a drawing by one of our CASA children, who with the help of her CASA volunteer, was placed in a safe and permanent home.
For more information, please contact Marie Carpenter at mcarpenter@casala.org or 323-859-2888x. 6328 or visit our website here.
2018 Evening to Foster Dreams Gala
Tickets and sponsorship are now available for our 6th Annual Evening to Foster Dreams, to be held at the Beverly Hilton on April 18th, 2018. We are always looking for event volunteers, so if you are interested in helping us at our largest and most important fundraiser of the year, please contact Simone Sterling at ssterling@casala.org.
We are also in need of donations for our auction, so please reach out to friends, colleagues, and business partners to ask for items such as gift certificates or interesting products and experiences that we can auction off to help achieve our fundraising goal!
Donation forms can be found here. Tickets and sponsorship can be purchased here. Thank you for your support!
South Bay Quilter's Guild
The South Bay Quilter's Guild has its annual quilt show on February 17th and 18th, 2018 at the Torrance Cultural Arts Center. The Guild provides CASA many of the quilts and books for our children! Visit here for more information!
For Kids
---
Akerman Academic Excellence Scholarship
The 2018 Akerman Academic Excellence Scholarship program application is now available. A scholarship in the amount of $2,500 will be awarded to an outstanding former foster youth who has demonstrated a commitment to academic achievement. We encourage you to consider nominating an outstanding young adult from your community who has spent time in foster care and is interested in pursuing a higher education. The deadline is March 9, 2018. Please email scholarship@casaforchildren.org if you have any questions!
Camp Bob Waldorf
Camp Bob Waldorf is a residential camp for camper ages 9-15 that fosters growth and development in a fun and safe environment. Campers live in a cabin with their peers and trained counselors, and spend the majority of their day experiencing new camp activities such as swimming, archery, high ropes course, hiking, ranch animal care, and arts and crafts. Financial aid is available! For more information, please visit their website or reach out to your advocate supervisor!
IDYLLWILD Arts Camp Scholarship-announced in Jan, 2018 is still open
If you have a child between the ages of 13 and 18 in middle or high school who has an interest in the arts including painting and drawing, theater, film, or music, he or she may be eligible for an Idyllwild arts camp scholarship! Please click here to read specific CASA of LA/Idyllwild materials which includes the application, descriptions of how to access the online catalogue, and other pertinent information. Please remember that the application deadline is March 5th, 2018. After reading the materials, contact Eileen Sheiniuk at esheiniuk@advocatecasala.org if you have further questions.
Hope in a Suitcase
Hope in a Suitcase is providing brand new clothing, shoes, and suitcases/bags for youth ages 4 and up!
For more information, please contact a CASA staff member or email info@hopeinasuitcase.org.
The RISE Program for LGBTQ+ Youth
The RISE Care Coordination Team (CCT) is a Child & Family Team that is committed to increasing the safety, well-being and permanency of Lesbian, Gay, Bisexual, Transgender, and Questioning (LGBTQ+) and Gender Non-Conforming children and youth.
Click here for more information about the RISE Program and the services provided, or contact Joann Cerda at jcerda@lalgbtcenter.org.
---
New faces at CASA!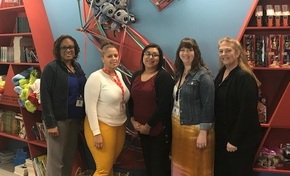 From left to right: Dionne Boyd (advocate supervisor), Kristy Brooks (advocate supervisor), Mariana Ventura (advocate supervisor), Betsy Ann Mudd (volunteer training coordinator), and Susan Shiells (recruitment and outreach coordinator)
Dionne Boyd, advocate supervisor
She is a seasoned professional who has worked as an administrator with adolescents in a residential group care facility (group home). She has also functioned as a foster care office director, providing leadership and coaching to staff and training prospective and current foster parents.
Kristy Brooks, advocate supervisor
Kristy has worked as an ILP coordinator at Five Acres and most recently, was a social worker for Fred Jefferson Foster Family Agency. Kristy holds a doctorate of Education in Counseling Psychology and a MA in Counseling Psychology.
Mariana Ventura, advocate supervisor
Before coming to CASA, Mariana had been a therapist for the last 11 years, working with foster youth and the TAY population. She has worked in a variety of capacities, including, but not limited to: FSP, wraparound, IFCCS, school-based therapy, youth with mental health issues and developmental delays, TBS, as well as older adults who were diagnosed with health conditions that bring on mental health issues.
Betsy Ann Mudd, volunteer training coordinator
A lifelong volunteer from the Midwest, Betsy Ann has spent almost a decade working in the domestic violence movement in various advocacy capacities before finding her way towards deigning and managing volunteer programs as her professional specialty. When she isn't facilitating training for CASA, you can find her volunteering as a board member and VP of programs and education for DOVIA-LA (Directors of Volunteers in Agencies) and working on her side creative hustle DEAN + KATHLEEN where she focuses on fiber based art!
Susan Shiells, recruitment and outreach coordinator
Susan comes to CASA with a strong background in community building, community development, and volunteer recruitment and retention, honed at positions at the Boy Scouts of America and, more recently, at the Los Angeles Christian Health Centers. She is covering the areas of Glendale, Pasadena, and South LA, so please reach out to her if you can help us with recruitment in those areas!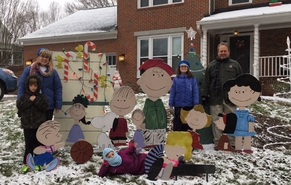 our beloved Louise Bieschke in Virginia
with Charlie Brown, et. al.
CASA in the News
CEO Wende Nichols-Julien discussed the tragedy in Perris, CA on NBC4 on January 16, 2018. Watch the video here.
The New York Times published a great article about the child welfare system and the effect it has on families. Read it here.
Upcoming In-Services
You can download handouts from
the in-services simply by
going to http://www.casala.org
and

clicking the
FOR ADVOCATES tab!
Tuesday, February 20, 2018
12:00pm-1:30pm
Reseda office
Immigration Issues for Foster Youth
Thursday, March 08, 2018
12:00pm-1:30pm
Monterey Park office
Thursday, March 15, 2018
12:00pm-1:30pm
Monterey Park office
Wednesday, March 21, 2018
12:00pm-1:30pm
Monterey Park office
Tuesday, April 03, 2018
12:00pm-1:30pm
Monterey Park office
Individualized Education Programs
Wednesday, May 09, 2018
12:00pm-1:30pm
Monterey Park office
Thursday, May 24, 2018
12:00pm-1:30pm
Monterey Park office
---
ETO Corner
Still need help with ETO and how to fill out forms in ETO? Please refer to the updated Advocate Handbook or join us in at our weekly walk-in ETO clinics every Tuesday from 12pm to 2pm in our Monterey Park office.
For ETO assistance please
contact Josh Saxelby-Valle
at jsaxelby-valle@casala.org or (323) 859 2888 ext. 6354 or Jessica Vallejo
or (323) 859-2888 ext. 6396.
---

Casual, positive get-togethers organized by CASAs, for CASAs

Westside
Where: CASA's home in 90035
Please RSVP for the address
When: Saturday, Feb 17, 2018 at 10am-12pm
---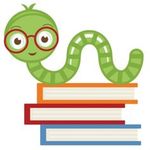 CASA Book Clubs
San Gabriel Book Club
Where: CASA's home in 91024
Please RSVP for the address
When: March 2, 2018 at 1:00pm
Barking to the Choir: The Power of
Radical Kinship by Gregory Boyle
Contact: Katherine Hill
or (626) 836-2290
Long Beach Book Club
Where: CASA's home in 90221
Please RSVP for the address
When: April 7, 2018 at 10:00am
The Last Black Unicorn by Tiffany Haddish
Contact: Rhonda Brown
---
---
You can also find the Buzz