Operation Streamline does not belong in comprehensive immigration reform or in border communities!
February 19–21
NATIONAL DAYS OF ACTION TO END OPERATION STREAMLINE
and the system of migrant criminalization it represents
Every day as part of Operation Streamline in the Border Patrol's Tucson Sector, at least 70 migrant men and women are led in chains before a judge and given prison sentences prior to their deportation. Today in our country, these working people—prosecuted and given a criminal record simply for migrating without permission—are being sent by the thousands to private prisons where companies make a profit off their incarceration.
As discussion of Comprehensive Immigration Reform mounts, Senator McCain and the "gang of eight" have proposed an expansion of Operation Streamline and other wholesale prosecutions of people crossing the Mexican border looking for work or to reunite with family.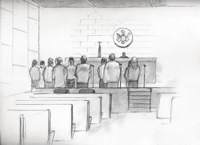 For many who have witnessed a Streamline hearing, the mere image of the proceedings is enough to shock the conscience. But beyond the ugliness of the process, Streamline raises troubling questions about constitutionally protected due process, the growth of private prisons, the deepening criminalization of migrants, and the exploding costs of contemporary immigration enforcement.
Write and call your members of Congress to tell them that real reform must end Operation Streamline and curtail misguided border-enforcement policies and practices.
National organizations such as Grassroots Leadership, Justice Strategies, American Friends Service Committee, and the American Civil Liberties Union will be holding press conferences and events across the country in anticipation of the February 22 hearing in Washington D.C. on Operation Streamline and its possible expansion.
Art by Lawrence Gibe; video by Murphy Woodhouse