U
pcoming
BPQ C
oncerts:
Music Matters
La Grua Center
Stonington, Connecticut
April 21, 2013 at 3:00 PM

***If you are in NYC, come hear us here!***
Classical Interludes Series
Brooklyn Public Library
Brooklyn, New York
April 28, 2013 at 4:00 PM

Community Concerts @ Second
Second Presbyterian Church
Baltimore, Maryland
May 19, 2013 at 3:30 PM

Park-McCullough House Carriage Barn Concerts
Historic Park-McCullough House
North Bennington, Vermont
July 14, 2013 at 4:00PM
U

pcoming

BPQ P

rojects:
Abu Dhabi String Quartet Festival
Abu Dhabi, United Arab Emirates
including a public performance, masterclasses and workshops for local youth string students, and a collaboration with Emirati poet, Aysha Khalaff Al Kaabi, and her Arabic Poetry Club at Khalifa University

BPQ's Debut CD Album
Fall 2013 release
featuring Debussy's String Quartet; Janáček's String Quartet No. 1, "Kreutzer Sonata"; Kurtág's Officium Breve in Memoriam Andreae Szervánszky; and BPQ originals
Check out what we've been up to:
In Anna's hometown of Baltimore, we have played 2 of 3 scheduled concerts this season (the last one is upcoming in May), and gave masterclasses at The Peabody Prep and The Baltimore School for the Arts, as well as an interactive performance for Orchkids.
Shortly after our first Baltimore visit, we flew to Des Moines for our sixth annual week-long residency, but this time we also played at the World Food Prize Laureate Ceremony in the Iowa State Capitol Building. Notice that we were less than a foot away from Ban Ki-Moon, Secretary-General of the United Nations!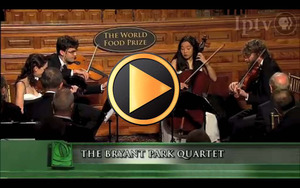 After that, we collaborated on a special project, playing the Debussy quartet, by memory on stage with the Lar Lubovitch Dance Company at Florence Gould Hall - French Institute Alliance Française in NYC, and at The Kennedy Center in DC!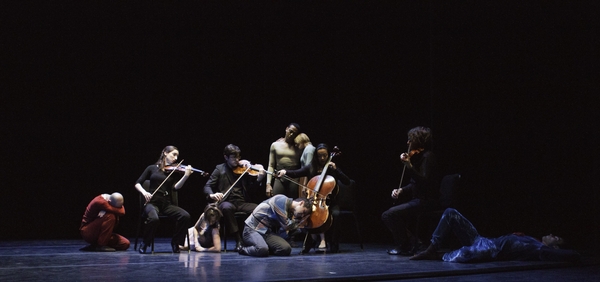 For our ongoing residency at the Stony Brook Pre-College Music Program, we just performed the second of our two concerts at the Staller Center for the Arts, and gave a presentation to the music students there, exploring the flexibility of time in music. It was really fun to uncover the beautiful subtleties of rubato in classical music. We are excited for the next installment of our SB residency - our week-long summer music camp for Long Island high school and middle school string players in August (application and more info here: http://www.stonybrook.edu/commcms/music/community_programs/summer.html)!