---
---
Join us live online every Sunday
Live via Streaming

Join us for Sunday Meditations at 9 AM

Recent recorded video streaming meditations may also be found at the same link.
---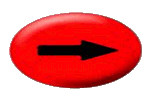 Dora DeCoursey,
Jessica Denison,
Marci Roth,
Sam Snoek-Brown,
Bill Spangle,
Rosemarie Sweet,
and
Julia King Tamang
contributed to the production of this newsletter.
Fall 2013
SCOL's One-Year Retreat Continues
KCC's first long retreat -- the One-Year Retreat -- began last March. More than half that year has gone by, with thirteen retreatants tucked inside the cloister at Ser Chö Ösel Ling, following a daily schedule of practices from Bokar Rinpoche's Mahamudra Program. Those of us on the outside are left to our imaginations, picturing the retreatants going about their days, gathering for group sessions, holding meetings with their retreat teachers Lama Michael Conklin and Lama Tara Goforth about the various joyful and difficult experiences that arise in practice.

There is one small group of individuals who reside not quite inside the retreat, but not entirely outside. This is, of course, the staff. There are three full-timers: Rural Operations Manager, Galen Doucette; retreat cook, Jikan Quitorio; and support staff, Jake Cummings. They have thus far supported this long retreat without having one extremely important piece in place: staff housing. Two of the three staff members live inside of the cloister with retreatants. Jake Cummings describes the experience as rewarding but not without some real challenges:
"When I look around at the cabins -- to know that people are in there, being so quiet and devoting their lives to the intention to turn their minds toward the dharma -- it feels incredible to be near it. At the same time, there is an intensity, knowing I can create a disturbance. This is constant. I can feel how disruptive I might be."
A major fundraising goal for KCC at this time is to create separate staff quarters before the start of the Three Year Retreat. Providing some degree of privacy and comfort is an investment in the morale, health and stability of the staff who will live and work at SCOL for three plus years. Jake seems excited at the prospect for reasons that extend beyond his own needs as a staff member: "There would be an office, shrine room, and bedrooms, and some of these spaces could also be used to house visitors," he describes. "This would afford opportunities to people who want to come out and volunteer but aren't able to live permanently as a resident. It would invite so much energy to help the Three Year Retreat. I can see it being an incredible resource. And the more people come out and stay for a few days, the more they can understand what retreat is about."
Below, Tara Sullivan illustrates an idea of what staff housing could look like. Architects are now working on the official design. Please visit
www.kcc.org
for more details.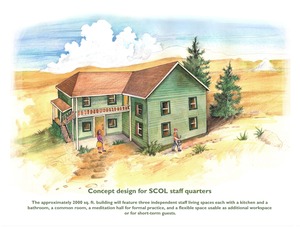 ---
KCC Prepares for Three-Year Retreat
"You could say that the dharma will have taken root in the West when we have made available the full range of supports and opportunities for a person to realize all that there is to be realized . . . to follow the path until the end." -- Eric Triebelhorn
KCC's vision has long been to facilitate this by offering an extensive course of study and practice within the Shangpa-Kagyu lineage: the traditional Three-year Retreat.
The first Three-year Retreat at SCOL begins in 2015. It will offer practitioners the precious opportunity to fully devote themselves to the graduated program of Shangpa practices without the day-to-day distractions that we all face in the world. Such intensive practice is a crucial foundation for the kind of spiritual realization that will sustain the lineage, and the dharma, for future generations.
The importance of this kind of retreat is clear from the example of the life of KCC's founder Kalu Rinpoche. In Tibet and then later in India and the West, he founded retreat centers to ensure that motivated students had the opportunity to engage in the intensive practice that he had found so beneficial.
Since the late 1970s, there have been a handful of Three-year Retreats in the West guided by Lamas trained in the Shangpa-Kagyu lineage, which have laid a foundation for the coming retreat. KCC Associate Teacher, Bill Spangle, says, "My sense is that this is a third generation effort . . . The preparations for this retreat build on the experience gained from the very first Three-year Retreat in France and also the next wave of retreats, which includes the one that KCC Resident Lama, Michael Conklin, took part in."
One thing that participants on this retreat have to look forward to is that they will have the most comprehensive set of practice texts and commentaries available in English to date. The earlier retreats had very little translated material and many of those retreatants reported that they struggled with the language barrier.
The effort involved in translating and publishing this generation of practice texts has been quite extensive, spanning years and requiring painstaking work and a high level of familiarity with both Tibetan language and the practices.
Thanks to the generous support of Tsadra Foundation and of a contribution from KCC's General Fund, this material has been translated and is being published in English. Lama Eric Triebelhorn, who completed the Shangpa-Kagyu long retreat in Mirik, India, is now formatting this material for KCC -- matching Tibetan and English -- to provide retreatants with beautiful pecha texts that will guide them through the three years of practice.
There is still much work to be done to prepare for the Three-year Retreat, ranging from recruitment efforts to finishing the facilities. For more information about how to get involved, please visit
www.kcc.org
.
---
The Windhorse Inspires a $100,000 gift to KCC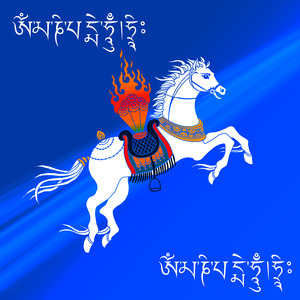 Standing near an eye-catching banner of the Windhorse designed by Tara Sullivan, Sandy Pollock announced a $1,130,000 Windhorse Comprehensive Campaign that encourages leadership giving and three-year pledges to support the general fund, construction of staff residences at SCOL and development of a new urban center.

Sandy noted that all three objectives were essential to fulfilling KCC's mission and ensuring that the precious Kagyu lineage is accessible to Portland's future generations.
Also announced at KCC's annual meeting was a $100,000 pledge for development of a new urban center. Two other donors have offered challenge pledges of $10,000 to encourage new and increased gifts to SCOL and the General Fund.
These announcements capped an upbeat Annual Meeting. Steve Parker introduced KCC's three new Board members: Linda Besant, Sandy Pollock and Tim Campbell. Linda will steer the Volunteer Services Committee and Sandy is organizing the Urban Center Research Team. Tim served as an inspiring master of ceremonies, keeping the energy high with acknowledgements of outstanding volunteer service, witty comments, and a just say "yes" poetic conclusion.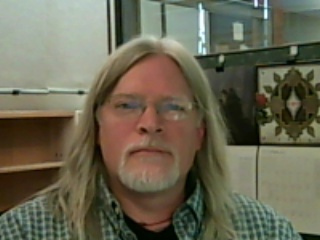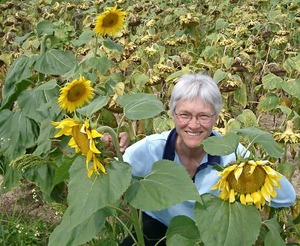 Tim Campbell and Linda Besant,
two of KCC's three new board members.
Steve reported on 2013 Board accomplishments, recognizing the efforts of fellow board members Jim Kimball, Ephraim Miller, and Pat Parker. KCC is moving ahead quickly to achieve the objectives of the new Strategic Plan. KCC finances remain in the black, although the challenge of meeting 2013's general fund goal remains, fees for the long-term retreat are set, and planning for the final phase of construction at SCOL is on schedule and a new Advisory Group in place to assist when needed.
Lama Michael brought smiles with his description of one-year retreat menus that respect nine special diets. He reflected on the challenges of change that both entering and leaving a retreat bring. Twenty-five years after his own three-year retreat, he is preparing for the 2015 three-year retreat at SCOL. Lama Michael recognized Lama Eric Treibelhorn for his continued work formatting the three-year retreat practices and commentaries. Many of the practice texts have never existed on a page with both the Tibetan and the English Translation, and will be available for the first time at KCC's Three-Year Retreat -- a remarkable accomplishment!
2013 has been a great year for KCC, setting the stage for a great surge forward. The Windhorse, a Tibetan symbol of well being and good fortune, is an inspiring figure for the years to come.