---
---
Current Volunteer Opportunities
Seamstresses/sewists for special projects

Omdze Assistants to help with evening pujas

A creative crafts person who can take a project and run with it.
For information on ways to volunteer, please contact Aly Good at
alymgood@gmail.com
or click the button below:

---
Join us live online every Sunday
Live via Streaming

Join us for Sunday Meditations at 9 AM

Recent recorded video streaming meditations may also be found at the same link.
---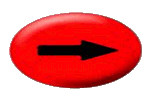 Jessica Denison,
Aly Good,
Barbara Bell,
Sam Snoek-Brown,
Rosemarie Sweet,
and Julia King-Tamang


contributed to the production of this newsletter.
June 2013
Dear Friends & Supporters of KCC,
This month, we are honored to help spread the word about an extraordinary opportunity to participate in the Bokar International Mahamudra Seminar here in the Pacific Northwest. In future issues, we will provide more details about this seminar and Venerable Khenpo Lodro Donyo Rinpoche's visit to our part of the world. May we all benefit from this rare and fortuitous occasion. We also extend heart-felt thanks to Ephraim and Ann Miller for their many years of service to KCC. And, of course, with the start of summer comes notice of the annual sangha picnic in the park. Please enjoy this issue and let us know if you have ideas for future articles.


---
The Bokar International Mahamudra Seminar to be Offered in the Pacific Northwest, USA
Led by Venerable Khenpo Lodro Donyo Rinpoche, Abbot of Bokar Monastery, Mirik, India

Location:
Seabeck Conference Center, Seabeck, Washington USA

Dates:
Nov 17, 2013, 4:00 pm - Nov 24, 2013, 1:00 pm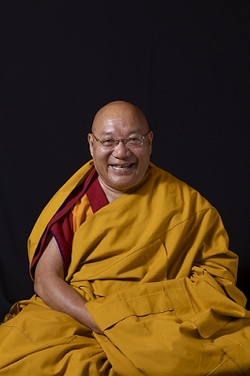 Khenpo Lodro Donyo Rinpoche

Kagyu Changchub Chüling, Center for the Practice and Study of Tibetan Buddhism in Portland, Oregon, is pleased to announce an extraordinary dharma study and practice opportunity for both beginning and advanced practitioners of Buddhism.
Khenpo Lodro Donyo Rinpoche, Abbot of Bokar Ngedon Chokhor Ling Monastery, in Mirik, India, has graciously agreed to a rare visit to the Pacific Northwest to present a seven-day seminar on the stages of the path of Mahamudra according to the Karma Kagyu Lineage.
The program includes the study and practice of Calm Abiding (Shamatha), Insight (Vipashyana) and Mahamudra meditations, as well as the compassion-enriching practices of Chenrezig and Taking and Sending (Tonglen).
The seminar will be at Seabeck Conference Center, located in a peaceful waterside setting in view of the Olympic Mountains in Washington State. Seabeck is conveniently located about 90 minutes west of Seattle and SeaTac airport and about a 3.5-hour drive from Portland.
You are warmly invited to share an intensive week of practice, teachings, and empowerments as Khenpo Rinpoche shares the core teachings of the program initiated in 1992 by his heart teacher, the meditation master Kyabje Bokar Rinpoche. The aim of the program is to support busy practitioners in developing a sustained daily practice within a graduated program of meditation. Hundreds of students from around the world have benefitted from this carefully designed, graduated path and the spiritual companionship of an international cohort group.
The program offers the opportunity of new instruction and commitments each successive year. The minimum practice commitments in the first year can be met in little more than half an hour per day. Kagyu Changchub Chüling offers ongoing support. Students already participating in similar Mahamudra programs with other teachers are welcome to join for the teachings without taking on an additional practice commitment.
The week after the seminar, there will be several days of teachings and empowerments in Portland, Oregon. Details are forthcoming at
http://www.kcc.org
.
More Information and How to Register
For more information about the practice commitments, please contact Bill Spangle or Dora DeCoursey by email at
dorabill@comcast.net
or by phone at 503-282-2809. Registration will open approximately June 25.
Please contact Kathy Gillis for questions regarding Seabeck Conference Center or registration. A discounted rate for ordained sangha and three-year retreat graduates, as well as some partial scholarships, will be available.
More information will be posted at
http://www.kcc.org/activities/retreat/bokar-international-mahamudra-seminar
as available.
---
In Gratitude to Ephraim and Ann Miller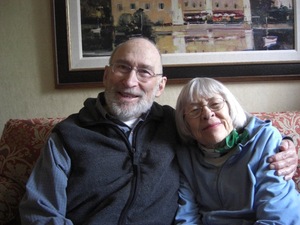 After more than fifteen years of service, Ephraim Miller is stepping down as treasurer of KCC's Board. Ephraim and his wife, Ann, who also is a key volunteer, are ready to enjoy more time in their new community at Mary's Woods. As the Board begins its search for someone to fill this important position, we pause to reflect on the contributions this couple has made to the life of KCC.
The Millers have had a long and rich spiritual journey. Ephraim's path included many years of leadership-level involvement with Friends Meeting in Cambridge, Massachusetts. During this time, he also met a Hindu monk under whose guidance he practiced meditation and studied comparative religions for ten years.
Graduate study in world religions included a year at Earlham School of Religion in Indiana, followed by four years studying South Asian languages and civilizations at the University of Chicago. Ephraim speaks seven languages with varying degrees of fluency. He also holds bachelors and masters degrees in chemical engineering.
Shortly after their move to Portland in 1997, Ephraim and Ann attended classes on Buddhism at Portland Community College, taught by Lama Michael. The deep connection they felt to him led to their many years of involvement in the life of the sangha. "I kept looking and over time I recognized that whether I looked to Judaism, Sufis, Hindus, Quakers, Buddhists, when one sees the core of each, they are not so very far apart. What I didn't find until I met Michael was the heart connection I wanted."
Ephraim brought his years as a stockbroker into dharma service. Ann's expertise was in fundraising, given her many years as a major gifts development officer at Northwestern University and Reed College. She was generous with her guidance in this area, particularly at a time when KCC was just starting to develop fundraising strategies.
Long-time member and teacher Julia King-Tamang shares these thoughts about Ephraim:
"Ephraim is a scholar, and educated person in the best sense of the word, always learning, always growing, always curious. I experience him as a deeply spiritual being, a living example of the flowering of the dharma inside a mindstream. In board meetings, Ephraim was as notable for his abiding silence as for his powerful contributions. How do we express our gratitude for this kind of devotion to serving our community? It has deeply touched our lives, our success. It has given us examples of how to live in sangha and in the world."
As the Board begins a search for a new Treasurer, we are deeply grateful to Ephraim and Ann and to all the current and former Board members whose dedicated service makes KCC's stability and forward movement possible.
In 2012, 140 donors contributed $78,414 to KCC's General Fund -- nineteen more donors than last year! Seventy-eight of those donors had given for three or more years in a row. Thirty-four members gave for the first time. Seventy-three people provided deductions from their credit or bank accounts or checks on a predictable timetable, providing the steady support so critical to KCC's success.

Big gifts were vital
| | | |
| --- | --- | --- |
| Dollars | Donors | Total |
| $10,000 and higher | 1 | $12,227 |
| $1000 and higher | 16 | $31,095 |
| $500 to $999 | 27 | $7,260 |
Looking forward
2013 General Fund goal -- $90,000
2014 General Fund goal -- $102,000

Contributions to date: $27,210

Estimated outstanding pledges by year-end: $54,420
6 months and $40,000 to go!
Volunteer Service Committee Picnic 2013
It's time for the KCC sangha to get together for some fun and relaxation in the sun! This summer the VSC Picnic will be held on Saturday August 3rd at Irving Park from 2:00 to 5:00 p.m.

All are welcome, family and loved ones. Please bring some delicious vegetarian food to share. If you'd like to bring games to play, chairs to relax in or blankets to lay out on -- feel free!

We look forward to seeing you there.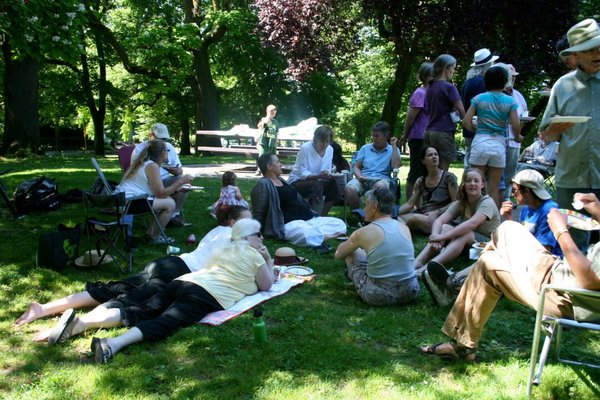 The KCC sangha gathered in Irving Park for the annual picnic in 2012.
---