Last month, when a forest fire broke out miles away from KCC's retreat land near Goldendale, WA, the community back in Portland waited anxiously for updates, hoping that the fire would not threaten or interrupt the one-year retreat currently in session. Recently, we spoke with Jake Cummings, who is on staff at Ser Chö Ösel Ling and also volunteers for Goldendale's Rural 7 Fire & Rescue to find out more about the experience.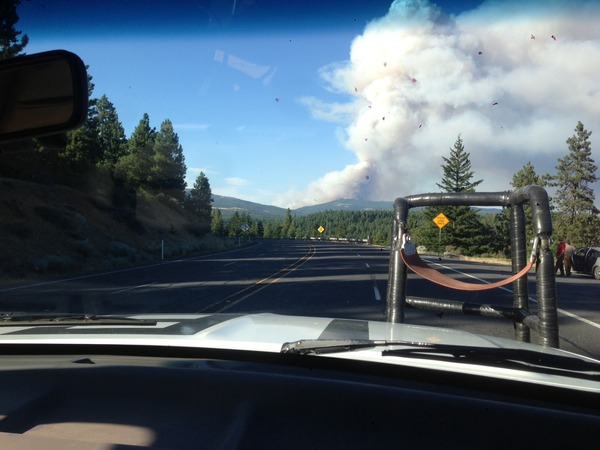 ---
What prompted you, along with Rural Operations Manager, Galen Doucette, to join the local volunteer fire department?
Joining the Rural 7 fire department felt like an obvious way to engage with the Goldendale community, which I really wanted to do. Also, since there have been fires nearby, we know that it's a real possibility. Galen and I wanted more education and skills to deal with it if necessary. Now that we've both joined, we've established relationships with the chief and the core volunteers. We know they would support us if there were a fire. They would anyway, of course. But as we continue to develop relationships in the department, some of our peers seem to be developing a greater understanding of what they would be protecting.
How long have you been volunteering with Rural 7 and what has your training process been?
We began training in May and since have aspired to attend twice a week, which is about four hours a week. Sometimes for training we drive out to a place where there was a recent fire. We talk about the issues that came up during our response, the dangers we may have overlooked and so on.

Often, someone who lives nearby will show us various access roads or how to gain access through particular gates. These training days can be a lot of country talk and stories about the past, and it's nice to listen and gain context. It's kind of fun, really. Other training days might have more of a classroom aspect. Maybe we discuss standard safety procedures, such as how to quickly take the hose off the truck and unravel it so that when it gets charged up with water it won't be in knots. The fire department is a group of ferocious jokesters, but as soon as they get an emergency call, they shift their minds quickly to tending to the fire.
Had you fought any small fires in the area before this larger one at
Satus Pass?
Yes, the first fire I went to was a small grass fire just across the highway from SCOL. For my first experience to be so close to SCOL made joining the department seem much more important. The second fire I went to was two farm sheds full of metal scraps and tools that burned down. They got the tractors and equipment out before the fire got too bad and fortunately no one got hurt. Rural 7 mostly uses old Chevy pickups that we call "brush trucks." These trucks have been modified with a small hose and other equipment. A couple of larger trucks are equipped to help with structure and vehicle fires.
Can you tell us a little about your experience encountering such a large wildfire, which I imagine would be extremely intense and possibly very scary?
We heard the fire coming through on the radio around noon the first day. It was not in our jurisdiction when it started, so we weren't able to do anything about it except get ready to go if and when the time came. Galen and I decided one of us should stay on the property at all times during fire season. The emergency page went out around 4:00 p.m. Galen and other crew were on standby at the station waiting to go. I stayed at SCOL and connected with folks in Portland to notify them and begin reviewing our processes. At that point the fire was fifteen miles away, but it was actually the most worrisome time for me because we didn't know the fire's behavior and from the retreat center it looked like it was just over the hill.
Galen did a nineteen-hour shift on the initial attack. He was in a brush truck with one of the guys who helped build SCOL's cloister fence. They followed a bulldozer along a ridge right on the edge of our district. All night they worked on a fire line to prevent the fire from advancing -- knocking down trees, putting out spot fires, and creating a three-lane-wide bare area. The fire reached the line at 4:00 a.m., and did not jump. Had it crossed, it would have more likely come into a nearby neighborhood. It was the fire chief, Tony Browning, who had assessed the fire and developed the attack strategy that Rural 7 followed.
What did you learn from this experience that may help SCOL to become more fire-safe than before?
The original fire plan at SCOL is a great start -- almost everything we need. It emphasizes that the fuels next to the buildings (grass and weeds) should be very short, clearing bitter brush, limbing trees and so on.
We have a lot of bitter brush. In the fire department, we might call it a "ladder fuel." It's an oily tree that commonly grows under the shade of the fir trees, and when ignited can cause a chain reaction sending fire up the tree. Clearing brush has already been our practice, so we are continuing to do so in key places. We've also created more of a fire break with access to drive vehicles around the cloister and back to the water cistern.
Did you worry that the retreatants at SCOL might need to evacuate?
As we continued to get information, we realized the fire wasn't as much a threat to us as we initially feared. Nonetheless, it was a good time to review how the retreatants would safely evacuate, and how to maintain the practice of retreat through an evacuation. There were a couple days of dialogue around this, and afterward we had a clearer plan for how to proceed.