Did you know?
Lagodekhi National Park in Georgia is the ecoregion's oldest park. Established in 1912, It's 100 years old this year!
Lake Arpi National Park in Armenia and Javakheti National Park in Georgia together make up the first transboundary protected area in the Southern Caucasus region, protecting more than 30,000 ha.
Azerbaijan's Caspian Sea cost holds half of the world's mud volcanoes. Over 400 can be found.
Shirvan National Park, Azerbaijan

CNF recently made its first trip to
Shirvan National Park in Azerbaijan. The visit
took us one step closer to supporting our first park in Azerbaijan--and the building of a concerted program across all three South Caucasus countries.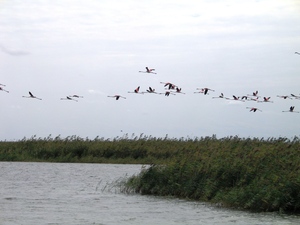 The two-hour drive from Baku takes you past Caspian sea oil rigs, the beginning of the BTC pipeline and rural poverty. It is fascinating, but ultimately gloomy, especially in the rain. The flat, semi-desert landscape of Shirvan at first disappoints.
Then you see your first gazelle and the large flock of flamingos on Flamingo lake. Unique life and, as you drive deeper into the park, splendid isolation are on offer.

The park's 54,373 hectares (134,358 acres) are home to
the largest population of goitered gazelles in the region. The park's semi-desert landscape extending inland from the Caspian Sea includes a shallow lake that provides wetland habitat for over 60 bird species. Populations of wild boar, beaver, wild cat, hare, wolf, jackal and fox can all be found in the park.
The CNF project will include support for a broad infrastructure upgrade, including fences, roads and tourist facilities and a plan on how to make the park attractive for ecotourism
–
a real possibility given the proximity to Baku.





We look forward to reporting on the Shirvan pilot project

.