Building Community Resilience - Keynote Speakers, Program, and Registration


The
Building Community Resilience
conference is just around the corner! In one week over 150 conference delegates will arrive in Summerside. Conference delegates will come from across Canada, the Caribbean, Iceland, Ireland, Norway, Scotland, Sweden, and the United Kingdom.
The conference program is jam packed. During the conference, over 60 concurrent session presentations, 5 keynote speakers, 4 panels, and 4 community field trips will take place! You can learn more about the conference program, speakers, and field trips at
www.pei2015.crrf.ca/program-2
/. There are still some registration spots available for the conference! If you are interested, please register through the conference website as soon as possible.
If you are not able to be in Summerside, you can follow conference updates through social media platforms. The conference will be posting updates, resources, and photographs to the CRRF website (
www.crrf.ca
), Facebook, Twitter, and LinkedIn. A unique Twitter hashtag will capture the conference developments -
#crrfnaf2015
.
The
Building Community Resilience
conference is co-hosted by the North Atlantic Forum, the Institute of Island Studies at UPEI, and CRRF. For more information on the conference, please visit
www.pei2015.crrf.ca
(English) or
www.ipe2015.crrf.ca
(français).

---
CRRF Launches the State of Rural Canada on September 17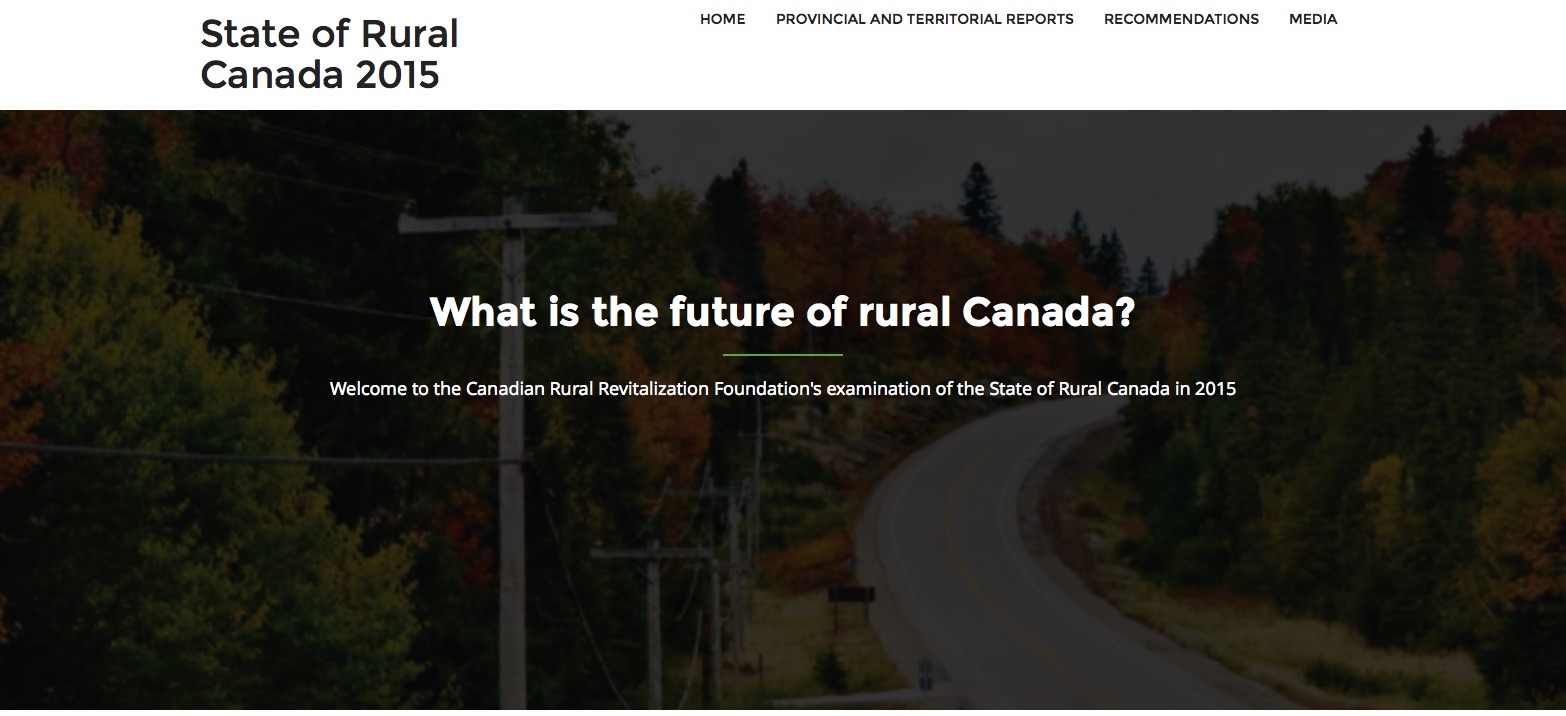 What are the key issues that are impacting rural communities and regions in Canada? How can all levels of government, as well as residents, work to facilitate rural development throughout the country? What opportunities exist for rural Canada? What policies are needed to enhance rural communities? The State of Rural Canada report examines these questions.
The idea for The State of Rural Canada report came about in order to draw attention to rural challenges and opportunities, and to provide a source of information, and a platform for information sharing. The report contains a cross-Canada overview, as well as chapters on each province and territory. The report ends with a discussion of core themes and a three key recommendations for advancing rural development in Canada. Each chapter has been authored by knowledgeable volunteers, who generously donated their time and knowledge to the report, sharing their perspectives on a variety of core themes affecting rural Canada. Their efforts emulate a tradition of volunteer commitment that is so prominent within rural communities themselves.
On September 17, during the Building Community Resilience conference,
The State of Rural Canada
report will be officially launched. The full report and executive summary (available in English and French) will be available at
www.sorc.crrf.ca
. CRRF is actively promoting the launch of The State of Rural Canada through social media. You can help build momentum towards this initiative by sharing CRRF's social media content about the report and utilizing the Twitter hashtag
#sorc2015
.
---
Rural Policy Capacity Building Initiative
CRRF, in partnership with the upcoming
Building Community Resilience conference
, is hosting a Rural Policy Capacity Building Initiative for graduate students. The program is an opportunity for 20 graduate students to build networks with senior rural scholars and leading rural policy analysts and knowledge mobilizers and to prepare a policy brief for publication in an edited volume on a topic of their choice related to the conference. Through the program, each graduate student will be paired with a senior scholar and a senior policy-maker/knowledge disseminator to provide guidance, enhance networking, and strengthen the policy brief output.
The Rural Policy Capacity Building Initiative has provided over $7,000 in financial support for graduate students to attend the conference and participate in the program. The funds were received through a Connection Grant from the Social Sciences and Humanities Research Council of Canada. Watch for more information on this initiative, the focus of the graduate students, and the mentors in the October CRRF e-newsletter.
---
New Book: Place Peripheral - Place-Based Development in Rural, Island and Remote Regions
Place Peripheral examines community and regional development in rural, island, and remote locales from a place-based approach. This is a timely edited collection, addressing themes that are receiving considerable attention in Canada and internationally as local communities, scholars, researchers and public policy analysts strive to better understand and apply place-based strategies in rural and remote regions. The volume and its contributors examine place-based economic development strategies, recognizing the broader and deeper significance, meanings, and attachments often associated with place and also interrogating such relationships as may exist between sense of place, cultural and social development, and environmental stewardship.
The book is edited by Kelly Vodden (Environmental Policy Institute, Memorial University), Ryan Gibson (Saint Mary's University), and Godfrey Baldacchino (University of PEI).
This book emerges from a recent conference co-hosted by CRRF, the North Atlantic Forum, and the Leslie Harris Centre. A formal launch of the book will take place on September 16 at 7:30 pm at the Harbourfront Theatre in Summerside.
For more information or to purchase a copy of the book visit
ISER Press website
.
---
RPLC Hosts 'Ask Me Anything' on the PEI Conference with Ryan Gibson
Since the beginning of September, the Rural Policy Learning Commons (RPLC) has been hosting an 'Ask Me Anything' session with Ryan Gibson (conference program chair and RPLC Policy Fora lead) regarding the upcoming Building Community Resilience conference. RPLC website visitors had the opportunity to ask any question of Ryan regarding the upcoming conference, CRRF, and Summerside in general.
The Ask Me Anything session can be found online at
http://rplc-capr.ca/ama-with-ryan-gibson/
.
---
BRE Pilot Project Concludes in BC
The 3-year Columbia Basin-Boundary Business Retention and Expansion (BRE) project 'officially' wrapped up in the Spring of this year. A total of 795 businesses in over 40 incorporated and incorporated communities across the region participated in the project between 2012 and 2015, alongside the region's economic development practitioners (EDPs).
The
Columbia Basin RDI
provided participating communities with training, research advisory services, analysis and report writing support as they designed their context-driven BRE projects, collected data through one-on-one interviews with a sample of businesses, and worked to respond to the identified needs and opportunities of the local business community. Interviews gathered information on the company's health, workforce, sales, facilities and equipment, government services, and the overall business climate.
Post-pilot project, the RDI continues to support community-driven BRE research projects through the provision of training and research advisory services and access to the regional BC Business Counts e-pulse system. Early 2015 BRE adopters, Revelstoke and Nelson, are also receiving analysis and report writing support.
---
Building Northern Saskatchewan Capacity through Entrepreneurship
The Building Northern Capacity through Entrepreneurship (BNCE) project is a research collaboration between the
International Centre for Northern Governance and Development
and the Edwards School of Business at the University of Saskatchewan. Launched in June 2014, the project is now in its second phase. This research is working closely and collaboratively with ten Northern Saskatchewan communities to explore how entrepreneurship in Northern Saskatchewan has and is contributing to social and economic capacity building in relation to local concepts of 'the good life,' well-being and prosperity. This community-based participatory research project aims to understand the evolving states of the entrepreneurial ecosystem in Northern Saskatchewan and compare it with Northern Scandinavia.
A series of student and community focused workshops are planned for the Fall of 2015 to learn more about what entrepreneurship means in the context of Northern Saskatchewan communities and their current and future aspirations for development. The main goal of the project is to produce meaningful results that will enhance and benefit these communities in important and helpful ways. For more information on this initiative visit
https://northerncapacity.com/
.
---
Rural Reports and `News from Around the Country
---
Become a Member of CRRF Today!
January is the start of the CRRF membership year.
Now in its third decade, CRRF is a proven rural resource, dedicated to active collaboration, undertaking, facilitating and advocating research for the ongoing development of Canada's rural communities and environments. As an informal, volunteer run organization dedicated to the welfare of rural Canada it provides a host of benefits to an expanding membership.
CRRF offers both a one-year membership ($30) and a five-year membership ($100). Membership runs from January – December. If you join today, your membership will run until December 2016.
---
Follow CRRF/FCRR ...
Upcoming Rural Events
20-22 September 2015 in Edmonton, Alberta
22-24 September 2015 in Edmonton, Alberta
24-25 September 2015 in Grand Prairie, Alberta
29-30 September 2015 in State College, Pennsylvania
29 September 2015 hosted by CEDEC
2 October 2015 in Rome, Italy
2-4 October 2015 in Camrose, Alberta
5-6 October 2015 in Singapore
5-9 October 2015 in Halifax, Nova Scotia
7-10 October 2015 in New Cairo, Egypt
8-9 October 2015 in Florence, Italy
11-14 October 2015 in Ithaca, New York
13 October 2015 hosted by CEDEC
21-23 October 2014 in Lincoln, Nebraska
22-24 October 2015 in Ankara, Turkey
27 October 2015 hosted by CEDEC
3 November 2015 hosted by CEDEC
5-8 November 2015 in Calgary, Alberta
8-10 November 2015 in Olds, Alberta
17 November 2015 hosted by CEDEC
25-27 November 2015 in Hangzhou, China
26-27 November 2015 in Québec City, Québec
27-29 November 2015 in Kuala Lumpur, Malaysia
8 December 2015 hosted by CEDEC
---
Contribute to the E-Newsletter
Do you have a story about rural or regional development? A new publication, toolkit, or website? CRRF would love to hear about it! We continually look for new ideas and stories to share. Send your ideas to
crrf-fcrr@live.com
.
---
Follow CRRF on Social Media
Did you know you can follow CRRF on both Facebook and Twitter? Add us today to keep up to date with activities, news, and upcoming events.
---