Building Community Resilience: Tremendous Success in PEI!


The
Building Community Resilience
conference was a tremendous success. Conference participants had the opportunity to hear world-class keynote addresses from Nunatsiavut, Ireland and Maine, presentations of rural development from across the country and internationally, and explore the PEI countryside! Needless to say, it was a busy four days!
If you were not able to join the conference in person, do not worry. Conference presentations and other materials are available on the conference website:
http://pei2015.crrf.ca/resources/
. Thank you to all of the authors who have allowed their presentations to be posted. If your presentation is not posted please send an email to
crrf-fcrr@live.com
. You can also review the social media from the conference through the hashtag
#crrfnaf2015
. Photographs from the conference can be found on the conference website as well -
http://pei2015.crrf.ca/photographs/
. The image at the top of this e-newsletter was submitted by Deb Borsos!
CRRF would like to extend our gratitude to the host community, all the sponsors, and particularly our co-hosts at the Institute of Island Studies and the North Atlantic Forum!

---
AGM, Board Elections, New Strategic Plan
During the Building Community Resilience conference, CRRF held it's Annual General Meeting. Documentation from the meeting, including agenda, past minutes, and audited financial statements can be found online at:
www.crrf.ca/agm/
. The meeting reviewed the achievements of the Foundation over the past year, discussed our financial audit, reviewed proposed bylaw revisions, and elected new board members.
The Foundation's membership elected a new executive committee and new board members. Elected to the 2015-2016 executive was Al Lauzon as President, Sean Markey as Treasurer, and Sarah-Patricia Breen as Secretary. Three board members were elected to two-year terms from the AGM: Bojan Fürst (Newfoundland and Labrador), Sarah Minnes (Ontario), and Craig Pollett (Newfoundland and Labrador). They will be joined by Ramona Cameletti (Ontario), Ryan Gibson (Past President), Heather Hall (Saskatchewan), Terri MacDonald (British Columbia), and Ruth Mealy (Manitoba). The Foundation wishes to thank outgoing board members Lars Hallstrom, Laura Ryser, and Chris Southcott for their contributions over the past two years!
One of the key items for discussion at the AGM was the new 2015-2020 strategic plan. After presentation and discussion, the proposed strategic plan was unanimously approved by members in attendance. The new strategic plan can be found at
www.crrf.ca/publications/
.
---
New CRRF/FCRR Lifetime Members Inducted
In 2013, CRRF/FCRR created a lifetime member policy to recognize individuals who have demonstrated outstanding contributions to the betterment of rural Canada and CRRF/FCRR. During the conference in Summerside two individuals were inducted as lifetime members: Bruno Jean and Bill Reimer.
Bruno Jean

Bruno's many contributions speak well of his authority, scholarship, political savvy, and friendly accessibility. Of particular importance for all of us, and indeed rural Canada as a whole has been his ability to keep us connected to the many innovations and developments in policy, programmes, organizations and institutions in Quebec. Whether we see Quebec as something of a model, an interesting experiment or otherwise, this bridging has been critical to the development of CRRF itself as a credible Canada-wide organization, to our many students who have been with us over the last almost three decades, to our own individual research and education, and to rural development policy itself. Bruno has been sought out by international organizations for his expertise in rural development. Bruno's great accomplishments have been well noted by many institutions across Canada and internationally. This recognition of the contributions of Bruno Jean to rural research, rural policy and indeed the betterment of rural Canada is most deserved.
Bill Reimer

Since the founding of the Canadian Rural Revitalization Foundation, Bill Reimer has continuously invested his time and his talent to support and to further the objectives of the foundation. Besides serving on the CRRF executive in various capacities, Bill has been, and continues to be, the CRRF focal point for rural research. Bill was the lead for the New Rural Economy project which, at the time, was the largest-ever research project that was funding by the Social Sciences and Humanities Research Council. He has a genius for grantsmanship, second only to the inspiration he has conveyed to his many grad students and fellow researchers. His students have not only shown great loyalty to him, but to the CRRF mission. In guiding CRRF in the pursuit of CRRF objectives, Bill has championed the integration of rural citizens, policy analysts, practitioners and researchers. For stalwart energy in promoting CRRF and in promoting rural research, we are delighted to nominate Bill Reimer for the CRRF Lifetime Membership award.



Bruno and Bill join a six previously inducted CRRF/FCRR lifetime members: Peter Apedaile, Heather Clemenson, Ray Bollman, Ken Donnelly, David Douglas, and Tony Fuller. For more information on the lifetime member visit
www.crrf.ca/lifetime-members/
.
---
2014-2015 CRRF Annual Report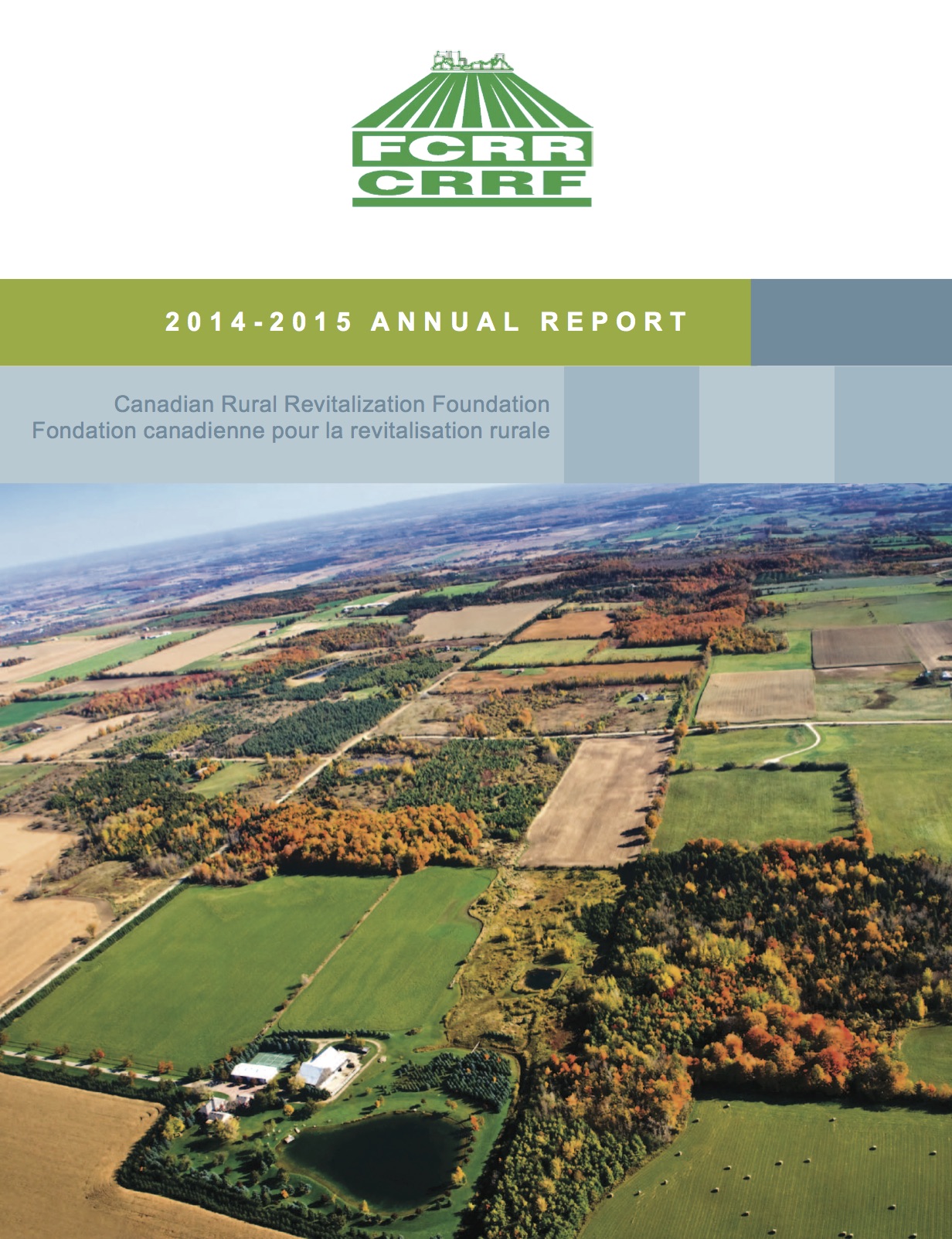 Over past twelve months the Foundation has been active in contributing to rural research, sharing knowledge among stakeholders, and strengthening our strategic directions and policies. The 2014-2015 Annual Report highlights the many achievements of the Foundation since the 2014 Annual General Meeting.
The 2014-2015 CRRF Annual Report can be read by click here
.
---
State of Rural Canada 2015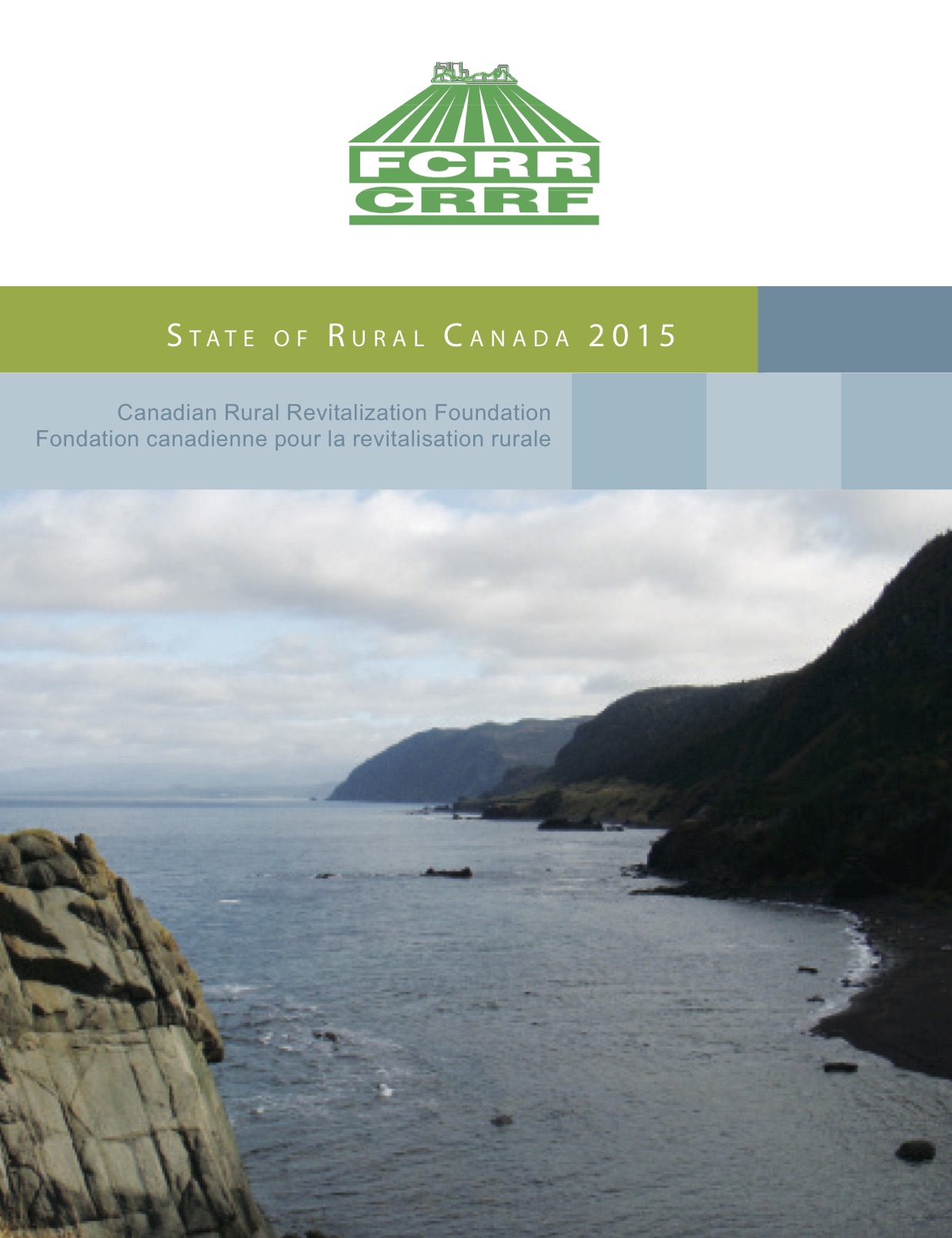 The idea for The State of Rural Canada report came about in order to draw attention to rural challenges and opportunities, and to provide a source of information, and a platform for information sharing. The report contains a cross-Canada overview, as well as chapters on each province and territory. The report ends with a discussion of core themes and a three key recommendations for advancing rural development in Canada. Each chapter has been authored by knowledgeable volunteers, who generously donated their time and knowledge to the report, sharing their perspectives on a variety of core themes affecting rural Canada. Their efforts emulate a tradition of volunteer commitment that is so prominent within rural communities themselves.
---
November E-newsletter to Focus on Student Research
The next edition of the CRRF e-newsletter is set to profile the rural and regional development initiatives led by students and community development groups from across the country. If you are engaged in a practicum, working with rural stakeholders, and/or thesis we want to share your project! We welcome submissions from students on their projects and/or research. The submissions should be between 100-150 words in length and can include hyperlinks where additional information can be found. The deadline for submissions is
November 10
. Submissions or questions can be emailed to
crrf-fcrr@live.com
.
---
Columbia Basin RDI Hosts Workforce Development Forum in November 2015
Organization for Economic Co-operation and Development (OECD) countries are witnessing a growing gap between the types of skills that are available in the workforce, and those that are required by employers. Researchers have acknowledged that this challenge primarily stems from the failure of workforce development services to keep pace with the increasingly complex and dynamic needs of the modern economy. While many labour market policies and programs are designed and delivered by higher levels of government, effective rural workforce development systems operate largely at the regional level.
These shifts require us to embrace change by working collaboratively. Join this day-long forum to exchange ideas and discuss workforce development opportunities with regional leaders and external experts. The morning session will feature a series of speakers including:
Ed Morrison, former consultant and current Economic Policy Advisor at the Purdue Centre for Regional Development
Greg Halseth, Professor in the Geography program at the University of Northern British Columbia, Canada Research Chair in Rural and Small Town Studies and Director of UNBC's Community Development Institute
Dr. Keith Culver, Professor of Management and Director of the Okanagan Sustainability Institute at the University of British Columbia-Okanagan
The team from the Purdue Centre for Regional Development will facilitate the afternoon session using a new, network-based model for economic and workforce development emphasizing the strategic value of focused collaboration and open innovation in today's global economy.
---
Rural Reports and `News from Around the Country
---
Become a Member of CRRF Today!
January is the start of the CRRF membership year.
Now in its third decade, CRRF is a proven rural resource, dedicated to active collaboration, undertaking, facilitating and advocating research for the ongoing development of Canada's rural communities and environments. As an informal, volunteer run organization dedicated to the welfare of rural Canada it provides a host of benefits to an expanding membership.
CRRF offers both a one-year membership ($30) and a five-year membership ($100). Membership runs from January – December.
If your membership has lapsed, you will receive an email shortly provide instructions for how to renew your members.
---
Follow CRRF/FCRR ...
Upcoming Rural Events
21-23 October 2014 in Lincoln, Nebraska
October 21 in Edmonton, Alberta
22-24 October 2015 in Ankara, Turkey
October 22 in Minnedosa, Manitoba
27 October 2015 hosted by CEDEC
29-30 October 2015 in Sheffield, United Kingdom
3 November 2015 hosted by CEDEC
November 5, 2015 in Kelowna, British Columbia
5-8 November 2015 in Calgary, Alberta
5-6 November 2015 in Lisbon, Portugal
8-10 November 2015 in Olds, Alberta
15-17 November 2015 in Winkler, Manitoba
16-17 November 2015 in Happy Valley-Goose Bay, Newfoundland and Labrador
17 November 2015 hosted by CEDEC
25-27 November 2015 in Hangzhou, China
26-27 November 2015 in Québec City, Québec
27-29 November 2015 in Kuala Lumpur, Malaysia
8 December 2015 hosted by CEDEC
---
Contribute to the E-Newsletter
Do you have a story about rural or regional development? A new publication, toolkit, or website? CRRF would love to hear about it! We continually look for new ideas and stories to share. Send your ideas to
crrf-fcrr@live.com
.
---
Follow CRRF on Social Media
Did you know you can follow CRRF on both Facebook and Twitter? Add us today to keep up to date with activities, news, and upcoming events.
---