Guiding Canada's Future Investment in Rural Infrastructure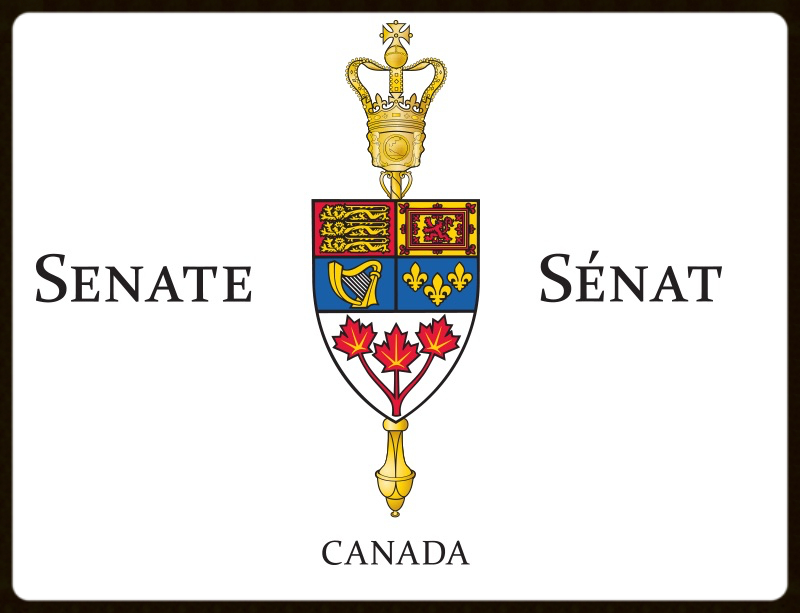 The presentation to the Senate Committee relied extensively on the research being conducted through the Canadian Rural Revitalization Foundation, Rural Development Institute, and the Rural Policy Learning Commons. Key reports that were highlighted in the Senate presentation include:

---
New Rural Routes Podcast - Community Development with Wendy Keats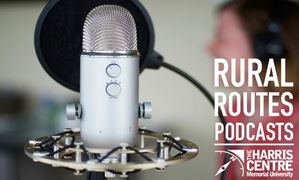 What does it mean to live rurally in the 21st century? Rural Routes Podcasts recently published two new episodes exploring this exact topic. Details of the new episodes are listed below.
In episode 15, Wendy Keats (executive director of the Co-operative Enterprise Council of New Brunswick) discusses the ground level view of co-ops and social enterprises in rural areas and the need for good legislative support to help them grow and prosper. You can listen to episode 15, or any previous episodes, of Rural Routes Podcasts through the website (
www.ruralroutespodcasts.com
),
iTunes
,
Soundcloud
, and
Google Play
.
---
Early Bird Registration Open Until June 30
The
Different by Design – Exploring Innovation for Rural Prosperity
conference will be co-hosted by CRRF and the Applied Research and Innovation Centre, Selkirk College. The conference will take place in Nelson, British Columbia from September 20-23, 2017. Book your ticket today to join for the 2017 national rural development conference.
---
CRRF Membership Renewal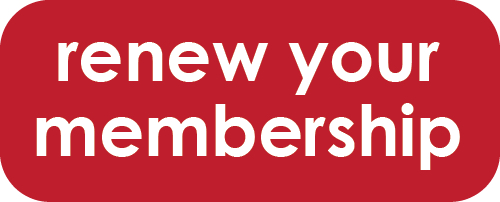 The Canadian Rural Revitalization Foundation (CRRF) is a member-based organization. Now in its third decade, CRRF is a proven rural resource, dedicated to active collaboration, undertaking, facilitating and advocating research for the ongoing development of Canada's rural communities and environments. As an informal, volunteer-run organization dedicated to the welfare of rural Canada it provides a host of benefits to an expanding membership.
---
Place Peripheral Now Available as an E-Book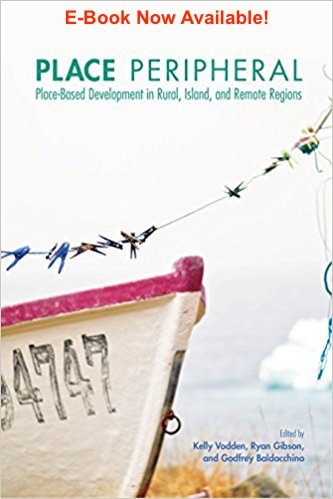 Place Peripheral examines community and regional development in rural, island, and remote locales from a place-based approach. The Institute of Social and Economic Research has just launched the e-version of this book!
This is a timely edited collection, addressing themes that are receiving considerable attention in Canada and internationally as local communities, scholars, researchers and public policy analysts strive to better understand and apply place-based strategies in rural and remote regions. The volume and its contributors examine place-based economic development strategies, recognizing the broader and deeper significance, meanings, and attachments often associated with place and also interrogating such relationships as may exist between sense of place, cultural and social development, and environmental stewardship.
---
Ask an Expert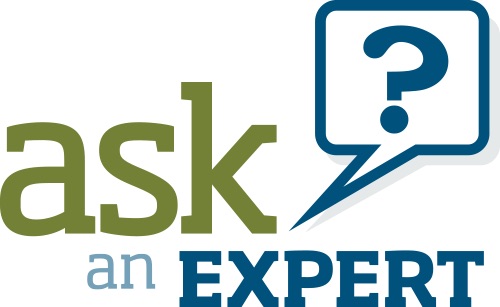 Can't find the answer to a rural specific question? Perhaps it is a question related to best practices or about funding programs? Maybe your question is about finding a connection to another organization that has started a similar initiative to yours. Regardless of the topic, send your questions to the Canadian Rural Revitalization Foundation! We can pose your question to over 2,000 members and supporters from across Canada. Our stakeholders represent local development practitioners, government policy and program officials, researchers, and private businesses. We are sure someone in our network will have an answer or be able to point you in the direction where you can find more information.
---
Nursing Practice in Rural and Remote Canada II: A National Survey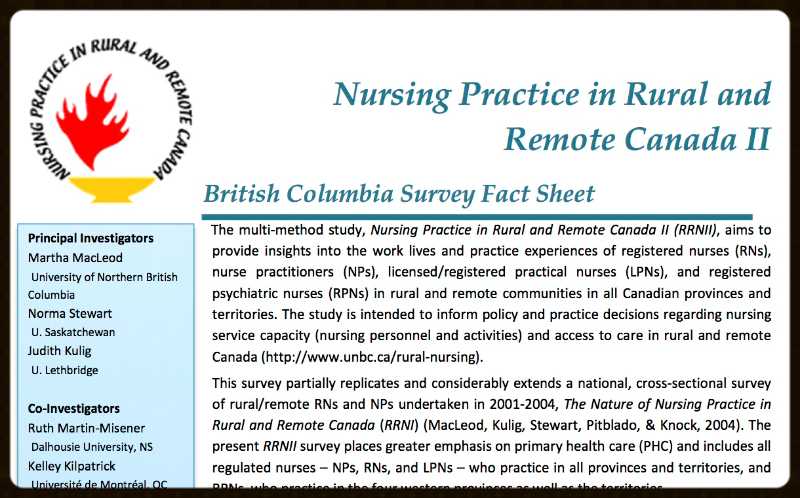 Nurses play a vital role in health care in rural and remote areas of Canada, and more needs to be known about their practice, including strengths and needs, in order to better inform workplace planning. The national study Nursing Practice in Rural and Remote Canada II was conducted with the rural and remote regulated nursing workforce (Registered Nurses, Nurse Practitioners, Licensed/Registered Practical Nurses, and Registered Psychiatric Nurses) for this purpose. Nurses were surveyed across Canada (response rate 40%; 3822 respondents) about their roles, workplace, and practice settings. Some key results include that the number of rural nurses in Canada continues to decline in relation to the Canadian population. As well, 27% of rural nurses intend to leave their present nursing position within the next 12 months, with 30% of them planning to retire. On a positive note, 84% of respondents were satisfied with their primary work community, and 82% reported working within their scope of practice. Nurses came to work, and continued to work, in rural locations for similar reasons, including location, interest in the practice setting, and income. Further results, including provincial and territorial specific fact sheets, are available on the website:
http://www.unbc.ca/rural-nursing
---
New Publication: Working with Immigrants for Rural Areas - Policy and Program Implications for Rural Areas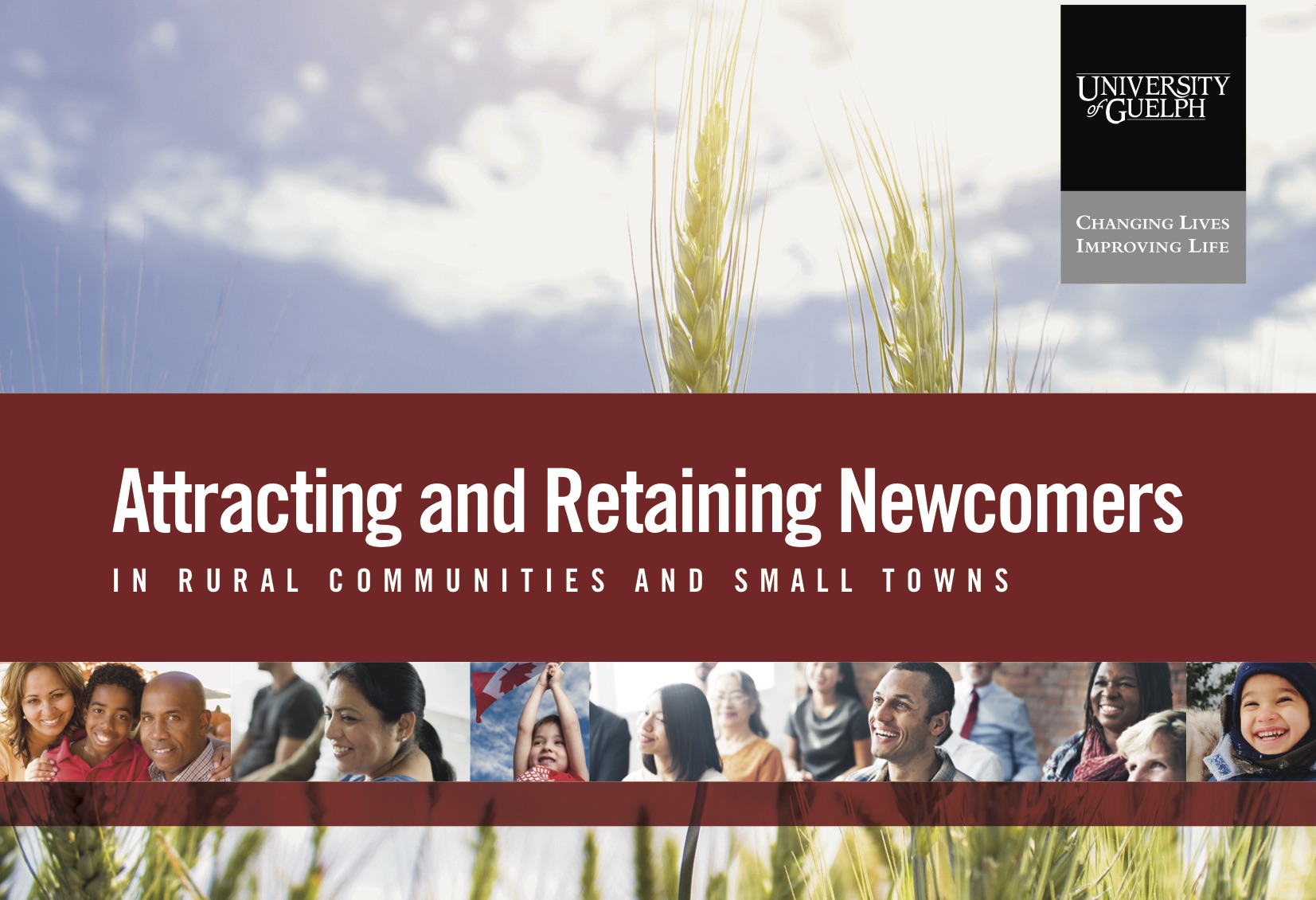 Research shows that many small and rural communities across Canada are facing population decline and labour shortages. Low birth rates, youth out-migration and aging residents are some of the causes. Thus, many small communities are facing challenges for the viability and sustainability of their futures. To tackle these challenges, attracting and retaining newcomers has been identified as a potential strategy to revitalize rural regions. A team of University of Guelph researchers traveled to four counties and districts across Ontario (Lanark, Cochrane, Perth, Oxford) that have initiatives to attract, integrate, and retain newcomers. An analysis of the case studies conducted across the province generated over 30 promising practices in the areas of attraction, collaborative networks, settlement, welcoming communities, and policies. In addition to promising practices, the researchers found that strong relationships, political will, community buy-in, dedicated resources, newcomer involvement, collaboration, and research-based decision-making were key ingredients to successful newcomer attraction and retention. For more check out the recent publication '
Attracting, Retaining, Integrating Immigrants in Rural Areas
' written by the research team and published by Municipal World.
---
Recent Rural Newsletters
Check out recent newsletters from organizations across the country.

---
RPLC Research and Exchange Grant - Call for Proposals
The RPLC Research and Exchange team are accepting proposals for research that includes a rural policy comparative dimension relating to one of the RPLC Policy Themes. Projects should ideally be carried out by RPLC partners faculty members, researchers, and students, in a relatively short/medium term.
Maximum $7,500 per proposal ($9,000 in case of overseas mobility, i.e. EU to US/Canada or vice versa). Deadline for proposal submission is 31st of May 2017. Successful proposals will be announced by 6th of June 2017. Research projects could start from July 2017 to end of September 2017 and can last maximum one year.
---
Rural Reports and News from Around the Country
---
Follow CRRF/FCRR ...
Upcoming Rural Events
23 May 2017 at 3:00 pm
Toronto, Ontario
May 25-27, 2017
Faro, Portugal
27-30 May 2017
Toronto, Ontario
May 30 - June 2, 2017
Toronto, Ontario
June 1-4, 2017
Ottawa, Ontario
June 4-7, 2017
Dublin, Ireland
June 8-12, 2017
Umea, Sweden
June 14-17, 2017
Braunschweig, Germany
June 16, 2017
Castlegar, British Columbia
June 19, 2017
Nelson, British Columbia
June 16-19, 2017
St John's, Newfoundland and Labrador
June 20, 2017
Castlegar, British Columbia
June 20-22, 2017
Ottawa, Ontario
June 21-23, 2017
Castlegar, British Columbia
June 25 - July 7, 2017
Barcelona, Spain
June 27-30, 2017
Victoria, British Columbia
July 3-5, 2017
Sydney, Australia
July 12-14, 2017
Sydney, Nova Scotia
July 24-27, 2017
Kraków, Poland
---
Contribute to the E-Newsletter
Do you have a story about rural or regional development? A new publication, toolkit, or website? CRRF would love to hear about it! We continually look for new ideas and stories to share. Send your ideas to
crrf-fcrr@live.com
.
---
Follow CRRF on Social Media
Did you know you can follow CRRF on both Facebook and Twitter? Add us today to keep up to date with activities, news, and upcoming events.
---