Your invitation to the CRRF AGM/Une invitation à l'AGA de FCRR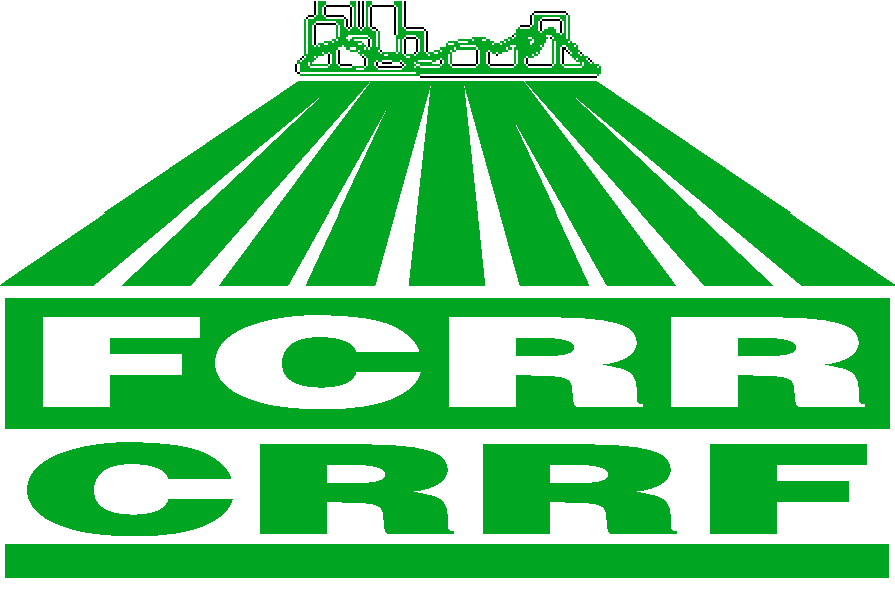 Please join us for the Annual General Meeting of the Canadian Rural Revitalization Foundation (CRRF) to be held on Thursday, September 17th from 5:00 pm to 6:00 pm at the Loyalist Lakeview Resort, Summerside, Prince Edward Island. Everyone is welcome.
CRRF was founded in 1987 as a non-partisan voluntary network to foster the welfare of rural Canada through collaborative research on policy, development trends and patterns, and rural problems and opportunities. With over six hundred practitioners, researchers, policy advisors, instructors, community members, NGOs, and other network members across Canada, and internationally, CRRF collaborates through annual conferences, workshops, seminars, a great diversity of research, public commentary, publications, and other activities. Further details on CRRF can be found at:
www.crrf.ca
.
Vous êtes invités à assister à l'Assemblée générale annuelle de la Fondation canadienne pour la revitalisation rurale (FCRR) qui se tiendra Loyalist Lakeview Resort à Summerside (Île-du-Prince-Édouard) de 1700 à 1800 jeudi le 17 septembre 2014. Bienvenue à tous.
La FCCR a été fondé en 1987 comme un réseau volontaire et indépendant voué au bien-être du Canada rural par des recherches partenariales sur les politiques publiques, sur la compréhension des dynamiques rurales, sur l'identification des problèmes ruraux et des voies de solution. Avec plus six cents intervenants, chercheurs, fonctionnaires, enseignants, membres des communautés rurales, organisations non-gouvernementales et d'autres réseaux ruraux canadiens et internationaux, la FCRR organise des conférences rurales annuelles, des ateliers, des séminaires et une grande vérité de recherches, d'avis, de publications, etc. Pour plus d'information sur la FCRR, voir :
www.crrf.ca
.

---
Student Opportunity: Policy Capacity Building Program at Building Community Resilience Conference
Building Community Resilience conference
organizers are delighted to announce a unique funding and training opportunity for graduate students! As part of the upcoming conference, the CRRF is organizing an opportunity for graduate students to build networks with senior rural scholars and leading rural policy analysts and knowledge mobilizers. Students will get the opportunity to prepare a policy brief for publication in an edited volume on a topic of their choice related to the conference. Each graduate student will be paired with a senior scholar and a senior policy-maker/knowledge disseminator to provide guidance, enhance networking, and strengthen the policy brief output. Students will have the opportunity to participate in a capacity building session on policy brief writing in advance of the conference.
Participating students would be provided funds to offset their travel expenses to attend the
Building Community Resilience conference
in Summerside from September 16-19, 2015. To apply to this program please visit
www.pei2015.crrf.ca/student-policy
.
The deadline for application is August 17, 2015. This program is made possible through funding received from the Social Sciences and Humanities Research Council of Canada.
---
Call for Board of Directors
This is a call for nominations for Members to be elected to the Board of the Canadian Revitalization Foundation/Fondation canadienne pour la revitalisation rurale (CRRF/FCRR). The Board is normally comprised of ten elected board members. There are currently three board positions open for election. To be eligible for election to the Board, nominees must be paid up Members of CRRF/FCRR at the time of the Annual General Meeting (AGM). The term of office is for two (2) years. The board election will take place at the 2015 AGM on Thursday, September 17 from 5:00 pm - 6:00 pm in Summerside, Prince Edward Island. Nominees for the board do not need to be in attendance to be elected.
For information on CRRF membership, current activities, our Strategic Plan (2010-2015), our Constitution, recent Conferences and Research Workshops and the current Board Composition, please see our website at
www.crrf.ca
. If you would like further information, or would like to let your name stand for election, please contact Ryan Gibson (
ryan.gibson@smu.ca
), the Chair of the CRRF/FCRR Nominations Committee, and let him know of your interest.
---
Call for Lifetime Member Nominations
In 2013, the CRRF/FCRR board of directors created a
Lifetime Membership policy
to recognize persons who have demonstrated an outstanding career of contributions to the betterment of rural Canada. The CRRF/FCRR board of directors is currently seeking nominations for Lifetime Members.
Nominees may be a current CRRF/FCRR member, former CRRF/FCRR member, or has been closely associated with advancing the goals, objectives and activities of CRRF/FCRR. The achievements demonstrated by nominees may include, but are not restricted to the following:
long term involvement with rural development in Canada;

exceptional commitment to CRRF/FCRR through service as a board member;

volunteer, or active supporter of CRRF/FCRR and its objectives;

demonstrated achievements and recognition by peers in rural development;

outstanding contribution to the development and/or growth of rural development research, policy, and practice in Canada or internationally.
Nominations need to include a brief description of the contributions of the nominee and be supported by at least two current members in good standing of CRRF/FCRR. Submissions are to be submitted in confidence to the CRRF/FCRR executive. Information on the 2013 and 2015 lifetime members and their contributions to rural Canada can be found here – www.
crrf.ca/lifetime-members/
. Nominations can be submitted in confidence to Heather Hall (h.hall@usask.ca
) no later than August 15, 2015.
---
La coalition des forces pour le développement rural, nécessaire plus que jamais!
Solidarité rurale du Québec tenait le 18 juin à Lévis son Assemblée générale annuelle. Secouée et bousculée depuis novembre dernier, la Coalition dédiée au développement et à la revitalisation du monde rural demeure bien vivante. Et ses membres sont venus réaffirmer l'importance de serrer les rangs, de raffermir les liens entre les organisations et les citoyens ruraux de partout, pour poursuivre le travail en faveur des communautés rurales.
En marge de cette journée importante, la présidente de Solidarité rurale du Québec, Claire Bolduc, tenait à rappeler la fierté que les citoyens ruraux ont de leur milieu de vie et leur intention ferme de continuer à s'y épanouir. « Plus que jamais, il s'agit d'un défi de solidarité, porté par des femmes et des hommes déterminés, pour qui c'est toute la dynamique d'occuper le territoire, de maintenir la communauté vivante sur ce territoire et de favoriser son essor qui prend toute sa signification.» a-t-elle déclaré. «Nous travaillons donc plus fort que jamais à travers notre coalition pour le monde rural, à resserrer les rangs et à renouveler cette solidarité essentielle à la bonne marche d'une société équilibrée. Car il demeure que l'appropriation de nos milieux et l'implication des citoyens dans une dynamique rassembleuse, malgré les décisions contraires, constitue un véritable rempart à la démolition orchestrée. La coalition Solidarité rurale du Québec est là pour rester.» a ajouté madame Bolduc.
Les membres continuent donc leur travail de reconstruction, avec comme objectif commun la promotion des alternatives de développement économique résolument tournées vers l'avenir pour les milieux ruraux, le tout en concordance avec la vision et les valeurs portée par la coalition depuis sa fondation. « Après le tsunami de l'austérité, il faudra reconstruire. C'est sur cette reconstruction que les organisations et les citoyens membres de Solidarité rurale du Québec travaillent à compter de maintenant, en misant sur la force de l'action concertée. », conclut madame Bolduc.
---
Immigration Settlement Services and Gaps in Citizenship and Immigration Canada's Western Region
The primary objective of this project is to inventory the extent to which settlement services exist in 29 selected communities across Western Canada (British Columbia, Alberta, Saskatchewan and Manitoba) and to identify gaps, barriers and needs. As a secondary objective the applicability of the Local Immigration Partnership (LIP) model was examined as one option to enhance settlement services outcomes for newcomers in Western Canada.
The key findings of this research are summarized under three themes of Settlement and Employment, Services and Gaps and Partnerships. Based on these key findings, three strategic directions are suggested for Citizenship and Immigration Canada aimed at supporting the settlement and integration of newcomers into rural areas and smaller centers in western Canada:
Expanding the availability and accessibility of newcomer services

Enhancing Organizational Capacity and Funding at the Agency Level

Fostering Partnerships to increase organizational capacity in the communities
Thirty-four reports from this project can be downloaded from the
RDI website
.
---
Evaluating Community Food Hubs: A Practical Guide
Supported by the OMAFRA-University of Guelph Research Partnership, Erin Nelson and Karen Landman have developed a practical guide aimed at helping community food hubs conduct evaluation work. The information and suggestions provided in the guide are based largely on conversations with representatives of community food hubs that have proven track-records of success – both in terms of their overall operations, and in implementing effective evaluation strategies. The insights offered by these experts in the field are complemented by information from the literature available on evaluation.
The guide can be downloaded from here
.
---
Call for Papers: Social Movements Contesting Natural Resource Development
Natural resource based rural development under the dominant neoliberal paradigm takes multiple forms: dams, mines, forestry projects, pipelines, oil and gas drilling, fracking. At the same time agricultural land conversions stimulated by globalizing agricultural commodity markets and free trade agreements lead to land grabbing and rural dislocations. All these developmental initiatives put economic valuations foremost while social and environmental values are given limited consideration. But resistance is common. Large projects have been blocked and food movements have created resistance to globalizing agricultural systems. This session asks under what conditions rural social movements prove to be more or less successful in defending environmental and social values in the face of the diverse range of natural resource development initiatives.
Papers are invited which explore questions concerning rural social movement strategies and effects in relation to natural resource development. Topics may include movement organization, forms of resource mobilization, strategic repertoires and framing processes. Papers might ask under what conditions are social movements most effective? What conditions influence the level of mobilization? What strategies are employed? When social movements are effectively marginalized how is this marginalization achieved? If marginalization is overcome how is it overcome? How is the effectiveness of social movements conditional upon characteristics of the political regime and contextual political opportunities? What sorts of alliances arise? What articulations of local and global movements can be found? What is the role of discursive framing in creating the parameters of contestation? Under what conditions are project designs modified or abandoned as a result of social movement resistance?
Preference will be given to papers which attempt to answer some of these questions through detailed case or comparative case studies. Case studies from the global South are particularly encouraged. The session will be primarily focused on discussion of potential generalizations and fruitful directions for a continuing research program on the comparative politics of rural social movements and natural resource development.
This session is being organized by John Devlin (University of Guelph | jdevlin@uoguelph.ca) for the International Rural Sociology Congress 2016, which will take place August 10-14, 2016 in Toronto. The deadline for proposal is November 1, 2015.
---
Rural Reports and `News from Around the Country
---
Become a Member of CRRF Today!
January is the start of the CRRF membership year.
Now in its third decade, CRRF is a proven rural resource, dedicated to active collaboration, undertaking, facilitating and advocating research for the ongoing development of Canada's rural communities and environments. As an informal, volunteer run organization dedicated to the welfare of rural Canada it provides a host of benefits to an expanding membership.
CRRF offers both a one-year membership ($30) and a five-year membership ($100). Membership runs from January – December.
If your membership has lapsed, you will receive an email shortly provide instructions for how to renew your members.
---
Follow CRRF/FCRR ...
Upcoming Rural Events
29 July 2015 hosted by Heartland Centre for Leadership Development
18-21 August 2015 in Aberdeen, Scotland
6-9 August 2015 in Madison, USA
26-27 August 2015 in Melbourne, Australia
4 September 2015 in Cork, Ireland
7-10 September 2015 in Girona, Spain
9-10 September 2015 in Northampton, United Kingdom
15 September 2015 hosted by CEDEC
17-19 September 2015 in Summerside, Prince Edward Island co-hosted by CRRF and the North Atlantic Forum
20-22 September 2015 in Edmonton, Alberta
22-24 September 2015 in Edmonton, Alberta
24-25 September 2015 in Grand Prairie, Alberta
29-30 September 2015 in State College, Pennsylvania
29 September 2015 hosted by CEDEC
2 October 2015 in Rome, Italy
5-9 October 2015 in Halifax, Nova Scotia
Do you know of an upcoming rural or regional development event? Let us know and we will add it to our list of events (crrf-fcrr@live.com)
---
Contribute to the E-Newsletter
Do you have a story about rural or regional development? A new publication, toolkit, or website? CRRF would love to hear about it! We continually look for new ideas and stories to share. Send your ideas to
crrf-fcrr@live.com
.
---
Follow CRRF on Social Media
Did you know you can follow CRRF on both Facebook and Twitter? Add us today to keep up to date with activities, news, and upcoming events.
---