Hello ARV Supporters and Volunteers,
Happy Belated Valentine's day! We hope everyone had a sweet day!
Rosebud Update
Some of you who follow us on Facebook know Rosebud's story. She was the fifth puppy from Molly and Buddy, Beagle / Basset mix. She was born with inverted back feet, which have corrected themselves, is deaf, and has neurological issues. It was touch and go when she was born but she is now 3 months old and 5 lbs. She is half her siblings size though.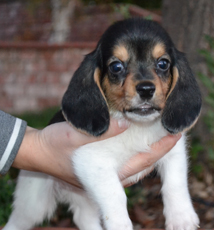 We took her to a neurologist who diagnosed her with hydrocephalus (water on the brain) and nerve development issues. Many reflex tests showed she had little reflexes. He felt the hydrocephalus is the least of her worries as the nerve issue is more severe. They attempted to take blood to check for an infection and to get a baseline. She panicked so much that she stopped breathing. They immediately stopped and placed her in an oxygen tank. She was lightly sedated and they were able to draw blood. We await the results. We were given antibiotics to see if it would help her improve, but it did not. When she is older, we will need to do a nerve test to get an exact diagnosis. Currently, her nerves are too small and could cause complications since they remove some of the nerve for the test. Therefore, her life expectancy is unknown at this time. Supporting us at our Wag 'n Walk helps us to provide the best care for Rosebud and all our animals.
Wag 'n Walk 2018
MARK your calendar - September 29, 2018 is our 13th Annual Wag 'n Walk at the Rancho Community Park (commonly known as the duck park) located on the corner of Erringer and Royal. This is a vital event for our continued success so we hope to have your support. Wag 'n Walk is a fun filled family event that is FREE and open to the general public. It is a leisure three-mile walk that participants and their canine companions can enjoy at the park. However, you do not have to be a walking participant or even a dog owner to enjoy the event. You can stroll and view vendors, dog adoptions, listen to live entertainment, or bid on the many wonderful raffles and silent auctions. More details to follow as we near our fun event.
Facebook support
We are very grateful for your continued support. Sharing our postings on Facebook will help our cause tremendously. Asking your friends to share it too is even better. With so little effort on your part, can you imagine the number of people who will read about our cause if you and your friends share our posts? If only one gets adopted as a result, that is one more. If you have not liked us on Facebook,
click here
to like us. Ask your friends to like us too.
Support local businesses that support us
Many thanks to R & R Pet Lifestyle and Supply, 2780 Tapo Canyon Road in Simi Valley who hosts our Saturday adoptions from 11 am to 3 pm. If you have not been to their store, please come by and see why they are such a great store to support. They are privately owned, very knowledgeable about your animal needs, can special order some items, and their customer service is out of this world. Also, a big thank you to Unleashed by Petco in Thousand Oaks at 475 E. Avenida de los Arboles, who hosts our adoption events on the 1st Sunday of the month. We are very grateful for their support. Please support businesses like these that support us.
Thank you for your support! It is because of YOU that we are able to save so many lives.
For the Animals,
Staci O'Connell
ARV President
"Don't cry because it's over. Smile because it happened" ~ Dr. Seuss