Hello ARV Supporters and Volunteers,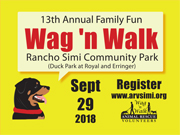 Wag 'n Walk - An Event For All Dog Lovers
Register Now
Register me now,
click here
.
It is only about 1 month before our 13
th
annual Wag 'n Walk fundraiser. Please join us for this fun event on Saturday, September 29
th
from 7 am to 11 am. Visit
www.arvsimi.org
to register for FREE. Bring your dog for a 3-mile walk along the park and surrounding areas. After the walk, sit in the shade of the trees, visit our vendors and Ventura County Animal Shelter's adoptable dogs, enjoy the entertainment, and once again the
FREE
photo booth with your photos printed instantly. Don't miss out on our raffles and silent auctions. Remember you can bypass the 3-mile walk and not bring a dog, while still enjoying the activities and raising funds. Tell your family and friends. Make it a family event.
This is such a worthwhile event and we need your support to continue saving our furry friends. Just recently, we rescued a dog, Annie, from the shelter. Her owners moved out of state so she was left with some people. They did not want her, so they left her in the yard 24/7. She was then given away 2 more times and became an escape artist. The shelter picked her up and contacted the owners who did not want her back. We knew when rescuing her she had a heart murmur so we immediately took her to our veterinarian. Her foster momma noticed Annie was having what appeared to be epilepsy, where she would collapse during the episode. We took her to a cardiologist who confirmed her heart disease which will require her to be on medication for the rest of her life. The cause of her epilepsy episodes is still unknown. She is currently wearing a monitor to record her heart during an episode (see photo below). The foster needs to manually start the recording during an episode so that we are guaranteed to get data of her heart.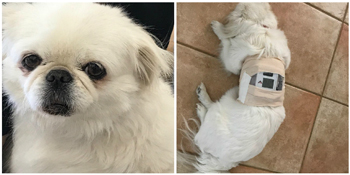 Our mascot, Rosebud, needed costly hip surgery and multiple specialized testing for her neurological issue. Her momma was rescued pregnant from the shelter. She was born in the foster's home and had a tough time with breathing, nursing, and developing properly.
We will again have roving judges. To be judged you need to be in the quad by the vendors between 7 am and 8 am. We will be awarding prizes in the following categories: Longest Fur, Prettiest Eyes, Cutest Couple, Best costume, Biggest, Smallest, Best shake, Best Dance, Best Sit, and Best Trick.
Also, the top 3 individual fundraisers will receive a prize. All monies must be turned in by
Wednesday, Sept 26th by 5 pm via mail
and
Thursday, Sept 27th by midnight via online
(
Wag 'n Walk fundraiser page
or
Paypal Link
) in order to be counted towards the prizes.

For the animals, please register now for our 13
th
annual Wag 'n Walk.
Staci O'Connell
ARV President
"Dogs are not our whole life, but they make our lives whole." ~ Roger Caras