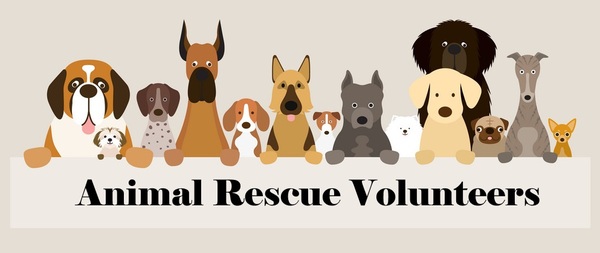 President's Message
Hello ARV Supporters and Volunteers,

Happy New Year! It's hard to believe it is 2019. I hope you and your family had a wonderful holiday, a Happy New Year, and will have a prosperous 2019.
New Year's Resolution
Do you have a New Year's Resolution? Share your resolution on our facebook page, click here. We have a posting where you can post your resolution. We have many resolutions here at ARV. Our goal has always been to save as many animals in need as we can. We thank you for helping us succeed. Also, we need to educate those around us of the importance of spaying and neutering their animals. I see many dogs that are not spayed/neutered. When asked, they assure me that if their dog has puppies, the puppies will not end up in the shelter. But having puppies, cute yes, only adds to the problem. Their puppies may not end up in the shelter, but ones waiting in the shelter that might have been adopted will not be because of these new puppies. As a result, animals are euthanized!! Just this past year 1.5 millon dogs and cats were euthanized!!! Please educate your friends and family about spaying/neutering and ask them to share with their friends and family. Whether you have a male dog/cat, they too need to be neutered. It does take two!!
Recent Rescue
We recently rescued a 14-year-old Yorkshire Terrier, Kazy. Unfortunately, her owners, being elderly, could no longer keep her. She became a tripping hazard for them and therefore, it became unsafe for her and them. She is a mere 5 lbs with missing teeth, is hard of hearing, has cataracts, and an ACL injury. She is sweet, friendly, and good with people and children. Kazy is available for adoption to the proper home for her to live out her remaining years.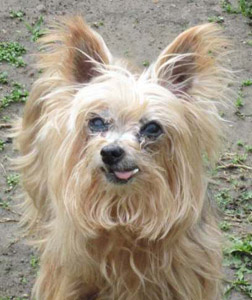 Cook's Night Out
This month our Cook's Night Out will be at The East Coast Pizza Company in Simi Valley on Wednesday, January 30th from 4 pm to 9 pm. They will give us 20% of your receipts. This includes dine-in, take-out, delivery, and catering. Please click here for the flyer you need to bring with you. Please share this with your friends and family. Take the night off cooking and help earn us some money.
Support local businesses who support us
Many thanks to R & R Pet Lifestyle and Supply (privately owned) in Simi for allowing us to hold our adoptions at their store. If you have not been to their store, please come by and see why they are such a great store to support. They are privately owned, very knowledgeable about your animal needs, can special order some items, and their customer service is out of this world.

Also, a great big thank you to Sharon Staples, a local realtor, click here. If you buy or sell your home with Sharon and mention ARV, she will make a $500 donation to ARV at the end of the transaction.
Thank you for your support! It is because of YOU that we are able to save so many lives.
For the Animals,

Staci O'Connell
ARV President

Pet of the Month
Pumbaa and Timon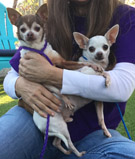 Pumbaa & Timon were born approx 2010. We rescued both from the shelter Christmas Eve 2018. They both are very small, a mere 6 lbs. They are brothers and have been together since birth. They both are sweet and would do best in a quiet home. No small children as Timon can get anxious when he is picked up. Timon is a little more sensitive and enjoys life on the couch under a blanket. He likes to be held but does not enjoy when his sweater needs to be changed. Pumbaa is more outgoing. He seeks you out when he wants to go outside and is easy going. Both would be a nice addition to your quiet home. They were
surrendered to the shelter as the roommate did not
want them.



The East Coast Pizza Company
2667 Tapo Canyon Road; Simi Valley
Wednesday, January 30th, 4 pm to 9 pm
Enjoy a night off while raising much needed funds for ARV. Take the flyer to The East Coast Pizza Company and ARV will receive 20% of the proceeds.


Success Story
Stevie aka Stephanie
By Gloria (Foster)

In October 2017 Animal Rescue Volunteers (ARV) got a phone call from the shelter asking us if we would take in a 6-year old pregnant Chihuahua/Dachshund mix that came in as a stray and was going to give birth very soon. ARV already had rescued four other pregnant moms and they were in foster care, but we couldn't say no. I agreed to take her in and became Stevie Nix's foster mom (the shelter named her Stevie Nix but we changed her name o
n our adoption website to Stephanie so people would not think Stevie was a boy). We took Stevie to the vet right away and had her examined and x-rayed. A co
uple of weeks later she had 6 gorgeous puppies. We had some ups and downs wit
h Stevie and the puppies. Stevie was unable to nurse them but luckily, we had a couple of other mom dogs that filled in for her. Along with diligent tube-feeding by Staci and Kayla, they all survived, are healthy, and doing well. Stevie ultimate
ly had to have a mastectomy but recovered very well.
Almost a year to the day after we rescued Stevie from the shelter, a beautiful lady named Gabby came in to our adoptions. She had seen Stevie on our website and wanted to adopt an older dog as a companion for her and her rescued senior dog, Francia. Gabby says Stevie loves Francia and they all go on walks almost every day. Stevie now leads the way on their walks. Thank you, Gabby, for giving Stevie her forever home.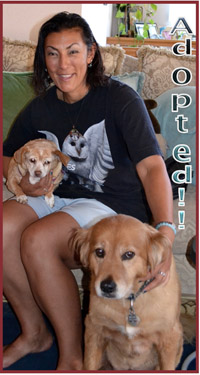 Animal Rescue Volunteers
"Giving pets a second chance at love"
Email: staff@arvsimi.org
Voice Message ONLY: (805) 579-8047