Hello ARV Supporters and Volunteers,
Wag 'n Walk – Save the date – September 30th
Mark your calendar - September 30, 2017 - is our 12
th
Annual Wag 'n Walk at the Rancho Community Park on Erringer/Royal in Simi Valley. This is a vital event for our continued success so we hope to have your support. Wag 'n Walk is a fun filled family event that is
FREE
and open to the general public. It is a leisure three-mile walk that participants and their canine companions can enjoy at the park. However, you do not have to be a walking participant or even a dog owner to enjoy the event. You can stroll and view vendors, dog adoptions, listen to live entertainment, or bid on the many wonderful raffles and silent auctions. We look forward to seeing you there.
While we prepare for our big upcoming event, there are ways you can help. Be an event sponsor/vendor, tell us of a business that would like to be an event sponsor/vendor, donate items for our raffle/silent auction, or volunteer at the event. This is our major fundraiser and we need all the help and donations we can get to make it successful for our furry friends. Contact us at
staff@arvsimi.org
.
New Rescues
Just last week, we rescued two dogs from our local shelter. They are at the far extreme of the spectrum with each other. One is 8 months old and the other is 14 years old. We went to the shelter to look only at the 14 year old, Prinze. He was a stray picked up by the shelter. He is a gentle soul with many old age health issues. He has hip dysplasia, knee and elbow issues, poor hearing and eyesight, and hypothyroid. We wanted to give him a home to live the rest of his life with a comfortable bed and warm house.
Princess was by chance. When we were talking with the vet about Prinze, she mentioned Princess. She is a very sweet typical puppy: energetic, excitable, and happy. Princess clearly has 9 lives like a cat. She and her brother came to the shelter with rat poisoning. They survived. Then she and her brother got pravo. Princess survived but her brother unfortunately succumbed to the virus. She was then adopted. They returned her as she was in a car accident and shattered her knee. When we met her, we knew she needed our help. We were told that her hind leg needed to be amputated. We took her the next day to our orthopedic surgeon hoping to save the leg. Being that the injury was at least a month old and the fact that she is young, her body healed the fractures quickly. She had three fractures, above the knee, below the knee and in the knee. The fracture in the knee healed fine. Unfortunately, the other fractures did not heal correctly which prevented her from having full range of motion with her knee. She would walk mostly not using the leg. While standing, she would hold the leg up. She didn't seem painful but we hoped the surgery could give her more range. The lower fracture was jagged which made it not possible to correct. However, the upper fracture was fixable. It did require breaking the leg and realigning the bone. The surgery was a success so we now wait to see if this helps her with her range of motion. Regardless, she does not need amputation and at worst case she may have a limp. She will be available for adoption in approximately 10 weeks.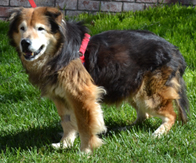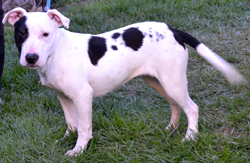 Prinze Princess
Support Simi Thrift Store
We are grateful for the Simi Thrift Store's frequent monetary support of our group. Have any items you want to donate? Donate them to the Simi Thrift store and support us. Visit the store as supporting them, supports us.
Store hours: Sun 10 am - 6 pm & Mon 9 am - 7 pm.
Address: 1492 E Los Angeles Ave, Simi Valley (Across the street from McDonald's)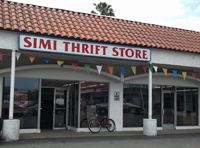 Cook's Night Out – Yolanda's Mexican Café – April 26th
Next month our Cook's Night Out will be at Yolanda's Mexican Café on Wednesday April 26th (11 am to 9 pm). They will give us 20% of your receipts, dine-in or take-out and includes alcoholic beverages.
Please click here for the flyer you need to bring with you.
Please share this with your friends and family. Take the day/night off cooking and help earn us some money.
For the Animals,
Staci O'Connell
ARV President
"A person's soul has never truly opened up until he has learned to love an animal." ~Unknown