Hello ARV Supporters and Volunteers,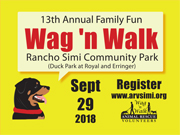 Wag 'n Walk - An Event For All Dog Lovers
Register Now
We hope you will join us at our 13
th
annual Wag 'n Walk on September 29
th
at the Rancho Simi Park commonly known as the duck park. What is Wag 'n Walk? It's a fun family event for everyone. You can join us on the walk with your dog or gather a group of friends to walk with you. Or, just show up and enjoy the vendors, entertainment, raffles/silent auctions, and more! Here are a few reasons why you should join us:
All monies raised benefits the animals in our community
Free continental breakfast
Free photobooth – get your picture printed instantly with friends/canine for FREE
Raffle/Silent Auction
Pet contest prizes
DJ prizes
Entertainment
Vendors
Wag 'n Walk Mascot Announced
Each year ARV selects a dog to showcase our achievements in saving animals. This year's 13th Annual Wag 'n Walk Mascot has been named…..Rosebud! Read more about her story in her section below.
July's Cook's Night Out – Chili's – July 31st
This month's Cook's Night Out will be at Chili's on Tuesday, July 31
st
(11 am to 10:30 pm). They will give us 15% of your receipts. This includes dine-in and take-out.
Please click here for the flyer you can bring with you
or tell your server you are there for our fundraiser. Please share this with your friends and family. Take the day/night off cooking and help earn us some money.

Rosebud and all of us thank you for your support! Together we are making a difference in the lives of these animals. So don't wait, register now and help support animals like Rosebud by joining us at our major fundraiser, Wag 'n Walk.
Vendors/Sponsors NEEDED
If you are interested in being a sponsor/vendor or know of a possible company, please email us at
staff@arvsimi.org
.
For the animals, register now! I look forward to seeing you at our 13
th
Annual Wag 'n Walk.
Staci O'Connell
ARV President
"One reason a dog can be such a comfort when you're feeling blue is that he doesn't try to find out why." ~ Unknown