Hello ARV Supporters and Volunteers,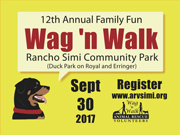 Wag 'n Walk - An Event For All Dog Lovers
Register Now
It is only 1 ½ months before our 12
th
annual Wag 'n Walk fundraiser. Please join us for this fun event on Saturday, September 30
th
from 7 am to noon. Visit
www.arvsimi.org
to register for FREE. Bring your dog for a 3-mile walk along the park and surrounding areas. After the walk, sit in the shade of the trees, visit our vendors, adoptable dogs, enjoy the entertainment, and once again the
FREE
photo booth with your photos printed instantly. Don't miss out on our raffles and silent auctions. Remember you can bypass the 3-mile walk and not bring a dog, while still enjoying the activities and raising funds. Tell your family and friends. Make it a family event.
This is such a worthwhile event and we need your support to continue saving our furry friends. Just recently we rescued a pregnant momma, Bambi, who had her 5 puppies 5 weeks ago. She was a stray picked up by the shelter. She was in the shelter for a month when they noticed she was getting larger. We received the call for help and picked her up that day. Two days later she had her puppies in the foster's home. Whew! Just in time. Mommas with new puppies have very high medical expenses.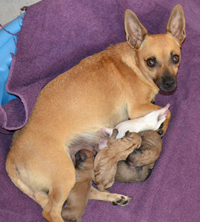 Bambi with her newborn puppies
Our mascot, Princess, needed costly surgery. While at the shelter, they approached us about Princess. We were already pulling a 14-year-old dog, Prinze. They told us her heartbreaking story and that they felt she needed amputation of her leg after being in a very bad car accident with her owners, who sadly dumped her. We had her surgery and saved her leg! Bambi, her puppies, Princess, and future rescues need your support.
We will again have roving judges. To be judged you need to be in the quad by the vendors between 7 am and 8 am. We will be awarding prizes in the following categories: Biggest Ears, Smallest Ears, Prettiest Eyes, Cutest Couple, Most unique "natural" fur coat, Largest, Smallest, Best Dancer, Best Sit, and Best Trick.
Vendors/Sponsors NEEDED
If you are interested in being a sponsor/vendor or know of a possible company, please email us at
staff@arvsimi.org
.
Also, the top 3 individual fundraisers will receive a prize. All monies must be turned in by
Wednesday, Sept 27th by 5 pm via mail
and
Thursday, Sept 28th by midnight via online
(Wag 'n Walk Fundraiser page
or
Paypal Link
) in order to be counted towards the prizes.

For the animals, please register now for our 12
th
annual Wag 'n Walk.
Staci O'Connell
ARV President
"You can't change a dog's past but you can change their future" ~ Unknown