Hello ARV Supporters and Volunteers,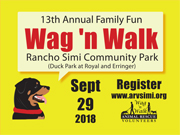 Wag 'n Walk - An Event For All Dog Lovers
Register Now
Wag 'n Walk is only 3 ½ months away. Register me now,
click here
.
Did you know?
Wag 'n Walk is Saturday, September 29th.
This is our major fundraiser.
I do not have to bring a dog or even walk at the event to register and help ARV raise funds.
All monies raised at Wag 'n Walk directly benefits homeless animals in our community.
We do not have a paid staff or facility. We are an all-volunteer organization.
We do not have any major backers/supporters who help us throughout the year.
It is supporters like you and this event that makes it possible for us to save animals.
Your support helps animals like Rosebud. See her story and photo below.
How your support helps dogs like Rosebud
Rosebud was born in the foster's home. Her Mom, Molly, a beagle basset mix, was rescued from the shelter pregnant. Molly had 5 puppies on Thanksgiving morning. Rosebud came out with difficulty breathing and gasping for air. It was touch and go as we tried to help with her breathing. She also had difficulty nursing. Fortunately, we had another momma, Jasmine, who had her puppies 3 days before. Therefore, we moved Rosebud with the smaller puppies. She still had trouble staying latched on. We had to help hold her head on the nipple as she would bounce off. She was transitioned to puppy food sooner than normal. Fortunately, she did quite well on the puppy food. We soon learned that she had some growth issues. As her siblings grew leaps and bounds, Rosebud remained small. Also, we realized she had hydrocephalus. We took her to our vet who recommended we go see a neurologist. To our surprise, he felt the hydrocephalus was the least of her issues. She had neurological issues. She had very little reflexes especially in the head area. This gives reason why she had difficulty nursing and breathing. It also explains why her mouth always hangs slightly open, which makes her that much cuter. They attempted to do some blood work but she was so nervous that she stopped breathing. She was placed in an oxygen tank and recovered. Therefore, she needed to be sedated to draw the blood.
The neurologist wanted to do a nerve test for a clearer answer but she was too small. Now at 7 months and 11 lbs, she is finally big enough. As a comparison, her siblings range from 25 – 40 lbs. However, we learned of yet another issue. Her hips are completely out of the sockets so she needs FHO surgery. Being that she has difficulty breathing, she is at a high risk with anesthesia. Therefore, the plan is to do all the surgeries at one time, including her spay. Stay tuned for more updates on Rosebud.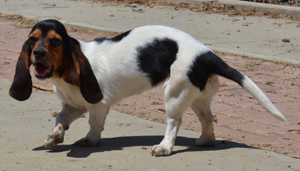 Your support at our family fun Wag 'n Walk event will help us to continue to help more dogs like Rosebud. Don't wait, register now and help us reach our goal.
Yes sign me up, click here
. I can create my own fundraising and invite my friends and family to donate to my page. Remember the top 3 money earners will be awarded a nice prize. Tell your friends and family about this event and have them join you. We have Save the Date flyers available online for easy printing and sharing
Sponsorship/Vendors Needed
We also have Sponsorship/Vendor Opportunities at the event. If you know of a business that you think might be interested, please email me at
staff@arvsimi.org
. Don't miss out on our early bird Bronze special of only $125, payment due by July 1st.
Tell me more about being a sponsor/vendor, click here
. We also need items like gift certificates, products, prizes, and donations. These are used for raffles, silent auction, and prizes.
For the animals, register now!
Staci O'Connell
ARV President
"Every animal deserves the chance to leave pawprints on someone's heart." ~ Unknown