Dear Dance Daze Families and Friends,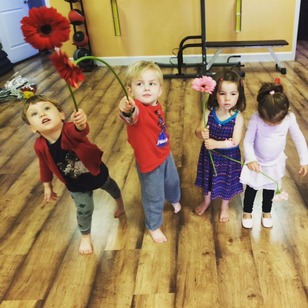 Hello and happy spring! I've thoroughly enjoyed the lovely spring weather we've had lately, and I hope you have as well. Our 2017 Spring Session has been going smoothly, and we are looking forward to adding some more fun to our classes this session, in the form of new props (I hope you enjoyed the pom-poms and capes!), a new official day for parent observations, and possibly even a visit from a professional photographer some time this session (fingers crossed!). As always, thank you for falling into a dance daze with us! We look forward to continuing the dance with you!
Sincerely,
Saumirah
DANCE DAZE DEMO DAY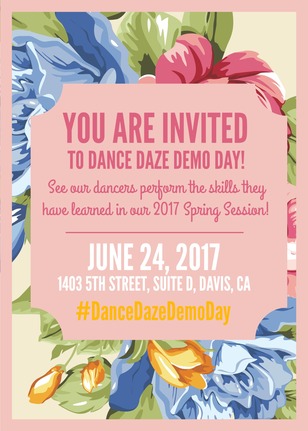 On
Saturday, June 24
, the final day of our 2017 Spring Session, we are inviting parents, friends, and community members to come and observe the skills our students have learned throughout our 8-week Spring Session of classes! We are calling this special occasion
Dance Daze Demo Day
(Yes,
Saumirah
loves alliteration.)!
We will put up a few very simple decorations inside the studio and have approximately 20 to 25 folding chairs available for seating. While each class will run its normal length of time, we anticipate starting classes about 15 minutes late that day (so Saumirah and her partner have a few quick minutes to set up after the fitness class ends). We hope that this will become a fun tradition that will occur on the final day of each session of our classes, providing students who commit to an entire year of dancing with us (3 seasonal sessions) with 3 performance opportunities! We already have a
Facebook Event page
for Dance Daze Demo Day, so be sure to RSVP if you are on Facebook! This helps spread the word to your networks, which we really appreciate.
DISCOUNTED DANCE DAZE SUMMER BIRTHDAYS!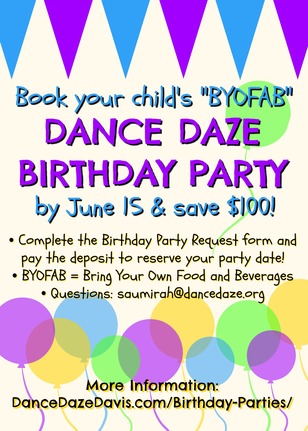 You may remember that we host awesome
children's birthday parties
, both for Dance Daze students and the general public! Parents leave the planning, setup, cleanup, games, food, and drinks all in the hands of our talented party hosts, and families only need to show up and have a great time! We have a variety of themes available, including Hip Hop Happy, Under the Sea, Beautiful Ballerina, and more! Our parties last 2 full hours and include 45 minutes of dance and 1 hour and 15 minutes of games and party fun.
This summer, we are offering $100 OFF for families who bring their own food and beverages! We will still do all the other planning, provide all of the decorations, and handle setup and cleanup, but families will be required to bring food and drinks for the party guests. That's it! You must complete our online
Birthday Party Request Form
and submit the non-refundable $100 deposit by June 15 to claim this deal!
YEAR-ROUND PRICING COMING THIS FALL!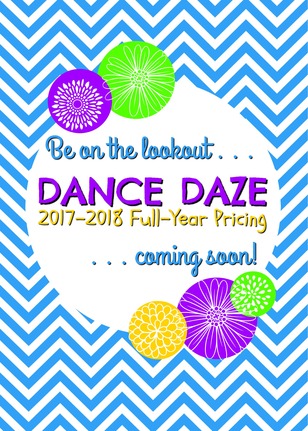 Did you catch it above when I mentioned something about 3 performance opportunities for those who commit to dancing with us for an
entire year
? We plan to begin offering year-round pricing beginning this fall! The Dance Daze Davis 2017-2018 schedule will be similar to this year's schedule--with a Fall Session, Winter Session, and Spring Session, each lasting 8 weeks. Families will pay for 24 classes (3 sessions) in the fall, and they will be paid-in-full for the entire year! We plan to make year-round pricing available at an incredible rate, to encourage families to go with this option! While we know that the convenience of seasonal sessions, drop-in classes, and 4-week half sessions works great for many families, we'd love to develop our program into a yearlong opportunity for students and families who are able to stick it out with us long-term. Please continue watching our
Facebook
and
Instagram
pages for continued updates about this!
WE ARE ALMOST HALF-WAY THROUGH SPRING!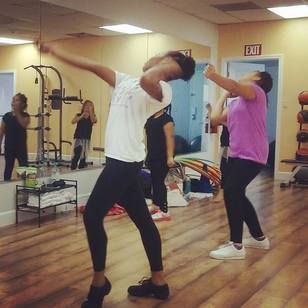 Believe it or not, we are almost half-way through our 2017 Spring Session of Dance Daze! The remaining dates of our classes are listed below. See you Saturday!
May 13
NO CLASS MAY 20
NO CLASS MAY 27
June 3
June 10
June 17
June 24 - DANCE DAZE DEMO DAY! CLASSES PUSHED BACK about 15 minutes!