From "The Summerville Journal Scene"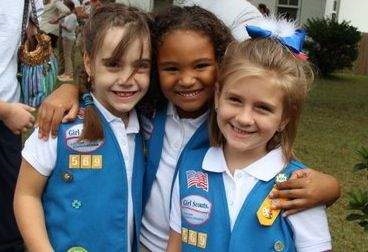 Pictured here (from left) are Girl Scout Daisies, Layla, Kennedy and Katelyn.
About 140 Girl Scouts from Dorchester County, gathered at Summerville Presbyterian Church for a Fall Sales Rally on September 28 to launch the Girl Scout's Fall Sales efforts.
From Daisies to Ambassadors, the girls learned safety and business tips.
From October 1st to October 23rd, Girl Scouts around the country sold nuts, candies, and magazines and earned money to go toward scouting activities.
Sales were mostly conducted by Scouts going door to door in neighborhoods and within their communities. And keeping with the times and technology, some of the Girl Scouts created their own websites and promoted online sales by emailing family and friends.
---
SWEET SUCCESS! DEATH BY CHOCOLATE
In September at The Hilton Head Beach and Racquet Club the most delicious gala took place. In a contest between chef and restaurant chocolate entries for the best chocolate dish, most creative, most unusal.... NOBODY loses. And the girls of Girl Scouts of Eastern SC win.... after expenses, the fabulous event raised over $20,000.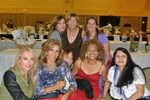 Can't wait till NEXT YEAR! YUM!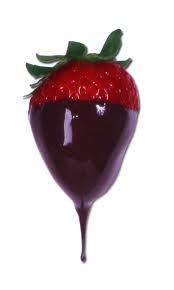 (above) some of the lovely guests and supporters
---
Coat and Food Drive
in Orangeburg with Troop #694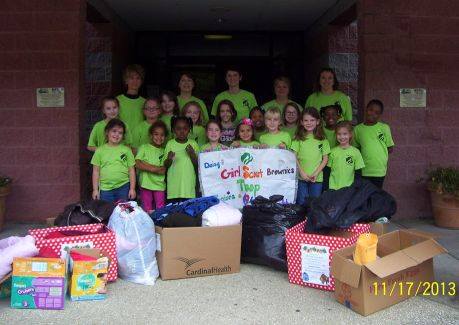 Girl Scout Troop #694 from Orangeburg held a Coat and Food Drive on November 9th and again on November 16th. They gave all coat donations to the Coorporative Church Ministries Of Orangeburg and food donations to The Cheez and Cracker Box in Bamberg.
The girls learned a lot about giving back to the community.
---
​
Delivery Day: Juliette Gordon Low's Birthday
"It's a girl!"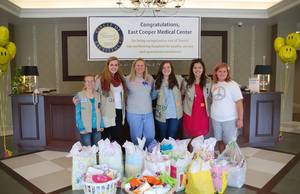 Troop #106 packaged donated baby items and delivered them to East Cooper Medical Center on Monday, October 28. There were 13 bags/baskets in total. East Cooper Medical Center was delighted with these gifts and asked that the girls do it again next year! The girls also got to hand deliver one of the baskets and meet a tow day old baby girl.
This was the service project for Mount Pleasant during October. Baby girl items were collected for future girl scouts. There were a lot of troop - donated items to make up the gift bags and baskets. Troop #106 (pictured at East Cooper Medical Center) delivered the baskets. Thanks again for all troops who participated in donation of items, assembling the bags and baskets and delivery of the gifts.
---
Troop #924 says,
"We've got your back."
---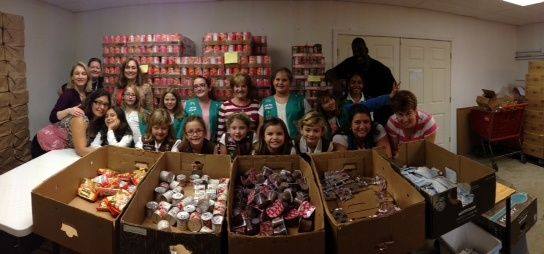 Troop #924 did a Community Service Project for Backpack Buddies. Not only did the girls pack 1,000 bags for Under-served Children, but the Girls donated $200 from Cookie Sales to this program.
---
COOKIE MEDIA BLITZ



GSESC's Director of Product Program, Patriece Rhett on media tour (below) for National Cookie Weekend and The Gift of Caring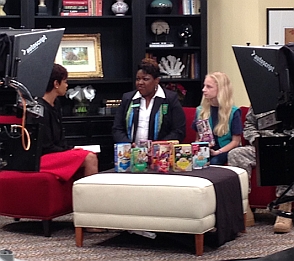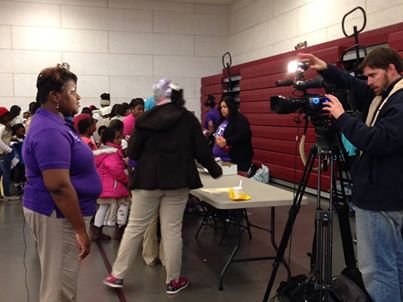 GSESC on Lowcountry Live Patriece: Channel 4 interview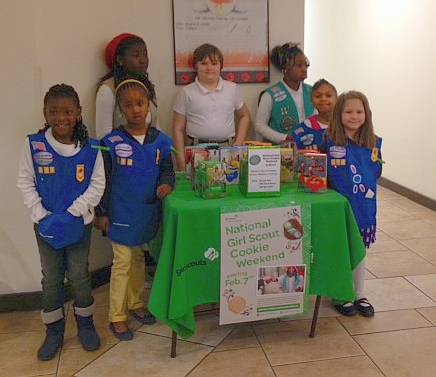 While at World Thinking Day, some of the girls took the opportunity to support The Gift of Caring for National Cookie Weekend. Their goal was to sell 24 boxes each for a National Cookie Weekend Patch and a Gift of Caring Patch.

The girls set up this table to promote The Gift of Caring and got a chance to sell some cookies for the troops. They also got a chance to meet the photographer from ABC News 4 and be in some of his shots. The girls were on the news at 6 pm and also at 11.
---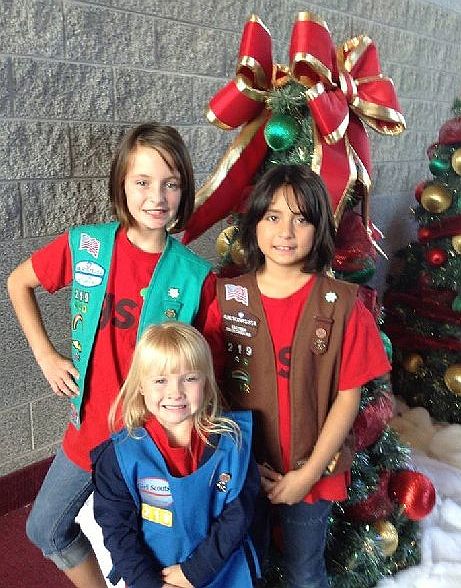 Christmas Greetings were online this year and in the form of a video message. We managed to get many different girls with their holiday photos in and had a different card featured on our website every one or two days for December. T
his (above) is one of the holiday photos we proudly featured! The link to the cards on our YOUTUBE channel is right below.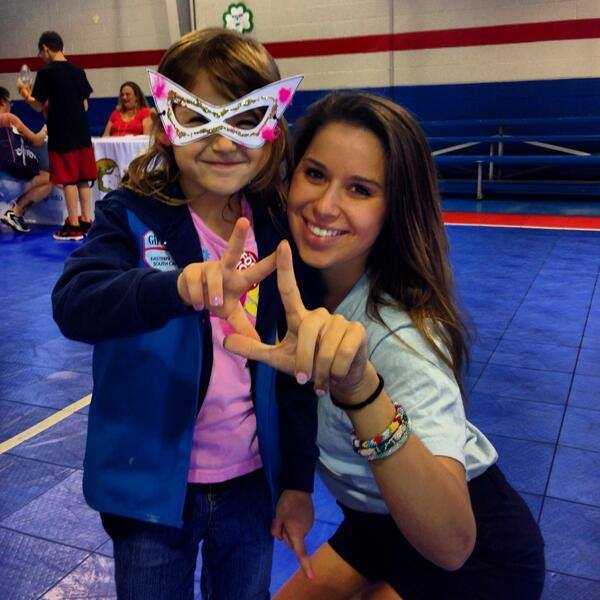 Our girls LOVE spending time with the ladies of Kappa Delta
.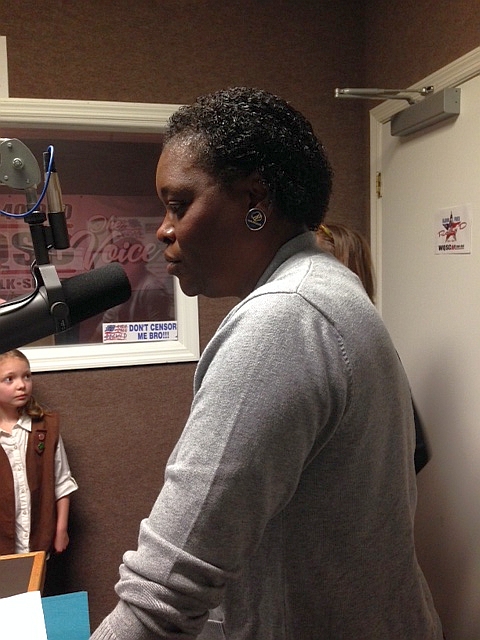 CEO Loretta Graham on the radio promoting the council wide cookie rally and "The 5 skills." Girl Scout Daisies, Brownies, Cadettes and Juniors joined in on the radio show and got to be on the air.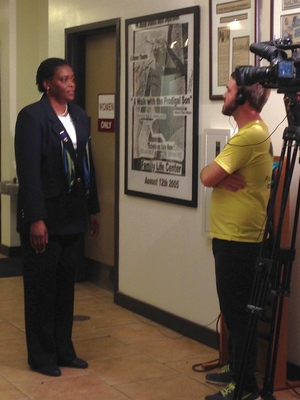 Loretta Graham being interviewed here by Channel 4 photographer, Josh at The Cookie Rally, January 11th in North Charleston.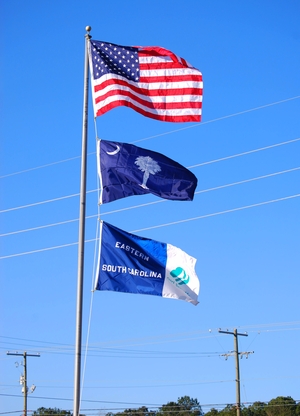 Flag Ceremony at the North Charleston Service Center on January 19th. The girls retired a flag and raised new American and State flags.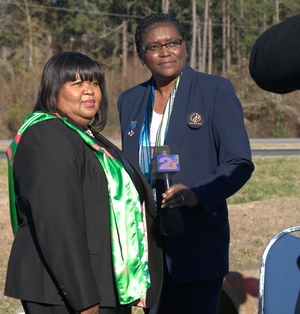 North Charleston chapter AKA's Omicron Rho Omega President Karen Harrison with GSESC CEO Loretta Graham granting an interview to Channel 2, our NBC affiliate at the Flag Ceremony.
AKA and GSESC partnered for the event which also included a lovely reception put on for the military and veterans in attendance.
It was a heartwarming tribute
from start to finish:
to our country, our veterans, our service personnel and our everyday heroes.

---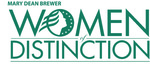 SAVE THE DATE
March 20, 2014