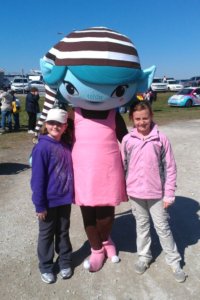 March 22, 2012

The Connection newsletter
March 2012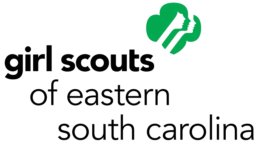 It''s finally here! Girl Scouts is officially 100! March 12, 2012, came in like a lion for Girl Scouts of Eastern South Carolina, as we held our Bridging to the Next Century event on March 10 at Patriots Point in Mt. Pleasant.
We had 1,500 people register for the event, and troops and individuals came from all across South Carolina to help celebrate 100 years of Girl Scouting. Participants were seen walking over the Ravenel Bridge, enjoying jump castles, scaling climbing walls, juggling sticks, beating drums, checking out science experiments, getting autographs from Miss South Carolina and working on building projects.
Notable speakers included Miss South Carolina 2012 Erika Powell, Julie Hussey, president of the SC League of Women Voters, North Charleston Police officer Tiffani Crider, Col. Johnson from the North Charleston Air Force Base, Kathy Rogers, executive director for the YWCA, as well as two current Girl Scouts, Delaney Walden and Scarlet Hosenfeld.
"We have a participating democracy that encourages us to raise our hand ... and stand up for what we believe in."

Julie Hussey, League of Women Voters.



"Choose something that fits you, that helps build your courage and confidence."

Tiffani Crider, North Charleston Police Department



Click here to see a photo gallery from our 100th celebration
The celebration continues

Join Girl Scouts of Eastern South Carolina as we continue our celebration of 100 years of Girl Scouting with our gala celebration, the Centennial Celebration Extraordinaire!
The celebration will be held Thursday, April 19 at 6:30 p.m. at SiMT in Florence.
This gala celebration will feature WPDE anchor Allyson Floyd as emcee, along with an evening filled with Girl Scout memories, dinner and dancing, live musi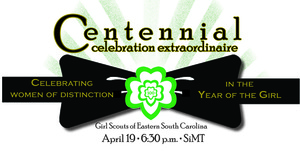 c from Sea-Cruz, live and silent auction and plenty of fun!
Save the date! September 27, Death by Chocolate, Crowne Plaza Resort, Hilton Head Island.
Click here to make a donation to Girl Scouts of Eastern South Carolina with PayPal.

Girl Scouts Forever Green Take Action Project
Girl Scouts Forever Green (GSFG), our 100th Anniversary Take Action Project, is a global effort to improve the environment and protect natural resources. We invite you to lead your family, school, and community in one of the three Girl Scouts Forever Green Take Action Projects during 2012.
The goal of Reduce Waste is to reduce the number of discarded single-use plastic bottles and bags and increase aluminum recycling rates.
The goal of Earth Hour is to encourage sustainable behavioral change, reduce CO2 footprints, and save energy and money. Install energy-efficient light bulbs at your house and encourage others to do the same!
The goal of Rain Gardens is to increase green space and wildlife habitats, and improve water quality by reducing water borne pollutants running into streams, rivers, and other water supplies. Work with your community to pick the perfect place and find experts to help with a Rain Garden.
Questions? Call Katie Hiott at 843-552-9910 or click here to send her an email.
---
Check out some more photos from the Ravenel Bridge, Patriots Point and more here!
---
Share your skills at camp this summer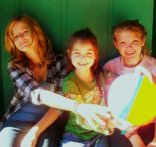 Resident camp is currently seeking volunteers who are interested in coming to resident camp at Sandy Ridge this summer to share/teach their skills in the following areas: yoga, healthy eating, manicures/pedicures, meditation, swimming, cooking, cake/cupcake decorating, horse knowledge, outdoor living skills, primitive camping, painting, drawing, acting, dancing, manners/ etiquette, pottery or other skills you believe would be beneficial to share with the girls. It could be in the form of a two hour session, a day workshop or multiple workshops, just let us know what works for you. Got a skill you''d like to share? Contact Melissa Arrwood at 843-552-9910 Ext. 236 or melissaarrwood@girlscoutsesc.org.
---
Tired of waiting to get the latest updates on Girl Scouts of Eastern South Carolina? Follow us on Twitter or Like us on Facebook.
---
Girl Scouts learn from local engineers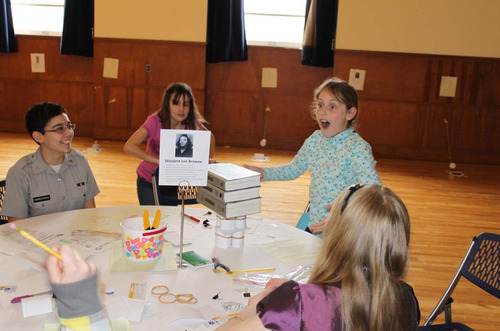 Girl Scout Juniors and Cadettes got to experience Discover Engineering Day on Feb. 19, as part of the kick off to National Engineers Week. Sponsored by the Lowcountry section of the Palmetto Scholars Academy, the Society of Women Engineers offered an introduction to the world of engineering by celebrating the G in Engineer.
Professional engineers and college students who are working toward their engineering degrees guided the girls in several hands on activities.
---
Don''t forget that we''ll be celebrating 100 years of Girl Scouting all year. Click here to get your tickets to the Centennial Celebration Extraordinaire.
---
Generosity keeps Girl Scouting going!
Girl Scouts of Eastern South Carolina just received $2,000 from the Coastal Community Foundation - Beaufort Fund for Membership Extensions in Beaufort and Colleton counties.

Click here for an article.
---
Send us your stories
Girl Scouts of the USA is looking for stories about Girl Scout Greats! Please send us information and a photo, if possible, of a Girl Scout that has made a difference in your life. It can be a current girl, adult, volunteer , parent or alumnae that has made an impact as a Girl Scout. Please email submissions by March 30 by clicking
here
.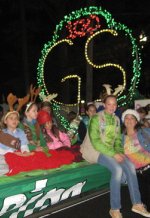 Girl Scouts East Cooper Service Unit won 2nd prize in the Junior Community Division of the Mt. Pleasant Christmas Parade on December 11, 2011. The theme of the float was "100 Years of Girl Scouts."
Get info on Girl Scouting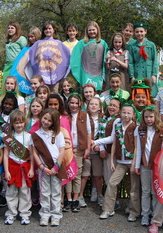 Service Unit 631 celebrated Girl Scout Sunday at Island Lutheran Church on Hilton Head Island. The pastor gave a special sermon and talked to and about the Girl Scouts. The service was followed by a reception which featured a historical display of Girl Scouts through the decades. Following the reception, the girls participated in the Hilton Head St. Patrick''s Day Parade with a float that featured girls wearing past uniforms and about 60 Girl Scouts walking behind them.

Check out an article on Girl Scouts in Celebrate Hilton Head
See more photos from the group's busy weekend here!
Troop 422 paired up with the Janice Rhodes and the Alhambra Garden club to work on their Junior Gardening Badge. Activities included painting clay pots and planting pansies in them. The girls arranged flowers and gave the arrangements to residents at the Franke Home for Valentine's Day. All supplies were provided to the troop from the Alhambra Garden Club!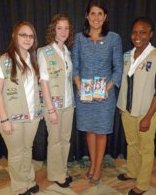 Several girls from eastern South Carolina participated in the page program this year at the Statehouse. Seen above are (left to right) Alexandria Luciano, Patricia Luciano, Governor Nikki Haley and Kierra Richardson.

Donate to Girl Scouts of Eastern South Carolina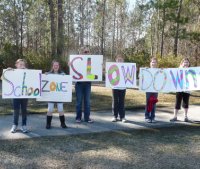 As part of the Girl Scout Way badge, Junior Troop 418 identified the problem of people speeding down the main road into Park West. A classmate had recently been hit by a car while walking home from school. They decided they wanted to make signs and stand along the road one day after school - hoping to make the world a better (and safer) place!

Follow GSESC on Twitter!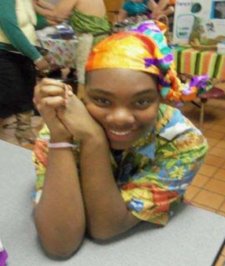 Service Unit 651 held World Thinking Day on February 11 at the Garrett Academy. A total of 19 troops, including our Juliette Girl Scout and family, 247 girls, adults and tagalongs, were in attendance representing 16 countries – Israel, England, China, Morocco, Bahamas, Nigeria, Brazil, Colombia, France, Mexico, Japan, South Africa, United States of America, Portugal, Zimbabwe and the Philippines, to name a few.
Like us on Facebook!
The cookie sale ends this Sunday. Check out our gallery of cookie booths, selling and more!
We'd like to extend a big thank you to all our partner organizations and individuals who helped with our Bridging to the Next Century event.
American Red Cross
Balloon Artist – Ryan Neal
Beaded Venus
Charleston County Parks and Recs.
Charleston Party Booth
Charleston Creamery
Charleston County Recycling
Curves
Chapin Art Museum
Face Painting – Kathryn Johns
Fat Cat Productions
Goodwill
Gullah Presenter/African Drummer – Bob Small
Home Depot
Juggler – Ben Mathews
Magician - John Tudor
Keep Charleston Beautiful
Legare Farms
Low Country Food Bank
MagiQuest
Miss South Carolina 2012 - Erika Powell
Mobile Etiquette Program
New York Life Insurance
No Sleeves Magic/Magic Camp USA
Operation Quiet Comfort
Palmetto Poison Center
Patriots Point
Project Impact
Juliette Gordon Low Impersonator - Reverend Kay Horres-Durst
Ripley's Aquarium
Sewee Visitor Center
Science South
South Carolina Aquarium
WCBD-TV News
The Wellness Council for SC