Seabees appreciate GSESC troop
Troop 665 gets a hoorah from Navy group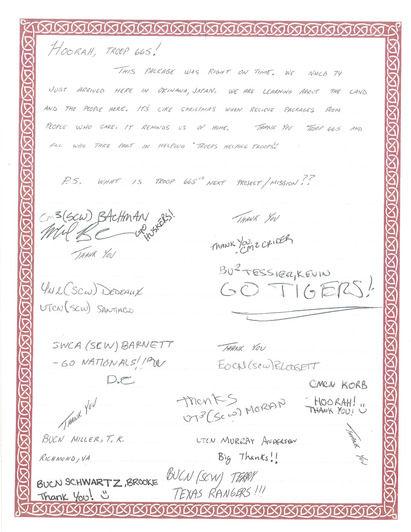 Girl Scout Troop 665 has been sending care packages with cookies and other treats overseas for the past few years. This year, the troop created hygiene care packages with items for both men and women and got a great response from the Seabees detachments that received them. The Seabees, the construction arm of the Navy, are currently stationed in the western Pacific, where they are on a humanitarian mission to build schools and health clinics, dig wells and improve roads in Cambodia, the Philippines and East Timor.
---
Attendees share century of Girl Scout memories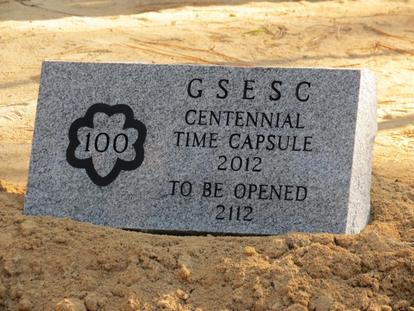 One hundred years of great Girl Scout memories were immortalized in a time capsule ceremony, with the promise of a century more to come. Visitors gathered Oct. 6 at Sandy Ridge in Bennettsville to dedicate the Centennial Time Capsule in honor of 100 years of Girl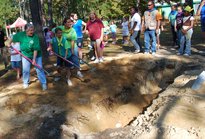 Scouting. The day featured plenty of newly made Girl Scout memories, as the Junior Jamboree Choir sang traditional and contemporary Girl Scout songs; board member Belinda Copeland and CEO Loretta Graham gave key note speeches and Sue Leon, Centennial Time Capsule chair, presented the time capsule. Opening and closing flag ceremonies were performed by Troop 241. The first shovels of soil on the time capsule were placed by Copeland, Graham, COO Melissa Cox, board member Cliff McBride and Leon. Each person had the opportunity to help shovel in soil. As part of the 100-year anniversary service project Forever Green, a tree was planted near the time capsule.
---
Grants submitted, events on tap for 2013

Increased donations and public support are always a priority for Girl Scouts of Eastern South Carolina. From successful and planned events, grants and more, fund development efforts continue into 2013.
In September, we held Death By Chocolate in Hilton Head. This successful event raised more than $16,000. To see a photo g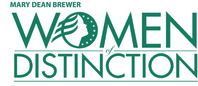 allery of the event,
click here
. Be sure to save the date for Mary Dean Brewer Women of Distinction on March 7, 2013, at SiMT in Florence. We're currently accepting sponsors and auction items.
In cooperation with Linda Jackson, manager at Wells Fargo in Lake City, we have received a $1,000 grant. We have also received a $1,000 grant from the Post and Courier Foundation. We're still looking to increase our family giving through the GIFT campaign. Donations for the 2012-13 year total $2,378. The commemorative launch of the Centennial Circle of Giving has also seen some success. Our goal is to have 100 members giving $1,000 for a total of $100,000. Individuals or groups can make the donation, all at once or installments. Thank you to Centennial Circle of Giving new members: Pat Chapman, Loretta Graham and Linda Russell.
Click here to donate to Girl Scouts of Eastern South Carolina

---
Girls make strides toward Girl Scout Silver Award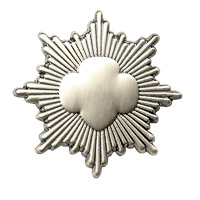 Norway Girl Scout Troop 407, under the leadership of leader Bessie Peeples, sponsored a diabetes awareness education program Nov. 28 at the Three Crosses Ministry building. Stephanie Brown, RN, a certified diabetes educator with Grove Park Pharmacy in Orangeburg, spoke to a group of approximately two dozen and explained such things as warning signs of diabetes, the differences between low and high blood sugar levels, the need for diabetics to check their feet and monitor the healing of any wounds and appropriate diet and exercise. Brown stressed that during the holiday season, inappropriate food items are a great temptation for some diabetics. She suggested that diabetics monitor portion sizes and avoid or consume only sample amounts of treat foods. Girl Scouts Ty'Tiona Mack and Zy'Nesia Mack took the lead in this project as they are working on their Silver Awards. Taneyjha Williams also helped with the program as she is vying for her Bronze Award. Following the program, refreshments were served. In February, the troop will also sponsor a program on breast cancer.
---
Plan your trip to camp in 2013

We are starting to gear up for the 2013 camp season! Be sure to look for the camp brochure online in January to check out all the amazing programs we have planned. Registration opens February 1. Be sure to mark your calendar to come to Sandy Ridge to celebrate your hard work and a successful cookie season. The Cookie Cup Celebration and 5K Fun Run will be held April 13 at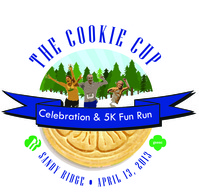 Sandy Ridge in Bennettsville. It will include a fun 5K obstacle course for adults and older girls and family fun activities for everyone including moms, dads and siblings! Activities planned include face painting, bouncy houses, cake walks, crafts, paddle boats, food, baking contests, camp tours and much more. Admission is $5 per adult/child and registration information will be available in January. We will be seeking businesses that would like to help us celebrate by sponsoring our event so please spread the word in your community. All proceeds from this event will benefit Sandy Ridge directly. For more information, contact
Melissa Arrwood.
Event Details


Important Dates
Jan. 11: Cookie Sales Begin
February 15: Adult recognition forms due

February 16: Annual Meeting
March 7: Mary Dean Brewer Women of Distinction
April 13: Cookie Cup Celebration and 5K Fun Run


Send us your stories!
We know there are lots of cookie sale success stories out there. Please share your best experiences with us!

Winter Shop Updates
Saturday hours are changing at our Girl Scout shops. Throughout December, January and February both shop locations are open the first and third Saturday of each month from 10 a.m. to 2 p.m.
Don't forget to round up your purchases in December to the next dollar to help us continue to build girls of courage, confidence and character!
---

Troop 989 used shopping carts generously provided by Piggly Wiggly to collect canned goods at the Town of Moncks Corner Christmas Parade on Dec. 2. All donations will go to support local food pantries.
---

Girl Scout Troop 674 in Dillon worked on a community service project to take a small gift to the residents of Cannon Court Apartments, a senior facility. The troop made candy-filled cornucopias and delivered them the day before Thanksgiving.
---

Girl Scout Troops 313 and 737 prepared a box of nonperishable items to donate to the residents of Jade Nursing Home. The boxes also included a turkey for the residents. The girls and leader, Phyllis Singleton, along with some parents, decorated the box, filled the box and took the goodies to the nursing home. The girls learned how to work together as a team, learned to be thankful and learned to give back to the community.
---

Troop 840 asked local businesses in the Florence area to donate hygiene items -- toothbrushes, toothpaste, soap, conditioner, shampoo -- to the less fortunate. The troop put together gift baskets to give to those in need. In addition to the gift baskets, the girls also donated clothing and helped serve hot food.
---
It's the holiday season, and we're wishing all of you a great holiday and a happy new year! Check out our virtual holiday card here.