52nd Convention

Houston launches 100 years of Girl Scouting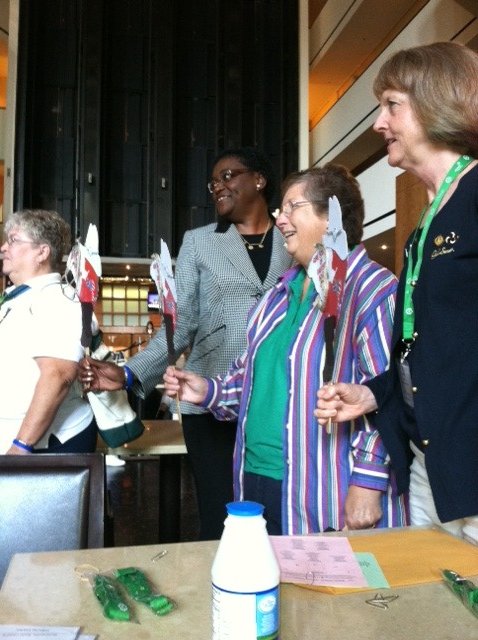 Recently, Girl Scouts of the USA held its annual convention in Houston. But this was more than just a yearly gathering of Girl Scouts from across the nation; this was the convention that kicked off the 100th anniversary of Girl Scouting in America.
The National Council Session on November 10-13, Renewing the Promise: Girl Scouts in a New Century, drew some 15,000 girl and adult members, as well as noted celebrities such as ABC News journalist Katie Couric; Soledad O'Brien, host of CNN's In America; Robin Roberts, co-anchor of Good Morning America; three-time Grammy-nominated recording artist Sarah Bareilles; Houston Mayor Annise D. Parker; actress and philanthropist Marlee Martin; gospel singer Yolanda Adams; and actress Monique Coleman, who starred in the High School Musical films.
Girl Scouts of Eastern South Carolina was represented by 23 girls and adults from four districts of the council -- Charleston, Beaufort, Florence and Myrtle Beach -- at the convention.
Five area girls attended the Girl Scout Leadership Institute in Houston, which was held as part of the national convention. Summer Blair of Loris; Scarlett Hosenfeld of Goose Creek; Sarah Jankowski of Summerville; Laura Tyler of Loris and Alex Zimmer of Goose Creek, atte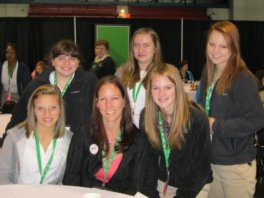 nded sessions that focused on topics such as Innovations and Marketing, Global Connections, I (heart) Girl Scouts, Innovations in Business, Leadership and Innovations in Technology.
Also at the convention, Anna Maria Chávez was introduced as the new CEO of Girl Scouts of the USA. A first generation Mexican-American, Chávez was a Girl Scout in her native Arizona and would later become an aide to then-Governor Janet Napolitano. She has been CEO of the Girl Scout's Southwest Texas Council since 2009.
---
Fall sale numbers in; Get ready for cookies!

Girl Scouts of Eastern South Carolina is wrapping up the Fall Sale. As of November 28, we've sold $120,513 worth of nuts and candies and $55,421 worth of magazine subscriptions.

The girls turned in more than 1,500 step two booklets. Thank you to all the girls and leaders who participated in the Fall Sale and congratulations to all the troops who had an increase in sales this year.
More than 55 cases of Honey Roasted "Thank you" Peanuts have been donated to the Blue Star Moms of Myrtle Beach and will be sent to soldiers serving overseas. Thank you to all the patrons who donated.
The Product Sales Team is busy preparing for the 2012 Cookie Sale. Pre-orders will begin January 13, 2012.
Click here for more product sales information
---
Community groups award grants

GSESC gets funds for at-risk girls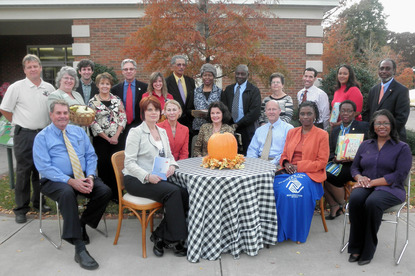 Girl Scouts of Eastern South Carolina received two notable grants recently.
Women in Philanthropy awarded council $2,700 to address needs in the Pee Dee area, including at-risk girls. The grant will allow Girl Scouts to offer and fund membership and program opportunities for girls not typically served by the Girl Scout program.
Orangeburg Calhoun Community Foundation, an affiliate of the Central Carolina Community Foundation, awarded GSESC a $1,900 grant to address needs in Orangeburg and Calhoun counties. The grant award will assist in funding Girl Scout memberships and program supplies for at-risk girls in this area.
---
Mission: Sisterhood

Over the past several years, the Girl Leadership Experie
nce Team has led the way in exploring the opportunities for girls through Girl Scout Pathways. We have been recognized by GSUSA and other Girl Scout councils as a leader in developing these opportunities. Partnering with schools, developing series curricula for use by the membership staff and building our first travel group has put us on the front of the national stage.

This year we are continuing our progress by developing our first Event Pathway opportunity, "Mission: Sisterhood!" We have already started working with volunteers on developing these events throughout the council. We hope to lead 500 girls across our council in discovering more about friendship, communication and tolerance. If you would like more information, or if you are interested in sponsoring or volunteering for these, events please contact Heather Trebil or Katie Hiott at 843-552-9910.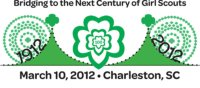 Bridging to the Next Century of Girl Scouts
Join us March 10 for the ultimate bridging ceremony!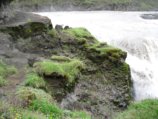 Check out our Facebook page for photos of destinations trips to Iceland and Guatemala!


1st: Charlotte Jones from Troop 300 in SU 660 with $1,190 in sales
2nd: Morgan Downing from Troop 330 SU631 with $964 in sales
3rd: Beverley Roberts from Troop 179 SU631 with $945 in sales

Amelia Wilkes gives a thumbs up as she runs the Cookie Cup. She emerged as the eventual women's winner!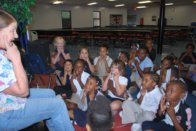 Lee County Girl Scouts are up and running; enjoying a Teddy Bear picnic, learning new songs and improving their environment by cleaning up litter around Bishopville Primary school.

The Girl Scouts in Georgetown and Horry counties celebrated Juliette Gordon Low's birthday at Club 2001. Pepsi donated all the soda and Papa John's Pizza sold over $1,200 in pizza and made a generous donation back to GSESC at the end of the evening.

Troop 755 is making a difference in their community by participating in the Charleston Food Bank's Backpack Buddy Program with Boulder Bluff Elementary School. The girls went to Wal-mart and spent around $80 filling backpacks with food and supplies for needy children. Way to set a great example, Girl Scouts!

A Charleston Peninsula troop took a day trip to Shug A Bug Kids Spa in Charlotte, N.C. for a day of pampering. The spa featured a salon setup with small furniture inviting to children, children's music and children's

magazines.

Troop 428 attended The Harbor Water Cycle class at Patriots Point as part of the Water Journey and to fulfill one of the requirements of our Painting Try-It badge. The troop donated the mural, and it can be seen on the walls of the classroom on the USS Yorktown .