Welcome to the Zonta Pikes Peak club!

President's Message
Hello Zonta Sisters,

This years theme of "Linking Arms with Like Minded Women" to me means movement, movement as a team. Our club is a team and at the center of every high performance team is a common purpose, a mission that rises above and beyond each of the individual team members. Zonta's mission of advancing the status of women is our common purpose, it is why I sought out Zonta and why I continue to serve. I love being a part of this team with such a noble mission.

Effective team players understand that personal issues and personality differences are secondary to the the mission of the team. This does not mean abandoning who you are. On the contrary, it means sharing your unique strengths and differences to move the team forward. High performance teamwork is an interdependent process where team members rise to a level of sharing, accepting, giving and going beyond oneself. This mean showing up on time, paying attention, asking for and providing help, offering encouragement and support, valuing diversity and viewing one another as important to the team.

The great accomplishments in life are not achieved by individuals
alone, but by proactive people pulling together for a common good.
Look along side every great achiever and you will find caring people offering encouragement, support, and able assistance. Interdependent thinking can be challenging and difficult. Looking beyond oneself, asking for help or accepting help can feel risky. But people are not given life to simply take from one another. We are here to give. Our mission in life is offer our gifts to create mutual gain in the world.

I invite you to reflect on your team member role within our club. Ask yourself, are you willing to step up? Do you see how your role in our club fits into something larger?

- Sonya Bergeron
Who is resourceful, with much of the this article coming from the book "Pulling Together: 10 Rules for High Perfomance Teamwork"
by John J Murphy
Catch up with club member activities
On Saturday, June 16th, 2012, several members of Zonta Pikes
Peak participated in a Basketball Fundraising and Domestic Violence Awareness event hosted by NEVER a Victim and the TESSA Auxiliary Group. Participating members, Dee Nelson, Susie Nulty and Deb Manzanares set up a beautiful Zonta display at the event and made themselves available for questions to the guests regarding the organization. Along with their booth, they gave away beautiful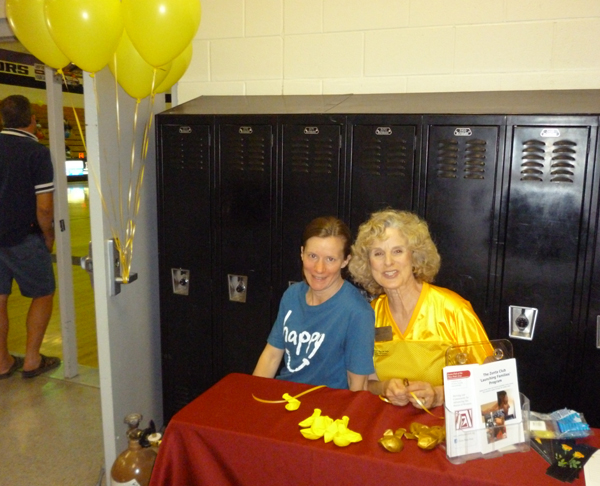 yellow balloons along with Zonta information cards attached to them, to those who requested information on Zonta. At this event, we were able to raise $1661 for the Tara Buckler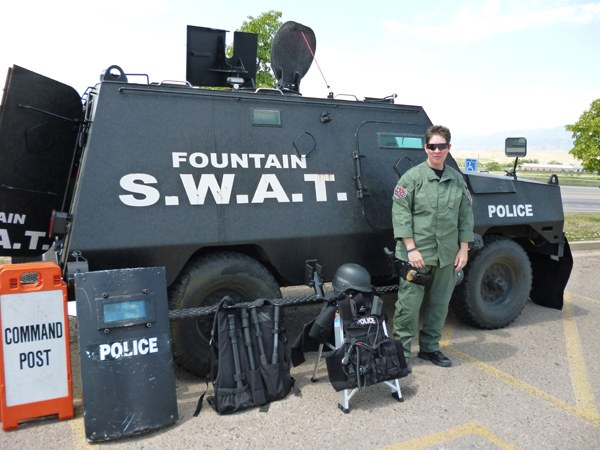 children, who lost their mother recently as a result of a tragic domestic violence murder-suicide incident. Zonta was also joined at this event with other great organizations in our community in an effort to raise awareness on domestic violence and the resources available for these issues. I truly believe we achieved this goal. On behalf of NEVER a Victim and the TESSA Auxiliary Group, thank you Zonta Pikes Peak for your continued support and involvement in our event! Together, we can all make a difference!
Key dates this Fall

Women's living Expo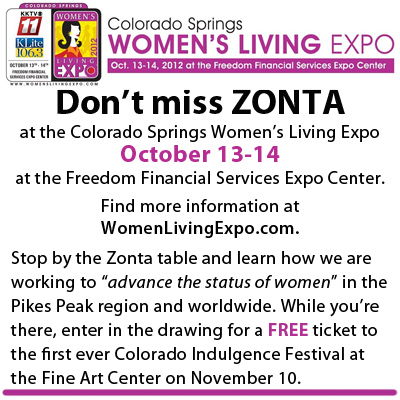 The Colorado Indulgence Festival.
The Indulgence Festival - An Evening of food, chocolate & wine - Saturday, November 10, 2012 The Zonta Club of the Pikes Peak Area will have a Silent Auction at this splendid festival. There are plans to transform this room at the Fine Arts Center into our fund-raiser event extraordinaire. Debbie and Susie will be contacting members soon to help with specific item solicitations, setup help and event participation.
See details at http://indulgencefestival.com