Welcome to the Zonta Pikes Peak club!

President's Message
Hello Zonta Sisters,
What a year we just had! The 2011-2012 annual report is chocked full of our recent accomplishments. If you hadn't reviewed it yet, I suggest you take a look. As a club we are powerful and we are making a difference. I accepted the Club President position following two very effective leaders and beautiful women - Laura Stamp and Sharon Roggy (I am sure their predecessors were also great, but they are before my time). Both Laura and Sharon have been instrumental in building a strong and active club. Our club is full of leaders who get things done and I am going to try to keep the momentum going.

The theme for my Presidential year is "Linking Arms with Like-Minded Women ... within our Club, within our Organization, and within our Community". There are many opportunities for Zontians to link arms; one way is to attend a District Conference. The picture below shows Zontians from other cities along with Sharon, Laura, and myself in Rapid City, South Dakota during the last District 12 Conference. Throughout 2012-2013 year, there will be many ways for our club members to serve and make a difference. I hope that you will enthusiastically accept the opportunity to link arms with like-minded women, within our club, within our organization and within our community. I look forward to working with you!

Sonya Bergeron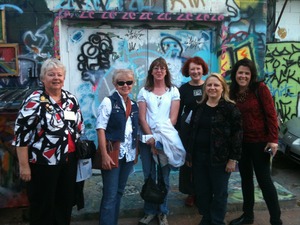 Mary Walker, Sharon Roggy, Bridget Masters, Mary Benoit, Sonya Bergeron and Laura Stamp in Rapid City South
Dakota as a part of the District 12 Conference
Catch up with club member activities

Sponsorship of Documentary Film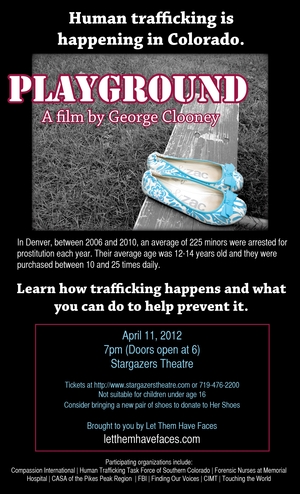 The Playground, with Let Them Have Faces
Zontians came together to help support Let Them Have Faces at the screening of Playground, a film looking at the commercial exploitation of children in America. Beyond hosting a table at the event, local Zontians attended the film to learn more about what was happening in Colorado Springs, and how different organizations are working to end child exploitation. After the film a panel including representatives from CASA of the Pikes Peak Region, The Trafficking Task Force of Southern Colorado, The FBI, The Forensic Nurse Program at Memorial Hospital and Attorney General John Suthers, spoke of the need for individuals to get involved. The biggest thing individuals can do is to talk to others about what is happening and to trust their instincts. If a situation seems off contact authorities. Let Them Have Faces

works with individuals and organizations to address the root causes of violence in a community. It was founded by Zontian Amanda Reynolds, who joined Zonta of the Pikes Peak Region in 2012.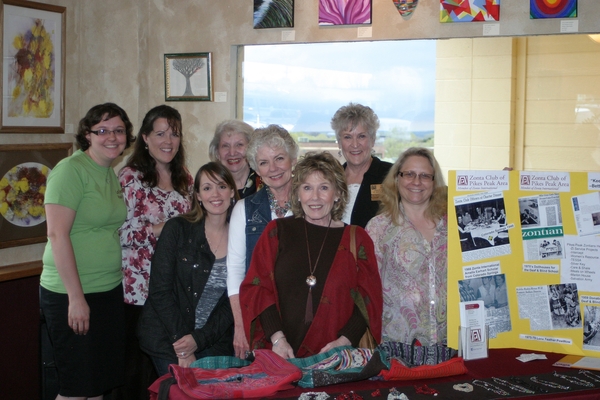 Zontians in photo (L-R) Amanda Reynolds, Laura Stamp, Betty Edwards, Doris Rivera-Black, Sharon Roggy, Pam Sufak, Sonya Bergeron, & Lucky Stoller
HERO Awards!
Aubrey Terry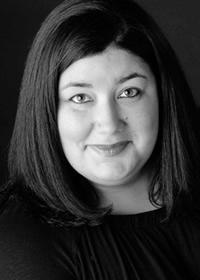 Aubrey Terry, who holds a Masters in Social Work, began working at the Women's Resource Agency in August 2008 as an intern, creating support groups and stress classes for participants. "I enjoy being able to empower women through some difficult times in their lives," she said. "We meet the client where they are and develop individualized plans of action. Women don't just change here, they transform." Aubrey earned her LCSW license in December 2010. She became Director of Support Services in June 2009. Aubrey has 13 years of nonprofit experience, working with populations affected by domestic violence, substance abuse, mental health issues, poverty, health concerns and other problems. She values the "love and compassion" of the staff at the Women's Resource Agency, along with the ability to place the client first. "Our mission is to help women for however long and in whatever ways they need. My experience working with other nonprofits is that there are often restrictions to client care. At the Women's Resource Agency, we focus on building relationships, creating a network of trust and pathways for a new life filled with empowered thinking." Her Leadership and Volunteer Service in our community has also included the Human Trafficking Task Force of Southern Colorado as a member of their Advisory Council and Chairperson for their Presentation Committee. She is actively involved in efforts to increase the awareness and services for victims of human trafficking.
Dr. Joe Burke
For over 15 years, Joseph W. Burke, Ph.D., has been a volunteer psychotherapist in Colorado Springs, Colorado, with TESSA, a community agency focused on significantly reducing domestic violence and sexual assault through education, intervention, and treatment. He was an officer in the U.S. Air Force for over 20 years, working in the fields of intelligence and computer technology. Dr. Burke holds a B.S. in International Affairs from the U.S. Air Force Academy, a M.S. in Information and Computer Science from Georgia Tech, and a Ph.D. in Clinical Psychology with Emphasis in Depth Psychology from Pacifica Graduate Institute.
Spring races for great causes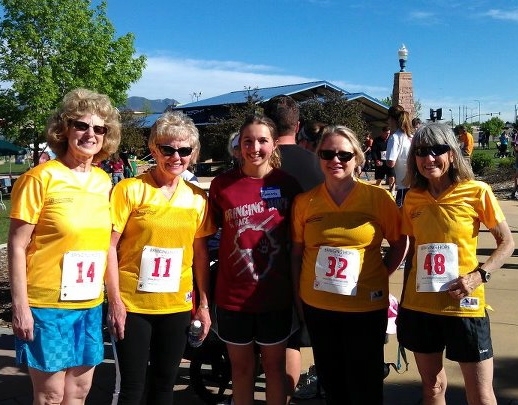 The Trampled Rose


Becky, founder of The Trampled Rose, was back in Colorado from Africa and shared the status of her amazing work.

Unstoppable Women Luncheon
This event honors graduating scholars from the Karen Possehl Women's Endowment including our own Zonta Scholar,Sarah Lang.

It was very inspiring to see seven women who have worked so very hard receive recognition for their courage and perseverance. Pat, Judy Casey, Sarah Lang (our scholar) and I were there to represent Zonta. We were recognized in the program as a scholarship contributor. Sharon Berthrong was honored as this year's "Unstoppable Woman" for her years of leadership as the Chair of the Steering Committee.
Sarah has just finished her semester and will be starting a summer session in nursing fundamentals (a 6 credit hour course over 9 weeks) beginning this week. She finished the semester with As and one B and is working very hard in her pursuit of a nursing degree. Sarah and her partner, Stephanie, will be attending the May 21st Zonta meeting.
What kind of person joins ZONTA?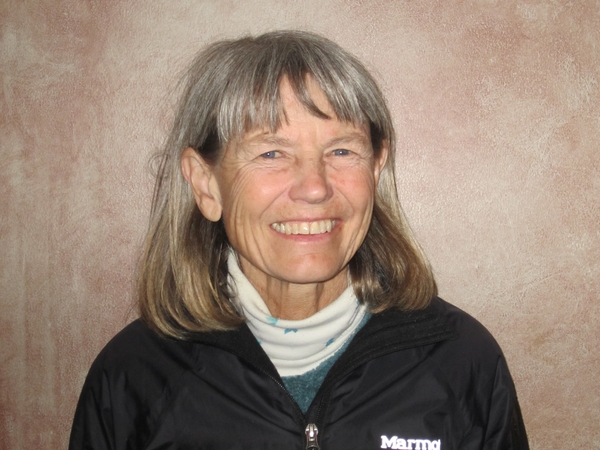 Janet Rose had been interested in the Peace Corps ever since President Kennedy started it in the 1960's. After a 35-year career as a teacher and librarian for deaf and blind students in Colorado Springs, she finally decided it was time to join. From 2009-2011, she worked as an English teacher in a small village in Thailand as a volunteer for the Peace Corps. "I was lucky with my placement in Thailand because I had running water and electricity", she said. She rode her bicycle seven kilometers to school every day and often biked to the village market. In the evenings she taught business English in another village. She participated in all aspects of village life, including religious festivals and partaking in local cuisine such as sea larvae. One of her co-teachers, who spoke some English and a neighbor who spoke no English, taught her Thai cooking. "I gained more than I gave", she said of her experience. Janet has always been interested in helping women, which made Zonta a natural choice for her. She has represented Zonta at community events, and helped with nut sales and the Glass Slipper Ball. Welcome, Janet!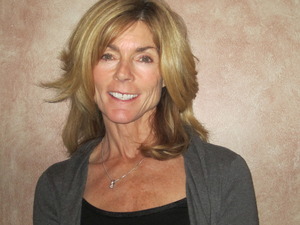 Laurie Ryan is a speech therapist who worked in the private sector, public schools and the Colorado School for the Deaf and Blind for 30 years. She is presently working with babies and their families at The Resource Exchange. Laurie and her two daughters, Megan, 18 and Marie, 15 helped develop curriculum materials for the Deaf School in Quetzaltengo, Guatemala as part of a volunteer effort through Cross Cultural Solutions, a non-profit organization. She is also a veteran marathon runner who has run in more than 20 marathons. She ran the famous Boston Marathon four times and finished 20th in her age group. Laurie was attracted to Zonta because of her long-standing interest in helping young women. In the past, she has facilitated groups for high-risk teenage girls addressing such issues as teenage pregnancy and violence in relationships. She sounds like she will be a great asset to Zonta.
Service Update
New Officers have been selected and updates to come
Key dates this Spring
There will be a change with Program Meeting days this coming year. Both the Business Meeting and the Program Meeting will be held on Wednesday evenings - the Business Meeting will be held on the first Wednesday of the month and the Program Meeting will be held on the third Wednesday of the month. There is an exception to this for July; we will only have one meeting in July and it will be a combined Business and Program Meeting.
Calendar Dates:

June 6, 2012 Business Meeting, Colorado Springs Country Club
June 20, 2012 Program Meeting, TBD
July 18, 2012 Combined Business/Program Meeting
August 1, 2012 Business Meeting
August 15, 2012 Program Meeting
September 5, 2012 Business Meeting
September 19, 2012 Program Meeting