Colorado Natural Area Program
Representatives visited Corral Bluffs in September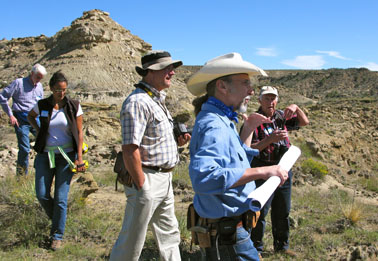 At the request of Lee Milner and Corral Bluffs Alliance, Colorado Natural Area Program (CNAP) is considering Corral Bluffs as a candidate for state natural area designation. Dr. Kirk Johnson and Dr. Ken Weissenburger gave a presentation and tour for the CNAP Council,
City Councilman Bernie Herpin,
representatives of the Colorado Springs Park & Rec Department, the Trails and Open Space Coalition and others.
To learn more about CNAP visit
CNAP
.
Cleanup begins again Nov. 6th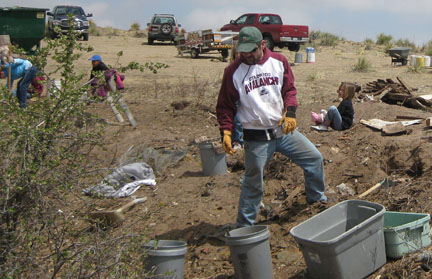 Please help finish cleaning up an old farmer's dump just north of Corral Bluffs Open Space. Cleanup is every Sunday beginning Sunday, November 6th from 1:00 - 4:00PM, except holidays and bad weather days. (Note that Daylight Savings Time ends November 6th.) With your help, we hope to finish it this winter.
Most heavy items have been removed, but many, many small items still need to be sorted into piles for recycling.
Meet at the corner of Hoofbeat & Davis Road at 1:00PM. A map and weather updates are at
corralbluffs.org
. Wear old clothes, work gloves, sunscreen and tough-soled shoes. Bring water and snacks for yourself.
If you've never seen Corral Bluffs, we'll take you on a short hike before you help with the cleanup.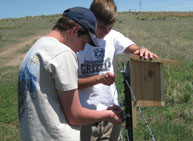 Bluebird boxes installed
We've been working with Waste Management and the Wildlife Habitat Council to make land near Corral Bluffs into wildlife habitat. To help with that goal, Boy Scout, Evan Smith, organized the construction and installation of thirty bluebird houses around the perimeter of an approximately 150 acre parcel owned by Waste Management.

Learn more about the Wildlife Habitat Council.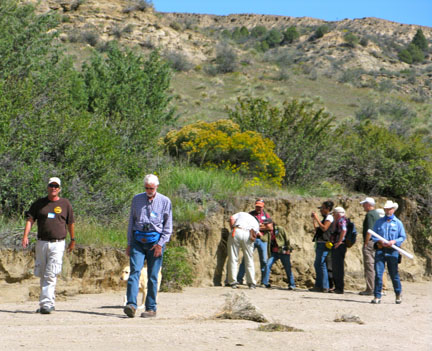 Guided Tours
Approximately thirty guided tours of Corral Bluffs were given this year, many to special groups such as

garden clubs, red hat groups, school kids, geology society groups, church groups, hiking clubs and philanthropist groups.

Guided tours will begin again in the spring. Reservations are required.