In this issue of Mohonk Consultations first!! e-newsletter, we report on what we accomplished in 2016, such as our programs, our wonderful supporting donors as well as our partners in programming. We also give you a preview of the up-coming Spring Forum (see left sidebar), our June Award ceremony and the 2017 Autumn Conference. We update you on the planning for the new Mohonk Heritage Room coming in 2018, and other good news from the mountain.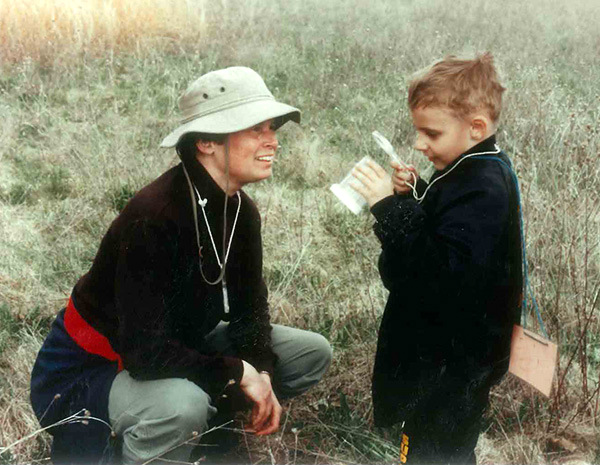 Ann Guenther, naturalist and our 2015 Distinguished Achievement Award recipient, shares a moment outdoors with an interested friend. (Photo by Scott Wynn, Courtesty of Mohonk Preserve.)
We've been busy! Last year we held an April Forum on expanding our solar options, presented our Distinguished Achievement Award to Rondout Valley Growers Association and held a day-long conference on peace building. In fact, since 1980, Mohonk Consultations has offered the public 20 Forums, conducted three long-term Projects, 17 full-day Conferences, and
celebrated 54 local 'unsung heroes'
with our
Distinguished Achievement Awards.
As we enter this new year, please know that your support, energies and interest in keeping Mohonk Consultations focused on positive initiatives are very much appreciated ... for us

all.
Mohonk Heritage Room Coming in 2018
In January 2018 a collaborative renovation of the current Mohonk Preserve Room in the Mohonk Mountain House will create a Heritage Room. We are working with Mohonk Preserve and the House to build this historical information center. The project will highlight the Quaker roots of the Smiley family, the development over time of the traditions and values that have guided the work of Mohonk
and the ensuing, core work of brothers Dan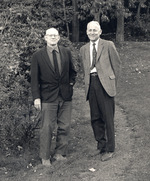 Dan and Keith Smiley, ca 1978.
(Photo courtesy MMH Archives.)
and Keith Smiley in creating Mohonk Preserve and Mohonk Consultations, even as these non-profits continue to evolve.

Co-founded by Dan and Keith Smiley, Mohonk Preserve has concentrated on environmental education, conservation science, land protection and stewardship for more than 50 years. Keith Smiley founded Mohonk Consultations in 1980 to address "issues of social justice and the interconnection of all life on earth." Today the two organizations collaborate on public programs in the House.

The new Heritage Room will serve as a portal to communicate how these three related organizations came to be, how they differ, yet arose from the same inspiration, and what services they provide.

We invite you to participate in this creative process by sharing ideas and/or financial contributions.
Sandra Smiley, Board of Managers
United Nations Declares 2017 International Year
of Sustainable Tourism for Development
Why Tourism? View video: Tourism is Much More than You Imagine

Did you know that internationally, tourism produces "10 percent of gross domestic product (GDP)" and that it provides "one in every 11 jobs globally"? It promotes cultural and historic preservation, makes us all many new friends, spreads empathy and human respect around the world. It builds understanding, communication and peace. (http://www.tourism4development2017.org/why-tourism/)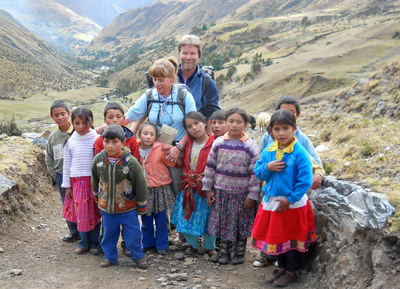 In Peru, tourists Peg Brosnan and Dave Linthicum on a hike with new friends. (Photo courtesy of Peg Brosnan.)
"The declaration by the UN of 2017 as the International Year of Sustainable Tourism for Development is a unique opportunity," says UNWTO Secretary-General, Taleb Rifai, "to advance the contribution of the tourism sector to the three pillars of sustainability – economic, social and environmental, while raising awareness of the true dimensions of a sector which is often undervalued. . . .
. . . [It] comes at a particularly important moment as the international community embraces the new Agenda 2030 and the Sustainable Development Goals (SDGs), approved by the UN General Assembly last September. Tourism is included as targets under three of the SDGs:
SDG 8: Promote sustained, inclusive and sustainable economic growth, full and productive employment and decent work for all;




SDG 12: Sustainable Consumption and Production, and




SDG 14: Conserve and sustainably use the oceans, seas and marine resources for sustainable development."
Applause
To our Supporters!!




View our




DONOR LIST 2016

!!!



THANK YOU! We are deeply grateful for your attendance at our annual programs and for your ongoing support.



Our region's people and environment have cleaner water, more options for the continuance of family farming and this year, more tools for peace building, and many more positive changes, thanks to contributors like you.