Hurry Up and WAIT!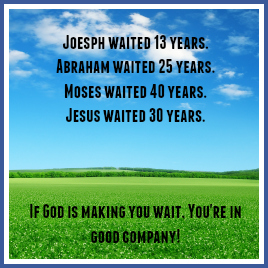 As you know we have had a lot of changes in our transition back to the states and into a new ministry. At times it has been difficult to coordinate all that needs to be done. It is especially frustrating when folks we have to work with long distance in Peru don't always cooperate with our time schedule. We had hoped to have closed on the sale of our apartment in Peru months ago, but alas we are still waiting. Each time we had a closing date and travel date in mind something has come up to cause delay. We are prayerfully considering a trip to Peru the first week in April to conclude our business there.

We find ourselves waiting on so many other little details. The girls are finally enrolled in school in Florida. Yet, we have to wait to make sure that they qualify for a scholarship that will make the schooling affordable. We are ready to close on a home in Florida, but we find ourselves waiting for the home in Peru to sell first. Even as I write this update we find ourselves waiting on Debbie's mom at the hospital who is coming here to stay with us as she recuperates from major surgery. God is certainly teaching us the importance of waiting and trusting Him!
The good news is that while we wait we have accomplished so much! We will be closing on our home in Florida on April 4th regardless of what happens in Peru. We have finished loads of required paperwork. We have visited the majority of our supporting churches. (And we will continue to visit churches on weekends in the coming months.) We certainly don't want to bog you down with all the details but we do need your prayers for patience and wisdom as we work through the final months of our transition. Lord willing, we will have visited Peru and be relocated to Florida to begin our new ministry there by sometime in June. We're excited, it will be here before we know it!
Click Here to read an important post on our website about waiting.
Hurry Up and PRAY!
Here are some ways you can be praying now
:
- Pray for Debbie's mom, Brenda Hale. Brenda is recovering from a double mastectomy as a result of breast cancer. She has had several complications. Pray for Debbie as she tries to provide her mom's needed care at this time.
- Continue to pray for a smooth sale of our home in Peru. We are being assured that everything is in order and that a closing date in late March or early April is possible. Pray that we have no unexpected changes. Pray that we can schedule and make our trip to Peru successfully and without unforeseen issues.
- Pray for our financial support needs. As a result of our change in ministry some churches have decided to no longer partner with our family. We also have increased living expenses mostly due to higher taxes and health care costs when we live in the states. We are significantly under-supported for the first time in our 16 years of ministry. We trust the Lord will provide. Pray that God will burden others to help us make up our support needs. If you feel led to support our ministry financially please let us know.
-Continue to pray for Debbie's health concerns. Debbie has had a few minor setbacks with her health. Pray that she can continue to be stable and productive despite the health struggles that she has.
-Pray for the ministry of EBI. There is so much potential with this ministry. Pray that God will use national workers all over Latin America to reach their own people with the Gospel message.