Taxpayers regularly contact CTA with questions about a correspondence from the IRS or a state tax agency. To assist taxpayers with federal and state tax issues, CTA operated a pilot Tax Controversy Clinic this summer. Taxpayers are screened at the CTA office and matched with pro bono attorneys who receive training and mentoring from the CTA Clinic Supervisors.
Most taxpayers that contact CTA are in some stage of collections and unaware that there are multiple possibilities to address their tax debt. Through the clinic, we assist taxpayers with arranging a manageable installment agreement, or ending ongoing collection actions.
Board members and tax attorneys Maria Dooner and Meg Newman supervised the clinics, with help from William McNally. A special thanks to Will, who came on board temporarily during the 2017 tax season, and stayed to coordinate the clinic.
While the Controversy Clinic was a summer program, we hope to continue to expand our network of volunteer attorneys to continue providing this service our community.
If you are interested in getting involved, send an email to representation@communitytaxaiddc.org.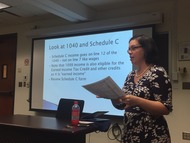 During tax season we frequently encounter taxpayers who are working in the sharing economy or as independent contractors and don't realize they are self-employed for tax purposes so are surprised at the additional records they need at tax time and the fact that they owe self-employment tax.
To educate low income taxpayers on the impacts of their work at tax time and help them create a system to track their expenses, CTA offered two 1099/Independent Contractor Workshops this summer at the Georgetown University Law Center. Board Member Meg Newman presented on following topics:
What business expenses are deductible

How to track expenses

Savings for and paying quarterly taxes

Bank accounts and managing money

Challenging 1099 status if you believe you should receive a W-2
Taxpayers could then ask questions specific to their business. Eight taxpayers attended, all of whom left happy! We would like to thank William McNally for his dedication to the program and for helping make it such a great success!