Access eMOLST with one click
Thanks to our work with Dr. Patricia Bomba and Compassion and Support and the End of Life, the Rochester RHIO has integrated eMOLST access right onto the RHIO portal. Distinguishable by its bright pulsar pink tab, this integration simplifies the login process for users who have both RHIO and eMOLST accounts. After an eMOLST account holder logs into the RHIO portal, they are only one click away from accessing eMOLST.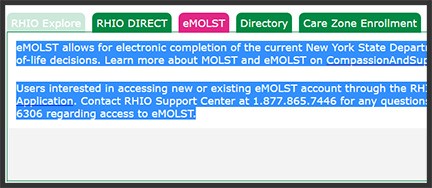 What is eMOLST? eMOLST stands for "Electronic Medical Orders for Life Sustaining Treatment." eMOLST is a secure, web-based application, which allows enrolled users electronic completion of the current NYS DOH-5003 MOLST form. This form documents end-of-life medical orders based on a patient's wishes after a medical consultation. eMOLST allows health care professionals to create, review, and complete the renewal process online, making the process more efficient for providers and care professionals.

To sign up for eMOLST access through the RHIO, download the eMOLST application. Or, for more information, contact our Deployment Team at (877) 865-RHIO (7446). Want to learn more about eMOLST? Go to the Compassion and Support and the End of Life website.
RHIO releases new Transfer to PACS service
The Rochester RHIO's Image Exchange services are expanding once again. The RHIO has released the new Transfer to PACS service for image providers. Transfer to PACS is a cutting-edge solution that provides a "universal" image, which can be viewed on any PACS system. Image providers using Transfer to PACS will experience more efficient workflows and faster image viewing, leading to reduced costs associated with viewing patient images. Contact the RHIO's Deployment Team at (877) 865-RHIO (7446) for more information.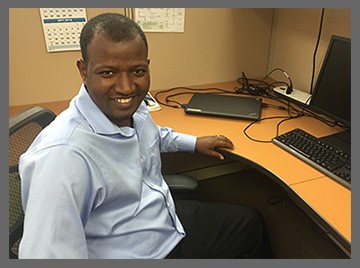 Meet our employees: Gezahegn Gute
Job Title: SQL Server DBA (Database Administrator)

Years with RHIO: I have been with HealthVantics* since October 2015.

What do you love about your job? I love working as a DBA because I have the opportunity to administer and monitor a wide variety of database products. Moreover, our organization is an amazing company to work with because it is dedicated to providing valuable community and patient-oriented support. It has a lovely working environment with talented and hardworking IT professionals where all team members have a professional and friendly attitude.

Background: I earned a master's degree in Molecular Biology from Catholic University of Leuven, Belgium. I also completed a Microsoft Certification in Database Administration and some trainings in Computer Science and Bioinformatics. I also worked as a SQL Server DBA for more than 6 years.

What do the next 5 years look like for you? In five years, I see myself in a lead DBA role addressing complex SQL server problems and utilizing innovative database admin technologies and database management strategies. I would like to advance my IT career and provide advanced technical support in order to help meet the goals and vision of the RHIO and HealthVantics. I would also like to do some knowledge sharing by giving short-term, team technical trainings for our hardworking and skillful team members.

Outside of work: I love reading, meeting new people and helping them. I enjoy meeting, advising, and encouraging students on their career. I like taking walks and listening to music.

*HealthVantics, LLC is the technical services provider of the Rochester RHIO.


Data Milestone
In June, the RHIO sent out over a million MyResults Delivered transmissions. In July, over 1.2 million.
Updated Documentation
Under Data Contribution, the
RHIO Image Exchange Modalities
spreadsheet has been updated to reflect images being received from Elizabeth Wende.
Upcoming Training
Our 2016 online training series continues this month with an Explore refresher training. HIPAA webinars continue in the fall. Select a date and sign up for a session today!
Explore Refresher Training
Tues., August 16 - 8 am
Wed., August 17 - 12 pm
Wed., August 17 - 4 pm
HIPAA Training Sessions
Tues., October 18 - 8 am
Thurs., October 20 - 12 pm
Thurs., October 20 - 4 pm
Explore Refresher Training
Tues., November 15 - 8 am
Tues., November 15 - 12 pm
Thurs., November 17 - 4 pm
CONTACT RHIO:
200 Canal View Blvd.
Suite 200
Rochester, NY 14623
(877) 865-RHIO
info@grrhio.org