Grant update:
Community collaborates on Patient Care Network

The Patient Care Network grant focuses on laying a foundation at the regional level to benefit effective communication between healthcare providers to support patient care. In 2015, the Greater Rochester Health Foundation awarded HealthVantics, LLC this grant. HealthVantics is the RHIO's technical services provider.

According to Informatics Specialist and Project Leader Wendy Beehner, the Patient Care Network will allow providers and care managers to interact with consented patient information in a more dynamic manner. In addition, an Executive Steering Committee and Patient Care Network Group made up of community leaders and stakeholders overseeing the grant project was established in the early spring. HealthVantics is now in the process of building a community-wide Provider Registry, part of the foundation of the project.

The grant project is expected to wrap up in late 2017.


Rochester RHIO launches dynamic website!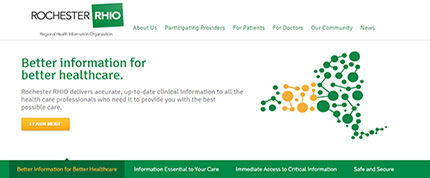 The Rochester RHIO has launched its new website! Celebrating 10 years of serving medical providers and patients, the RHIO's new website (RochesterRHIO.org) features a streamlined, dynamic design, which is friendly to all platforms (desktop, mobile phone and tablet).

Highlights include: The Rochester RHIO also launched a new Provider Portal last month.

3 reasons to contribute data to the Rochester RHIO

1. To deliver high quality healthcare.

Sharing data with the Rochester RHIO supports efforts to deliver the highest quality healthcare for patients. Data sharing builds a more complete medical record for our entire community, including: encounters, medications, labs, allergies, procedures, and diagnosis.

2. To decrease duplicate tests.

Several studies have shown that using the Rochester RHIO reduces duplicate tests. For example, a patient may have seen an orthopedic surgeon and had some radiology work done. When the patient follows up with a primary care physician, the PCP uses the RHIO and learns that additional X-rays are not needed.

3. To increase continuity of care for patients.

The primary goal of the Rochester RHIO is to share patient healthcare information in a secure environment that improves patient care, increases provider communication and reduces system inefficiencies. Using the Rochester RHIO provides a more complete picture of a patient's health care at the point of care.

Meet our employees: Gloria Hitchcock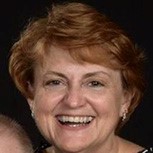 Job Title: Director of Care Improvement Initiatives

Years with RHIO: 7.5 years

Motto: "Understanding what people need, instead of what is cool to build."

What I love about my job: Networking and meeting people from different organizations that all have the same goal of taking care of patients; and how we can align existing RHIO services to support them, or build new options that support patient care. Our goal at the Rochester RHIO is to ensure caregivers spend more time with their patients and less time looking at data.

Background: I started out as a cardiac ultrasound tech, and moved onto managing various clinical departments at F.F. Thompson Hospital. I went back to school and finished my bachelor's degree at Roberts Wesleyan College, and then completed my master's in management at Nazareth College. I was eventually promoted to the executive director of diagnostic services at F.F. Thompson. After that, I went to work at Kodak, which later changed to Carestream. In another past life, I also worked as an EMT.

Outside of work: I love my grandchildren. My favorite quote is if you want to know why the sun comes up in the morning, it's because those two children open their eyes.

Favorite Hobby: I enjoy gardening and meeting new people. I also love to read, and enjoy spending time with my neighborhood book club.




RHIO at a glance
Executive Director Jill Eisenstein said the Rochester RHIO continues to grow and provide essential services to communities in the Southern Tier, Finger Lakes and Rochester regions.
"Eighty-nine percent of physicians in our 13-county area benefit from one or more RHIO services," said Eisenstein
In addition, over 15,000 RHIO Alerts were sent during the month of April. The Alerts service has grown nearly 90% in 2016.
Register today for our 2016 training series!
The Rochester RHIO is offering a series of webinars. The sessions focus on HIPAA compliance requirements and a refresher training course for Explore.
To register, click one of the sessions below. You will receive reminder emails about the event as the date gets closer.
Explore Refresher Training
Tues., August 16 - 8 am
Wed., August 17 - 12 pm
Wed., August 17 - 4 pm
HIPAA Training Sessions
Tues., October 18 - 8 am
Thurs., October 20 - 12 pm
Thurs., October 20 - 4 pm
Explore Refresher Training
Tues., November 15 - 8 am
Tues., November 15 - 12 pm
Thurs., November 17 - 4 pm
CONTACT RHIO:
200 Canal View Blvd.
Suite 200
Rochester, NY 14623
(877) 865-RHIO
info@grrhio.org